Mattel Made A Brand New Version Of UNO, And Called It — Drumroll, Please — "DOS"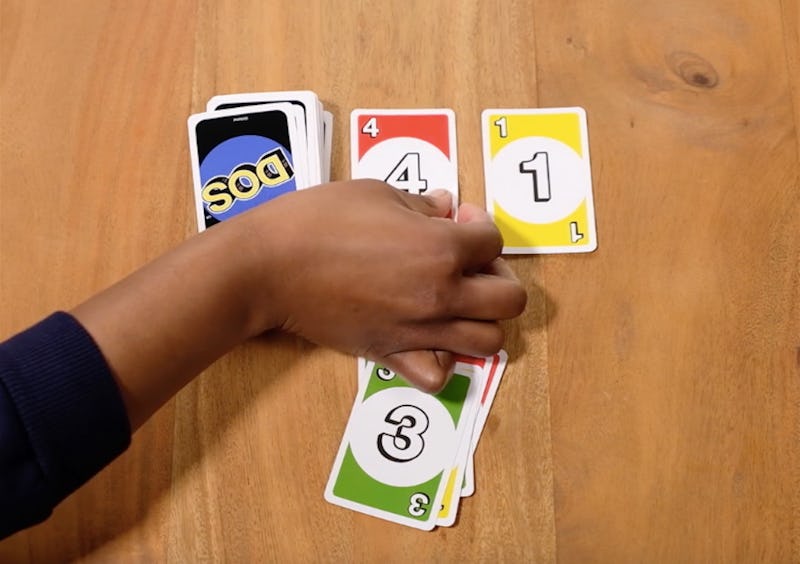 Since 1971, one card game has reigned supreme in the United States: UNO. The colorful number-matching game is a favorite of summer campers and grandparents alike, and has been the culprit behind many a family game night debacle. But soon another may claim its throne. Today, the creators of the beloved card game announced their first release since 1971. Get ready for the (shockingly named!) new version of UNO, dubbed DOS.
Following the framework laid by the original UNO, DOS will feature new rules and cards, while retaining the framework made familiar by its predecessor. In an official company press release emailed to Bustle, the senior director of global games at Mattel, Ray Adler explains, "Consumers are gravitating towards social game play experiences which has boosted the games category by almost 20 percent in 2017 ... With DOS, Mattel is offering UNO fans a new challenge, and satisfying a broad consumer audience across all ages and backgrounds."
The new game will reportedly echo UNO's basic premise of matching numbers and colors, but DOS will challenge players with multiple play options. Rather that beginning with one card, DOS begins with two cards (shocking, right?) in the center play area. Players are asked to match numbers first, then match colors for an extra bonus in points. When a player's hand dwindles to two cards, they must yell "DOS!"
Sound familiar? The idea is similar, but if you're still a little befuddled by how to play, an instructional video will be released to the public shortly.
UNO is not the only classic game to be getting a remodel this year. Last month, Hasbro announced the first ever edit to perhaps the most quintessential board game ever created: Monopoly. Monopoly Cheater's Edition is a remake of the game with a similar basic premise, but a large adjustment to gameplay rules. With this new version, cheating is not only allowed —it's encouraged. Jonathan Berkowitz, the senior vice president of Hasbro gaming spoke about the market for such a game to INSIDER, explaining, "A recent study conducted by Hasbro revealed that nearly half of game players attempt to cheat during Monopoly games, so in 2018, we decided it was time to give fans what they've been craving all along - a Monopoly game that actually encourages cheating." The game will reportedly be released later this year, and retail for $19.99.
For all of the conversation about millennials' addiction to technology and social media, the population appears to also really dig the more classic forms of entertainment. According to strategic market research firm Euromonitor International, board game and puzzle sales increased from $9.3 billion in 2013 to $9.6 billion in 2016 — the highest rate of growth since 2002. Matthew Hudak, a toy and game analyst with the firm, explained, "Games and puzzles continued to gain popularity among adults, especially in North America." This "surge in popularity," he explained, "...made games and puzzles the fastest growing category overall in 2016."
What does this data reveal about the entertainment habits of present-day adults? According to Hudak, it "illustrates that children are retaining interest in toys into adulthood on a scale not seen in previous generations."
Perhaps it should not come as a surprise that millennials have an affinity for the nostalgic. For all the talk about '90s kids now being addicted to technology, the market seems to indicate an attempt to channel simpler times. This could be a reason why, at least in part, for the unprecedented popularity of things like Funko Pop, those cute vinyl toy figurines of prominent pop culture icons, and the '80s-tastic science fiction show Stranger Things.
If Netflix nights with friends has grown a bit stale, consider a game night to shake things up a bit. According to Mattel's press release, DOS will be available at Target beginning March 4 for $5.99, and will be available at more retailers in August.