A Britney & Justin Collab May Be Happening For Real, For Real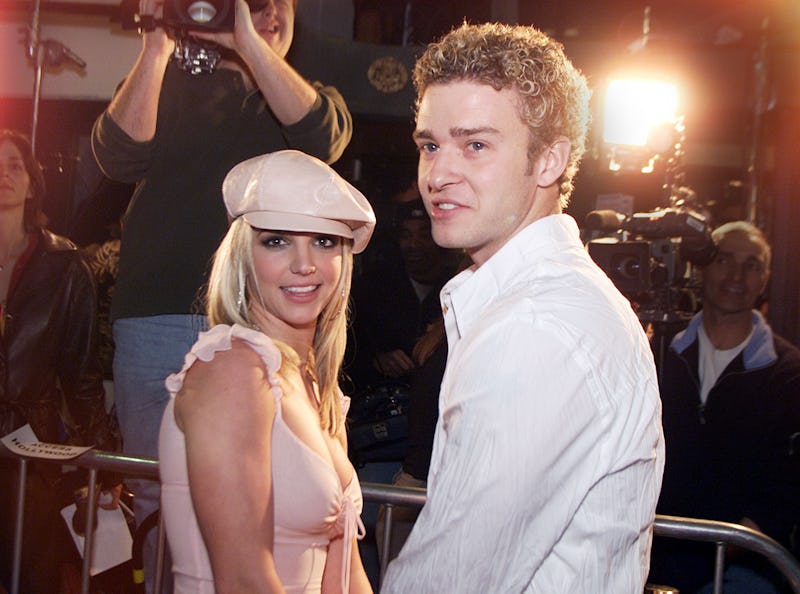 Kevin Winter/Getty Images Entertainment/Getty Images
Brace yourself for a collaboration that has been a long time coming. The iconic producer Timbaland recently seemingly confirmed that a Britney Spears and Justin Timberlake collaboration could be coming. The idea is exciting, but before you start preparing a 2000s-themed release party for the single, let's consider the circumstances of the news.
The conversation in which Timbaland reportedly confirmed a collaboration went down at a taping of the new ABC singing competition, Boy Band. Maddie Lazer and Hannah Rowston — hosts of the Pop University podcast — say they approached Timbaland during a commercial break and he seemed to indicate that the collab was indeed happening. Lazer and Rowston apparently shouted "Justney" (a combination of "Justin" and "Britney") to Timbaland, who at first seemed to think they were shouting "Justin," and responded by saying, "It's coming! New music, 2018." As Us Weekly reports, he likely thought they were referring to Timberlake's upcoming fifth studio album.
The hosts then tried to clarify by telling Timbaland, "No, no. Justney, Justney!" They claim his eyes then widened, and Lazer and Rowston then explained, "Justin and Britney and you!"
"Yes, it's coming," he then reportedly told the hosts, seeming to indicate that a collaboration between everyone's matching denim outfit wearing couple of the early 2000s. Bustle has reached out to representatives for Timbaland, Spears, and Timberlake for comment on the report, but did not receive a response at the time of publication.
As exciting as it sounds, Timbaland reportedly saying "it's coming" while being approached during filming doesn't exactly sound like a 100 percent rock solid confirmation, especially since neither Spears nor Timberlake have said anything yet. Plus, rumors of a potential collaboration seem to have been going around for decades. Remember, before Spears and Timberlake's highly publicized romantic relationship, they knew each other from the Mickey Mouse Club, so these two have a lot of history. But besides a song of Spears' where Timberlake provided back ground vocals, the two have never recorded a duet together.
Last summer rumors of the dream collab starting circulating after Spears revealed that she was interested in collaborating with Timberlake, then he publicly accepted the offer. Spears explained to London's This Morning that it was all talk at the time, but that she was open to the idea. "You never know," she said at the time.
It's hard not to get excited when we're talking about a Timbaland produced song featuring both Spears and Timberlake. And although no one knows when it's coming out, or if it actually is indeed happening, it's definitely fun to speculate.