Trump's Inaugural Performers Really Don't Stack Up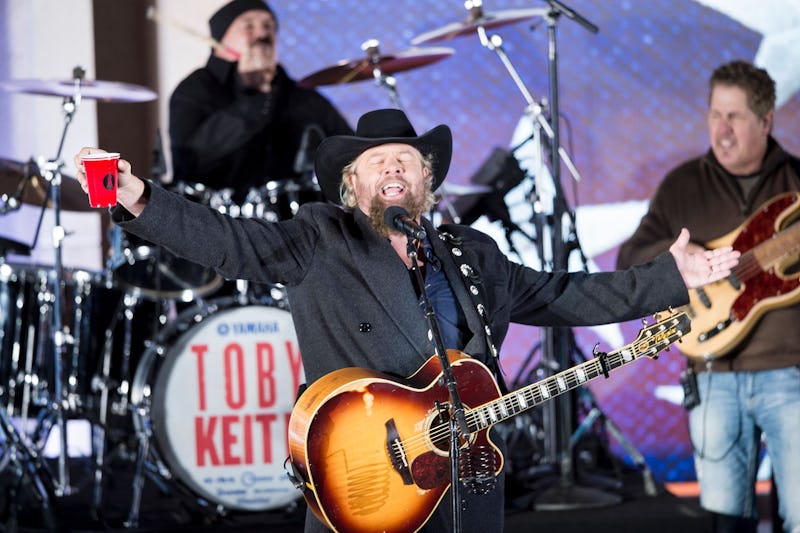 BRENDAN SMIALOWSKI/AFP/Getty Images
Donald Trump has one of the saddest lineups of celebrity performers for the presidential inauguration in recent history — and I mean that literally — many of The Rockettes reportedly actually cried when they found out they were contractually obligated to perform for the misogynistic new president. But it works figuratively, too — Trump has such an astounding lack of celebrity support that your heart almost (almost!) breaks for him — and when put into context with who has performed at past inaugurations, it's pretty brutal.
We first got a glimpse of the lack of celebrity support to expect for Trump during his campaign when the biggest stars who showed up for him at the RNC convention were Scott Baio and Stephen Baldwin. True to his nobody-matters-but-me attitude, the sore-loser leader tweeted that he doesn't want celebrities' support anyway — so there!
"The so-called 'A' list celebrities are all wanting tixs to the inauguration, but look what they did for Hillary, NOTHING. I want the PEOPLE!" he wrote.
In another complete lie about how well-attended his inauguration will be, he also claimed there wouldn't be any dresses left in D.C. because his inauguration would be so popular — a myth that was promptly debunked. Now the Twitter gods have heard Trump's prayers, and he's gotten his wish, since there definitely aren't any A-listers at his event.
But when you look at performers at previous inaugurations — even back to Franklin D. Roosevelt's in 1941 — it's clear that the majority of past presidents have had a much more stellar lineup than Trump could even have imagined.
The starkest contrast comes between the two who are passing the torch today: now-former President Obama and Trump. Obama's inauguration was packed with eager, supportive A-list stars like Aretha Franklin, John Legend, and Bruce Springsteen, while Trump's performers are mostly washed up has-beens (minus the Rockettes who had to go, so that barely counts), including the '90s band you forgot about, 3 Doors Down.
To be fair, there will be a lot of celebrities in Washington for Trump's first day in office. People like Beyoncé, Lena Dunham, Katy Perry, America Ferrara, Olivia Wilde, Amy Schumer, Chelsea Handler, Zendaya, Chloe Grace Moretz, Hari Nef, Scarlett Johansson, Debrah Messing, and multiple Orange Is the New Black stars, including Uzo Aduba, Danielle Brooks, Diane Guerrero, and Lea DeLaria, are all making an appearance. However, it's not for the reason the new president should want. The celebrities are coming together and recruiting their enormous fan bases to show up for the Women's March on Washington — a protest against Trump's bigoted rhetoric, dangerous administration picks, and promised xenophobic and racist policy agenda.