A Cell That Looks Like A Fenty Beauty Match Stix Exists Because Rihanna's Influence Knows No End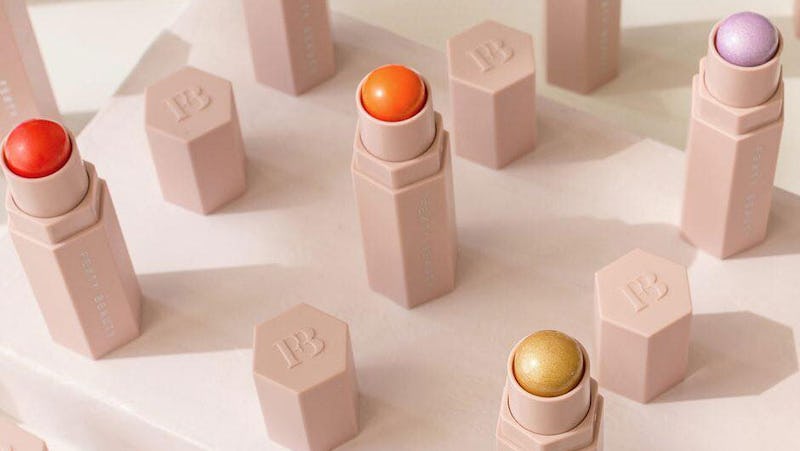 Fenty Beauty
Fenty Beauty has shaken up the beauty industry, and now it's coming for the science world. On July 27, New Scientist tweeted that a new shape called the scutoid has been discovered in cells, but makeup lovers felt like that shape already looked eerily familiar. Twitter thinks that a cell was found that looks like a Fenty Beauty Match Stix, meaning that Rihanna's reach has officially made its way into molecular biology.
According to New Scientist, the shape is made of two conjoined prisms, where one base is a hexagon and the other is a pentagon. They interlock together, which helps pack "cells efficiently into three-dimensional structures." If you have seen a Fenty Beauty Match Stix before, then you will know that that is exactly the same way that the highlighter tubes interlock. They attach at the hexagonal base, and create a honeycomb-like structure when near each other.
Twitter was quick to pick up on the comparison, where one Twitter user named @CindyGabriellek pointed out the similarity to Fenty Beauty's iconic highlighter. Quoting New Scientist's tweet, she wrote, "Inspired by @fentybeauty match stix."
Fenty Beauty saw the tweet and responded, writing, "Lmaoooo!!" The tweet has since gotten 500 retweets and nearly 2500 likes, so many people clearly agree with the comparison. People took to the comments to say things like, "Omfg trueeeee," which probably means we won't be able to hear about scutoids going forward without wanting to put on some blinding highlighter after.
Other users jumped onto the bandwagon, tweeting about how this new discovery was basically old news for beauty mogul Rihanna. Not only has she revolutionized the beauty industry by making 40-shade-lines the new standard, and she's diligent about casting models of all skin tones, sizes, and ethnicities, but she's also miles ahead of some of the country's top scientists.
And now thanks to Twitter, this new cell discovery is quickly becoming synonymous with Fenty Beauty. For example, one user wrote, "RT if you think Fenty MatchStix is a better name than scutoid."
Others were impressed but not surprised that Rihanna predicted the mystery of our biology with her highlighter sticks. "I can't believe rihanna predicted the shape of our cells with fenty beauty," one user tweeted.
Others thought it was bogus that our cells were ripping off Fenty Beauty and trying to pass it off as their own invention. "Our cells ain't special, Rihanna did it first," another person added.
While hilarious, this just shows how far Rihanna's influence goes. She has shaken up the beauty game so much that her fans are seeing her products in everyday things, including brand new science discoveries. But that's not surprising. While her beauty brand only launched last September, she has already won a slew of accolades and awards, honoring her groundbreaking work. For example one of those awards was landing a spot on the 25 Best Inventions of 2017 list on Time Magazine, which is very prestigious.
Here's to Rihanna keeping that success and influence going.