Kiernan Shipka Wants A 'Chilling Adventures Of Sabrina' & 'Riverdale' Crossover ASAP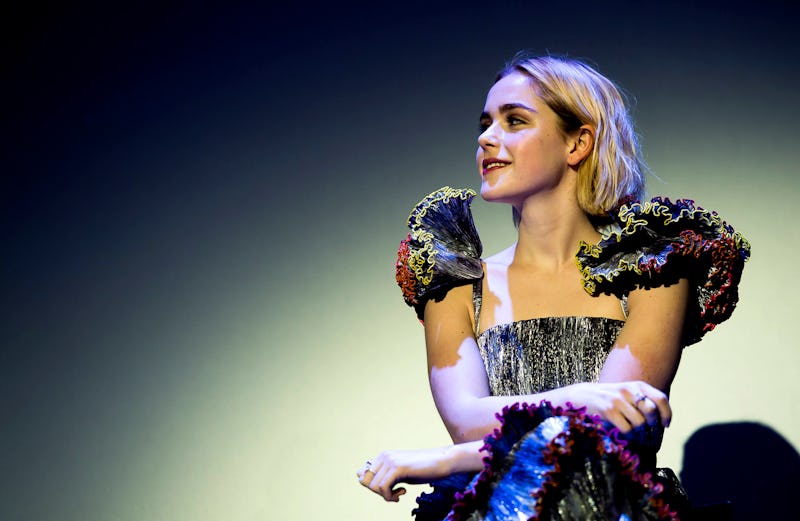 Samuel de Roman/Getty Images Entertainment/Getty Images
Archie Comics fans clamoring to see Sabrina Spellman hang with Archie and friends at Pop's, you're not alone! Actor Kiernan Shipka wants a Chilling Adventures of Sabrina and Riverdale crossover to happen. Considering she literally plays Sabrina the Teenage Witch, the people in charge of making it happen should probably listen.
Ahead of the Chilling Adventures of Sabrina premiere on Netflix, Shipka talked to Live With Kelly And Ryan about what she wants for the show. And what she wants is a crossover with the Riverdale gang, full-stop. She even explained her reasoning for it! First of all, "We're just [set] the town over," the actor explained, and "We make little small references to Riverdale on the show," as a result. Shipka added, "So I hope it happens!"
It's not just that she's a fan of both shows, either. Since Shipka adores Riverdale and stars in The Chilling Adventures of Sabrina, she's uniquely qualified to recommend it happen:
"You know what, as just selfishly as a Riverdale fan, I hope there is [a crossover]. But also Greendale is here and Riverdale is here. Both these towns are so action-packed, so much stuff is going down. How are [the characrers] not talking about this or bonding over the fact that all of this stuff is happening?"
It's hard to argue with that.
In it's two-plus seasons so far, Riverdale has made reference to Greendale as well. They haven't just mentioned it, either. Characters have visited the next town over, some have lived there, and at least one was even flat-out murdered. And that was all in the first two seasons! It's obvious that the Riverdale crew has no fear of the town next door. The only question is: Do the two shoes take place in the same time period? The same timeline? The same universe, even? In the comics, it's only half-that way; Betty and Veronica are both witches in The Chilling Adventures of Sabrina books, for example, and are nowhere to be found in the Netflix adaptation.
However, that actually makes a more compelling case for the crossover. If the characters haven't been duplicated, and both towns technically exist in both properties, and they share filming locations and a crew, what's stopping it from happening? Not to mention, creator Roberto Aguirre-Sacasa flirted with the idea of developing Sabrina as a companion to Riverdale in the first place.
Still, Aguirre-Sacasa has made it pretty clear that there's no overlap between the two. People are so eager for a crossover, he seems to be asked about it in every interview that he does to promote Sabrina. Plus, no spoilers, but the world of The Chilling Adventures of Sabrina is full on its own. It doesn't need Riverdale. Even if they are both atmospheric, murder-y, and surprisingly hot.
Seeing as Shipka almost had to defend her own request on Live With Kelly And Ryan, it looks like fans can safely say there is no crossover between Riverdale and The Chilling Adventures of Sabrina. At least, not yet...