A Confident Jared Kushner Makes A Rare Public Speech About Russia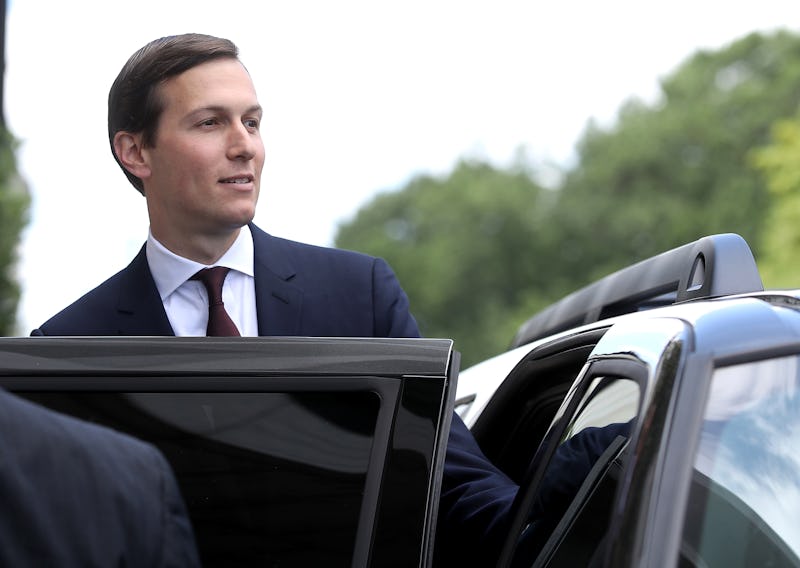 Justin Sullivan/Getty Images News/Getty Images
In a short and direct statement following a highly anticipated meeting on Capitol Hill, President Trump's son-in-law and senior advisor Jared Kushner maintained that he had no improper contacts with Russia over the course of the 2016 election. From behind a podium bearing the White House seal Monday, Kushner echoed prepared remarks he distributed to members of Congress ahead of that day's closed-door appearance in front of the Senate Intelligence Committee.
I did not collude with Russia, nor do I know of anyone else in the campaign who did so.
"The record and documents I have voluntarily provided will show that all of my actions were proper and occurred in the normal course of events of a very unique campaign," Kushner told reporters gathered outside the White House.
"Let me be very clear: I did not collude with Russia, nor do I know of anyone else in the campaign who did so," Kushner said, adding he has had no improper contacts and has not relied on Russian funds for his businesses. "I have been fully transparent in providing all requested information," Kushner said.
Kushner is the latest member of Trump's inner circle to come before congressional investigators looking into ties between the Trump campaign and Russia during the 2016 election. In an email exchange forwarded to Kushner last June, Donald Trump Jr. appeared to welcome an effort that was described to him as part of a Russian government attempt to bolster his father's campaign. Kushner attended a June 2016 meeting with Kremlin-connected Russian lawyer Natalia Veselnitskaya and others, along with his brother-in-law Trump Jr. and then-campaign chairman Paul Manafort.
In an 11-page statement released ahead of Kushner's meeting with lawmakers, Kushner sought to distance himself from actions taken by Trump Jr., though legal experts say both brothers-in-law are exposed to the same legal risk.
Kushner originally failed to disclose that meeting and interactions with other foreign government contacts during the application process for his security clearance. In the statement released Monday, Kushner detailed three additional meetings he had with Russian officials before the inauguration, including with Russia's Ambassador to the U.S., Sergei Kislyak. Kushner also denied he tried to establish a backchannel communications system with Russia, as has been reported amid speculation Kushner was trying to avoid American surveillance.
"I asked if they had an existing communications channel at his embassy we could use where they would be comfortable transmitting the information they wanted," Kushner said of the conversation with Kislyak and former National Security Adviser Michael Flynn, per the statement; Kushner says the idea went nowhere.
Kushner chalked the incomplete security clearance form up to a "miscommunication," saying it was "prematurely submitted" and "initially did not list any contacts ... with foreign government officials." Of the Trump campaign operatives in investigators' crosshairs, only Kushner was required to submit such forms, as Trump Jr. and Manafort do not currently serve in the Trump White House.
In a rare public remarks Monday following his appearance on Capitol Hill, Kushner spent under three minutes defending himself against allegations of collusion and attempting to downplay Russia's role in bolstering his father-in-law's campaign.
"Donald Trump had a better message and ran a smarter campaign, and that is why he won," Kushner said. "Suggesting otherwise ridicules those who voted for him."
Kushner will again answer questions behind closed doors on Tuesday, when he appears before the House Intelligence Committee. Trump Jr. and Manafort are also scheduled to make their own appearances on Capitol Hill this week.