Q&A: Victoria Schwab On 'A Conjuring Of Light'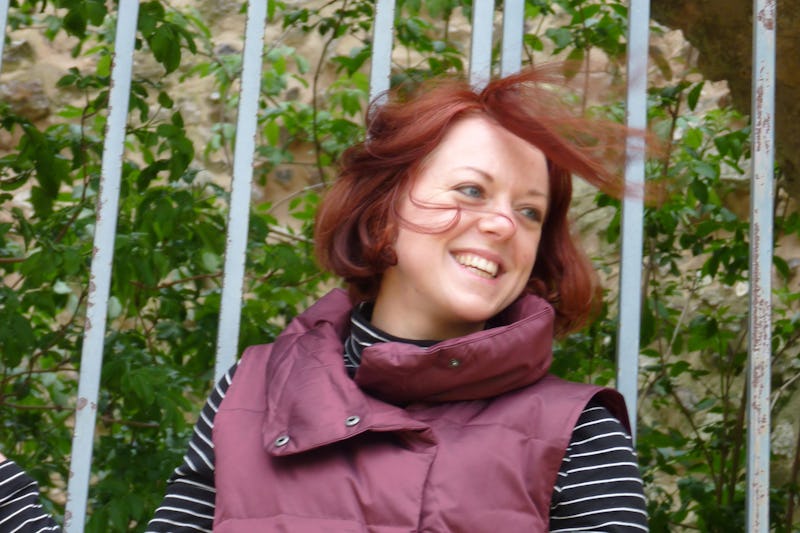 Courtesy of Victoria Schwab
If you love fantasy books, chances are you love author Victoria Schwab. Since the first book in her Archived trilogy was published in 2013, she has become synonymous with obsession-worthy worlds and characters, both in Young Adult and Adult (where she writes as V.E. Schwab.) The final book in her adult Shades of Magic trilogy, A Conjuring of Light, is out Feb. 21, 2017, and the final book in her YA Monsters of Verity duology is out on June 13, 2017, so clearly this is going to be a huge year for the writer.
"It's crazy. And terrifying. And sad. And hopeful? I don't know, ask me again from the other side," she tells Bustle. "As for what comes next? Spoilers!"
Schwab won't have much time to dwell on the emotion of her series endings, though, as she is also heading out on tour at the end of February, culminating in an appearance at BookCon this June where she will not only meets fans and discuss her work, but she'll also have some fun of her own.
"I'm always looking forward to seeing author friends, especially Laini Taylor and Susan Dennard," she says. "I'm also quite keen to see the guys from Welcome to Night Vale!"
But, how on Earth does she keep all of these worlds, characters, plots and other author duties straight in her mind at the same time? It requires some serious mental dedication and more than a few trips to the stationary store.
"There's a reason only 25% of my brain is ever truly engaging with the real world," she says. "The rest of me is trying to keep the plates spinning in my head. I wish I could say I have an elaborate spread sheet [or] some kind of system, but the most I have are a series of notepads and Scrivener files where I jot down thoughts. "
And, of course, Schwab is not resting on her laurels. She's got plenty more going on in 2017 to pack her already heavy schedule.
A Conjuring Of Light by V.E. Schwab, $17.10, Amazon
Our Dark Duet by Victoria Schwab, $12.32, Amazon
"I'm in the midst of editing Our Dark Duet, and after that, I'm going to take a nap, she says. "Then get back to work on several other projects, including a film pitch, a graphic novel, a Middle Grade, and my next Tor book. My writing resolutions [for 2017] can usually be summed up as Keep The Plates Spinning!
Schwab has been doing a lot of plate spinning for the past four years, and even way before that, as it took her nine years of hard work to become an "overnight success." And what Schwab considers the best parts of her success story are maybe not what most people would consider to be the ultimate perks.
"I think I equate success with stability, and publishing is an inherently unstable industry. That said, I think I have a lot of creative freedom right now, and that feels pretty wonderful," she says. "I know for instance that I never could have sold This Savage Song as my debut novel (super violent, no romance, oh my!) but the team at Greenwillow believed in that book and championed it the whole time. They trusted me. Maybe trust is success."
Now that Schwab is one of the most trusted authors in YA fantasy, both for publishers who feel confident her books will hit their marks, and readers who are positive that they will love anything she writes, what more is she looking forward to doing in the YA community? For Schwab it's about championing books that will make the biggest impact on the lives of their readers.
"I love the passion [in YA] but I think I'd like to see less emphasis on flash-in-pan success and what is 'hot right now' and more emphasis on broad representation and enduring work."
Surely that focus on creativity and inclusiveness will keep her fans invested in her and the worlds she creates for a long time to come, all but insuring that Schwab's biggest career goal will be realized.
"Where do I hope to be in 5 or 10 years? Still as fortunate as I am now."