Bodies Of Couple Lost For Decades Found In Melting Glacier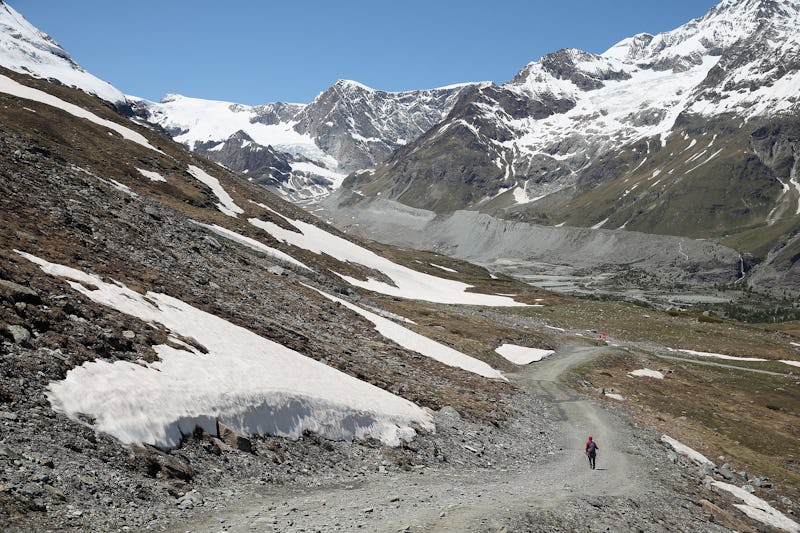 Sean Gallup/Getty Images News/Getty Images
Usually when we hear about glaciers receding, the news is accompanied by photos of a forlorn polar bear, set adrift on a small piece of ice. But this may be the one time that global warming has brought a sense of peace to a family who has been waiting for answers to a decades-old (literally) cold case. The bodies of a Swiss couple who went missing 75 years ago were found preserved in ice, uncovered by the receding glacier they were encased in.
Marcelin and Francine Dumoulin went missing in August 1942, after heading out into the pasture to feed their cattle in the canton of Valais, in southwestern Switzerland. Local communities, and the Dumoulins' seven children, searched tirelessly for the pair for months, but eventually had to admit the inevitable.
"One day, we had to [accept] the obvious," Marceline Udry-Dumoulin, their youngest daughter, told Lausanne, Switzerland, newspaper Le Matin. "They were not coming back."
Urdy-Dumoulin, now 79, said that the day they disappeared was the first time her mother had accompanied her father on the trip out to the fields above their village of Chandolin, at the foot of the Alps.
We spent our whole lives looking for them, without stopping. We thought that we could give them the funeral they deserved one day. I climbed the glacier three times afterwards, always looking for them. I kept wondering if they had suffered and what had become of them. I now have the pleasure of having answers to these questions.
The bodies of the Dumoulins were found by a worker at the Les Diablerets ski resort. They were reportedly found near a ski lift, at an altitude of 8,600 feet. Identification papers were found on the bodies, confirming them to be Marcelin and Francine, who were 40 and 37 years old at the time. The bodies are being brought to a medical institute for DNA testing, along with other items found on them, including a book, a backpack and a watch, the Valais police said in a statement.
The bodies were reportedly found next to each other, perfectly preserved by ice, to the point where their clothes were identifiable as being from the pre-World War II era, witnesses told the newspaper Tribune de Genève.
Le Matin also noted that these sorts of wild discoveries are happening more frequently as the glaciers of the Alps continue to melt.