A Couple's Statue Of Liberty Visit Got Cut Short Because Of Their "Abolish ICE" Shirts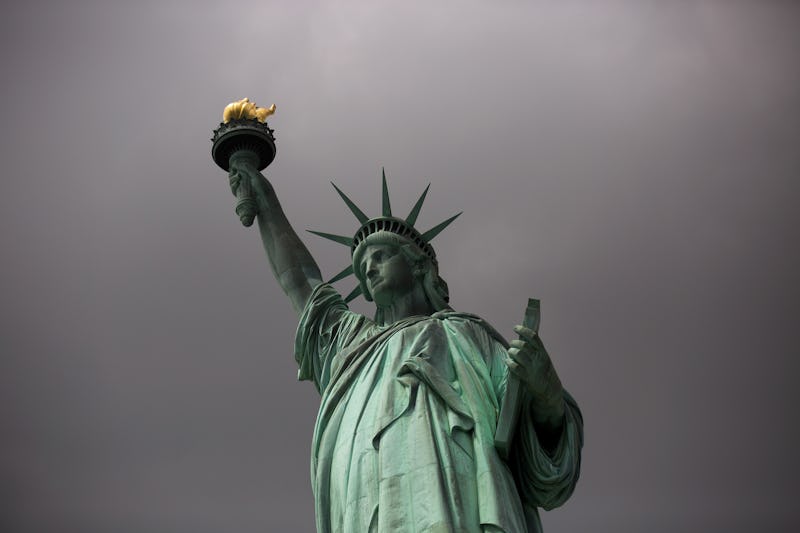 Drew Angerer/Getty Images News/Getty Images
According to Gothamist, a couple wearing "Abolish ICE" shirts was denied entry to the Statue of Liberty in mid-July. Tiffany Huang says that she and her fiancé had purchased tickets to tour the monument on Liberty Island, but while standing in line, were informed by guards that they wouldn't be allowed onto the boat with their shirts.
After initially being stopped in line by a security guard, "a second security person came over to tell us he couldn't let us on the tour with our shirts," Huang told Gothamist.
"He said it was our 'choice' to either change or put on clothes over our T-shirts, or leave," Huang continued. "So we said we would rather leave, and another security person walked us back out through security."
Huang says that she and her fiancé "did not have any plans for any other sort of action" on the monument, and were "just exercising our right to free speech." She says they "felt we needed to acknowledge the symbolism of visiting the Statue of Liberty."
However, this was 10 days after activist Therese Patricia Okoumou climbed the base of the Statue of Liberty on the Fourth of July and refused to get down until "all the children have been released." She was referring to the thousands of undocumented children that the Trump administration has separated from their parents at the border; according to Huang, the security guards referenced "what happened on July Fourth" when they denied her and her fiancé entrance to the statue.
The NYCLU eventually got involved, and Jerry Willis, spokesperson for the National Park Service, later admitted to the Gothamist that "this never should've happened." The couple's tickets were ultimately refunded, Gothamist reports.
"It was certainly a misstep on our part and we're happy that the couple has elected to take up our invitation to come back," Willis told Gothamist.
When asked whether the guards in question would face disciplinary action, Willis said that the agency wasn't able to identify which employees were responsible for the decision.
As for Okoumou, she was ultimately charged with misdemeanor trespassing, interference with government agency functions, and disorderly conduct as a result of her July Fourth protest. When she went to court a month later, she arrived wearing a green dress that said "I REALLY DO CARE - WHY DON'T U?" in big white letters — a not-so-subtle jab at First Lady Melania Trump, who infamously wore a green jacket with the words "I REALLY DON'T CARE - DO U?" on the back as she was traveling to visit an immigrant detention center in June.
Okoumou pleaded not guilty and was released on her own recognizance. Her attorney Ron Kuby said that she is open to accepting a plea deal if it means she won't serve jail time, and furthermore argued that she should be applauded for her nonviolent protest, not punished.
"Our client acted in literally the highest traditions of non-violent civil disobedience: Captivating the attention of the world on America's most special day to bring to the world's attention the plight of immigrant children," Kuby said, according to the New York Daily News. "That should not be penalized with a jail sentence. That should be rewarded."
As for Huang, she told Gothamist that she and her fiancé plan on attempting to visit the Statue of Liberty again on Friday, and that they'll be wearing their "Abolish ICE" shirts when they do.