The Woman Who Climbed The Statue Of Liberty Had A Pointed Message For Melania Trump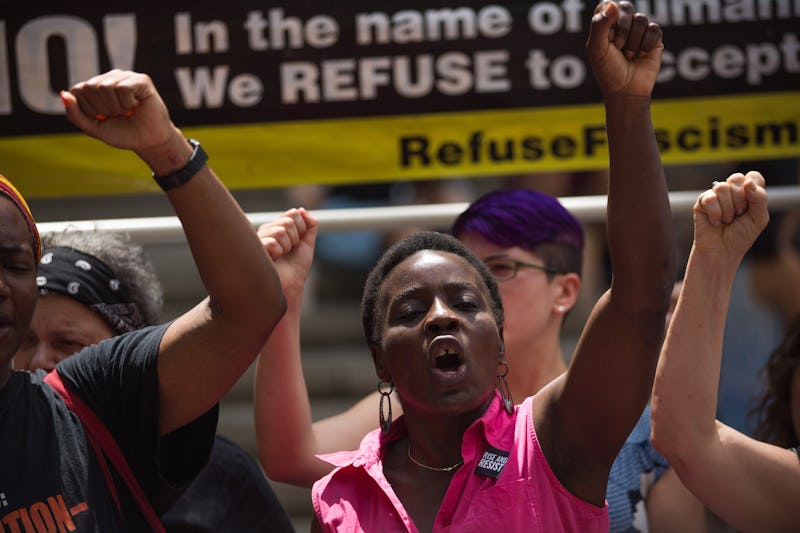 Kevin Hagen/Getty Images News/Getty Images
A month after scaling the Statue of Liberty to protest President Trump's immigration policies, Therese Patricia Okoumou trolled Melania Trump in spectacular fashion at her court hearing Friday. Okoumou arrived at court in Staten Island wearing a green dress with the words "I REALLY CARE - WHY WON'T U?" in white letters on the back, and "BE BEST" printed a bit further down.
The text at the top is clearly a reference, or perhaps a response, to a jacket Melania Trump wore while visiting an immigrant detention center in June. Trump had said through a spokesperson that she "hates to see children separated from their families," and decided to visit a child detention center on the U.S.-Mexico border. Many were surprised, then, when the first lady donned a jacket that said "I DON'T REALLY CARE - DO U?" in huge letters on the back while traveling to the detention center in question.
The bottom part of Okoumou's jacket, meanwhile, is a callback to Melania Trump's "Be Best" campaign. The goal of that effort, according to the White House website, is to "focus on some of the major issues facing children today," and encourage "positive social, emotional, and physical habits" among American kids. It has drawn criticism, however, for promoting "positive online behaviors" and asking children to "speak with respect and compassion" on social media — areas in which the president hasn't exactly led by example.
Okoumou made international headlines on the Fourth of July, when she was spotted climbing the base of the Statue of Liberty. Police confronted her, but she refused to get down, resulting in a four-hour standoff with law enforcement. Okoumou later told the media that she was protesting the Trump administration's family separation policy, in which immigration officials separated undocumented children from their parents and put them in cages.
In an interview with the Guardian days later, Okoumou said that she'd originally come with the group Rise and Resist, a leftist protest group. Earlier in the day, some members of that group had unfurled a banner on Lady Liberty's base that said "ABOLISH ICE," but Okoumou felt more action was needed.
"I had thought, 'It's the Statue of Liberty, it's the Fourth of July and there are children in cages, we are doing a protest but I want to send an even stronger message and this is the perfect day for it.' All of those elements together were necessary to give me the courage," Okoumou told the Guardian days later. She added that she "wanted protection from Lady Liberty."
Okoumou pleaded not guilty on Thursday to misdemeanor charges of trespassing, interference with government agency functions and disorderly conduct, and was released on her own recognizance. At a hearing Friday, her attorney Ron Kuby said that she would be open to a plea deal if it would allow her to avoid serving jail time.
"Our client acted in literally the highest traditions of non-violent civil disobedience: Captivating the attention of the world on America's most special day to bring to the world's attention the plight of immigrant children," Kuby said, according to the New York Daily News. "That should not be penalized with a jail sentence, that should be rewarded."
Okoumou gave a brief address outside the courtroom as well.
"America, make no mistake," Okoumou said. "When we have children in cages, we have lost our humanity."