Here's What Melania's Spokeswoman Has To Say About The Whole Jacket Controversy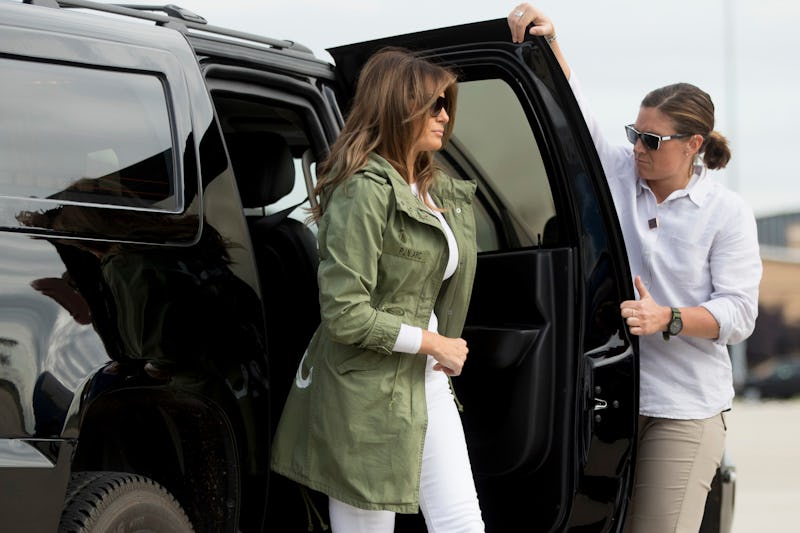 Andrew Harnik/AP/REX/Shutterstock
While heading to the U.S.-Mexico border on Thursday, first lady Melania Trump wore a jacket that said "I REALLY DON'T CARE, DO U?" in huge, white letters. This puzzled many people; what is it, exactly, that the first lady really doesn't care about? Shortly thereafter, Melania's spokesperson responded to the jacket controversy with a statement, but those wondering what the message on that jacket meant will have to keep on wondering.
"It's a jacket," Melania Trump's spokesperson Stephanie Grisham tells Bustle in an email. "There was no hidden message. After today's important visit to Texas, I hope the media isn't going to choose to focus on her wardrobe. (Much like her high heels last year)."
It's helpful to know that there was no hidden message. But what about the large, unhidden message — the one that said "I REALLY DON'T CARE, DO U?" in enormous, easy-to-read text? That will remain a mystery, it seems.
The Daily Mail first reported on the green, $39 Zara jacket that Melania wore while boarding a flight in Maryland. According to the Mail, its text wasn't visible without a long-range camera lens, but as many reporters possess such lenses, images of the jacket quickly circulated on social media.
The first lady sported the jacket while visiting the camps for immigrant children that the Trump administration established earlier in the year. Earlier, Melania Trump denounced her husband's now-defunct policy of separating undocumented children from their parents at the border and putting them in cages, with Grisham saying that the first lady "hates to see children separated from their families." The purpose of her Thursday visit to one of the child camps in McAllen, Texas, was to "see what's real," according to Grisham.
Donald Trump's family separation policy ignited widespread outrage, even among elected Republicans. Many were horrified at images of children in cages and reports of immigration officials taking breastfeeding newborns and kids with Down syndrome away from their mothers.
After days of backlash, during which Trump administration officials blamed Democrats and claimed they were powerless to end family separation, Donald Trump signed an executive order ending family separation. Some experts warned, however, that the language in that order could leave wiggle room for the practice to continue.
The executive order said that the administration would continue its "zero tolerance" policy to immigration, which, in that context, refers to the practice of prosecuting of all immigrant families that cross the border, even those with children. However, it's now unclear if even this will continue: Border Patrol said in a statement Thursday that it will no longer recommend undocumented immigrants for prosecution if they have children in tow; the same day, however, the Justice Department said that it will continue to prosecute such immigrants.
Regardless, Donald Trump's executive order is unlikely to quell the anger. Shortly after it was signed, a spokesperson for the Department of Health and Human Services said that the administration has no plan to reunite the 2,000-plus children in detainment facilities with their parents. The former head of Immigration and Customs Enforcement told NBC News that some of those undocumented children might never see their parents again.
"You could be creating thousands of immigrant orphans in the U.S. that one day could become eligible for citizenship when they are adopted," former acting ICE Director John Sandweg said. "Permanent separation. It happens."
Meanwhile, Congressional Republicans have been working on a "compromise" immigration bill intended to address conservative and progressive concerns about America's immigration system. However, Republican leadership in the House of Representatives pulled the bill at the last 11th hour on Thursday after realizing it didn't have the votes to pass.