A Delta Passenger With MS Was Tied To Her Wheelchair By Airport Staff, Her Son Claims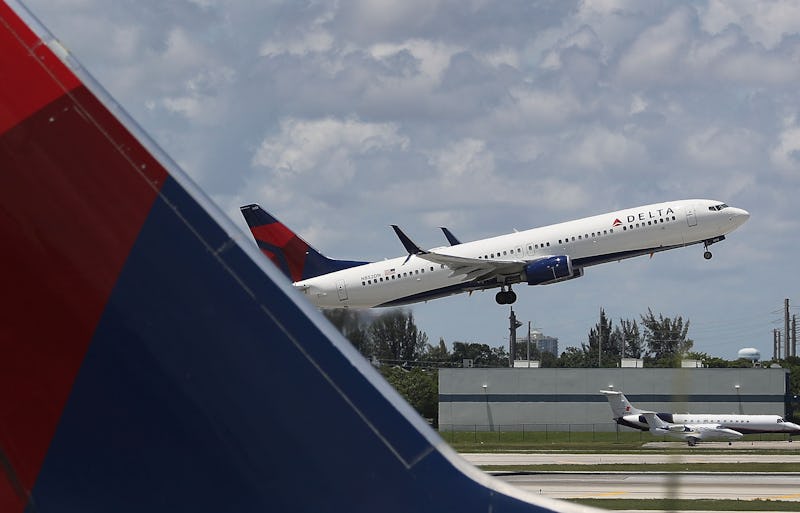 Joe Raedle/Getty Images News/Getty Images
The son of a Delta passenger claims his mother, who has multiple sclerosis, was "physically and emotionally abuse[d]" by Delta employees after she kept slipping out of her wheelchair, People reported. Nathan Saliagas alleges that while his mother, Maria Saliagas, was traveling from Atlanta to Amsterdam with her husband on April 1, employees at the airport in Amsterdam provided Maria with a wheelchair that, contrary to her request, did not have straps to hold her upright. When she slipped in the chair, "[Delta employees] took a dirty blanket and tied her forcefully with it," Nathan claims, according to People.
In a statement emailed to Bustle, Delta says, "We are disappointed that our customers didn't feel they had a well-cared-for travel experience and will ensure that their return flight exceeds expectations. While Delta always looks for ways to improve the overall customer experience, our findings do not align with details shared by the customer's family."
In a Facebook post on April 24, Nathan expanded on his claims, saying, "The Delta employee thought it would be appropriate to tie my mother with someone else's dirty blanket, in such a way that it left bruise marks on her arms. When she started crying, she was told to 'shut the f*ck up' or she will be 'left there.' This highly inhumane and disgusting treatment by Delta Airlines is unacceptable and a need for a change."
Delta tells Bustle on background that, following an investigation, they determined that the wheelchair Maria used was provided not by Delta employees, but by an airport-contracted wheelchair vendor, which gave Maria several wheelchair options to choose from. Once she had chosen a chair, Delta claims that she told her wheelchair assistant she felt like she was slipping out of it, and agreed to using blankets to keep her upright. The airline added that the blankets were taken from their original packaging, and also notes that per European Union law, airlines must use the services provided by the airport, and do not provide their own individual wheelchair services.
According to the Atlanta-based TV station WSB-TV, the family claims that Delta offered them 20,000 SkyMiles in compensation, but the family "[wants] the airline to reconsider how it treats passengers with disabilities,"
This is not the first time Delta has faced accusations of mistreating disabled passengers. In 2011, it was the recipient of the largest fine "ever brought by the Department of Transportation against a single airline in a consumer protection case" — $2 million for allegedly "failing to meet regulations protecting passengers with disabilities," including failing to "help passengers needing assistance getting on and off the airplane," according to CNN. The fine was also lodged because Delta "frequently did not respond to customers' complaints on the matter," CNN added.
At the time, Delta released a statement saying, "We take the responsibility of serving customers with disabilities seriously and have made significant investments in technology, feedback assessment and training," CNN reported.
Wheelchair user advocacy site Wheel:Life noted that since 2011, Delta has made "strides" in improving its customer service for disabled passengers. As a result of the Department of Transportation's fine, "Delta agreed to spend $1.25 million on various internal system improvements, including an automated wheelchair tracking system, a customer satisfaction survey and better compliance auditing," Wheel:Life reported.
The site continued, "Delta also agreed to install more elevators and allow customers to specify the type of wheelchair help they need when buying a ticket on the airline's website. The airline is also installing additional ramps for boarding regional flights."
Delta also participated in a program to "[gather] feedback from passengers with disabilities to improve the airline's policies, practices and procedures," and "[e]very October, Delta also requires its' [sic] employees to attend continuing education courses on serving customers with disabilities," Wheel:Life reported.