The History Of The "False Rape Report" Goes All The Way To The Salem Witch Trials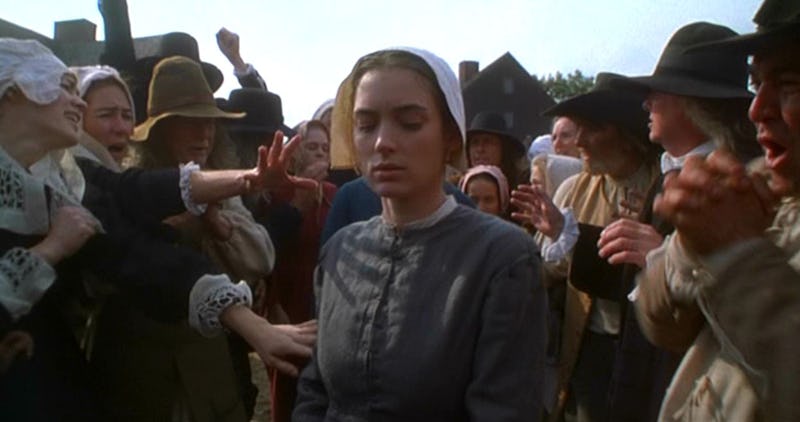 20th Century Fox
In 1671, a Puritan lawyer named Sir Matthew Hale became Lord Chief Justice of England — a likely footnote in global history were it not for two things. The first was his presiding over a trial that set legal precedents for the trying and sentencing of women accused of witchcraft in England, and later for the Salem Witch Trials that plagued Massachusetts in 1692 and 1693. Hale's second legacy was far more enduring: writing a legal framework for identifying "false" reports of rape that has been widely used in Europe, the United States, and around the world for centuries, both during trials (most recently in a UK court case in 2009) and in the court of public opinion. Hale's indelible imprint on the way rape is and, more importantly, isn't prosecuted in the United States is just one of many historical records investigative reporters T. Christian Miller and Ken Armstrong catalog in their book, A False Report: A True Story of Rape in America, out from Crown on Feb. 6.
Expanding on the article that won Miller and Armstrong the 2016 Pulitzer Prize for Explanatory Reporting — An Unbelievable Story of Rape, published by ProPublica in December of 2015 — A False Report is an exhaustive journey through the long history of skepticism, shame, and blame most rape victims face in pursuit of justice. It begins in August of 2008, when an 18-year-old foster child named Marie reported being raped in her apartment by a masked intruder. Marie was not believed: not by her foster mothers, not by her friends, not by her case managers, and not by the police. She was ultimately coerced into confessing to false reporting and charged with a gross misdemeanor. It would take years, and several more rapes committed from Washington state to Colorado, for a serial rapist named Marc Patrick O'Leary to be discovered, arrested, and convicted, and for Marie's name to be cleared.
A False Report: A True Story of Rape In America by T. Christian Miller and Ken Armstrong, $25.20, Amazon
In the tradition of true crime writers like Truman Capote and Janet Malcolm, Miller and Armstrong illuminate the subsequent assaults and rapes that O'Leary systemically committed after Marie's, the numerous police officers involved in each case, the two female detectives — Stacy Galbraith and Edna Hendershot — who finally solved the crimes, O'Leary's own dark narrative, and the long and storied history of the charge of false reporting and the ways that justice systems around the world have failed and continue to fail victims of sex crimes.
A False Report — recently slated to become an eight-part scripted series for Netflix — is a timely and often infuriating read (think: those "I Can't Believe I'm Still Protesting This Shit" posters from last year's Women's March.) Speaking to current events like the recent explosion of the #MeToo movement, the sexual assault conversations reverberating from the sound stages of Hollywood to the halls of Congress, and the collective voice of women being named TIME's 2017 Person of the Year, Miller and Armstrong illuminate the history of "false" reporting — all the way back to the Salem Witch Trials and earlier.
Here are nine things A False Report: A True Story of Rape in America will teach you about the past and present of "false" reporting.