Meet Your New Hero, The "Fearless Girl" Statue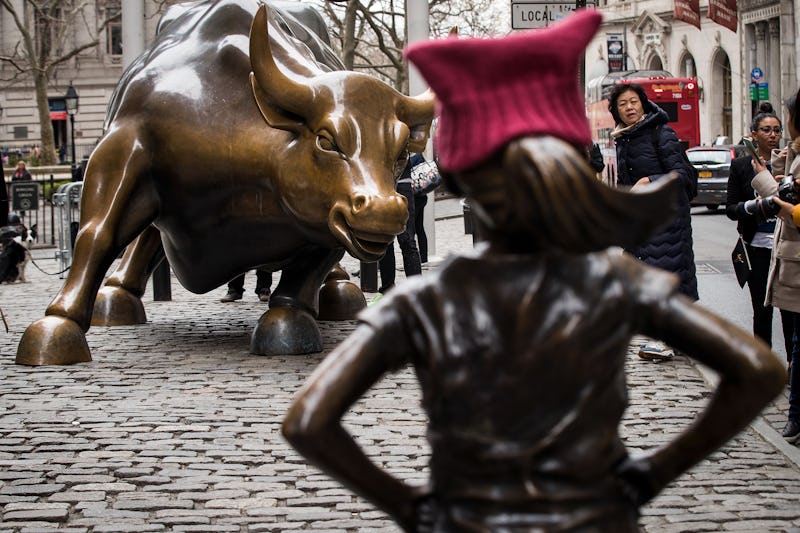 Drew Angerer/Getty Images News/Getty Images
The night before International Women's Day, a new fighter for women's equality appeared in New York: The "Fearless Girl" statue, a bronze girl facing down Wall Street's famous "Charging Bull." Put in place in honor of a day when women around the country went on strike to demonstrate the economic clout of American women, the statue makes a powerful statement about the importance of women in the workforce. Standing proudly with hands on hips against the massive oncoming bull, "Fearless Girl" is set to become an instant icon of women's persistence and courage — especially when the odds seem stacked against them.
At just over four feet in height, "Fearless Girl" seems diminutive when compared to the 7,000-pound, 11 foot-tall bull, which was installed in Manhattan's Financial District in 1989. And yet, this girl, with her feet spread, her hands on her hips, and her chip lifted, seems far from cowed. (Pun FULLY intended.) At her feet sits a plaque, reading, "Know the power of women in leadership. SHE makes a difference."
"Fearless Girl" was commissioned by ad agency McCann New York on behalf of investment firm State Street Global Advisors and created by artist Kristen Visbal. In a statement, Visbal said of the statue, "This is a piece of work all women of any age, shape, color or creed can relate to. A work which reminds us today's working woman is here to stay and has taken her place in the nation's financial district."
State Street erected the statue as part of a larger campaign to increase the number of women sitting on corporate boards. In a press statement, Ron O'Hanley, president and chief executive officer of SSGA, explained why State Street wants to bring more women into heavily male-dominated boards:
A key contributor to effective independent board leadership is diversity of thought, which requires directors with different skills, backgrounds and expertise. Today, we are calling on companies to take concrete steps to increase gender diversity on their boards and have issued clear guidance to help them begin to take action.
On Wednesday, people flocked to the statue to take photos, in some cases adorning "Fearless Girl" with the pink knitted "pussy hats" made famous by the Women's March on Washington. The statue was quick to gain popularity on social media.
Right now, "Fearless Girl" is set to remain in place for a week, though there is potential for the statue to stay longer. Anne McNally, PR head for State Street, told PBS NewsHour, "We would absolutely be open to it being a permanent installation to that work of art. We feel very strongly that she is a partner to the bull. She's daring and confident and symbolizes the can-do spirit of women taking charge today and inspires the next generation of leaders." Here's hoping that "Fearless Girl" will find a permanent home on Wall Street — along with more women on major corporate boards.