It Really Looks Like A Woman Could Beat Trump In 2020, New Numbers Show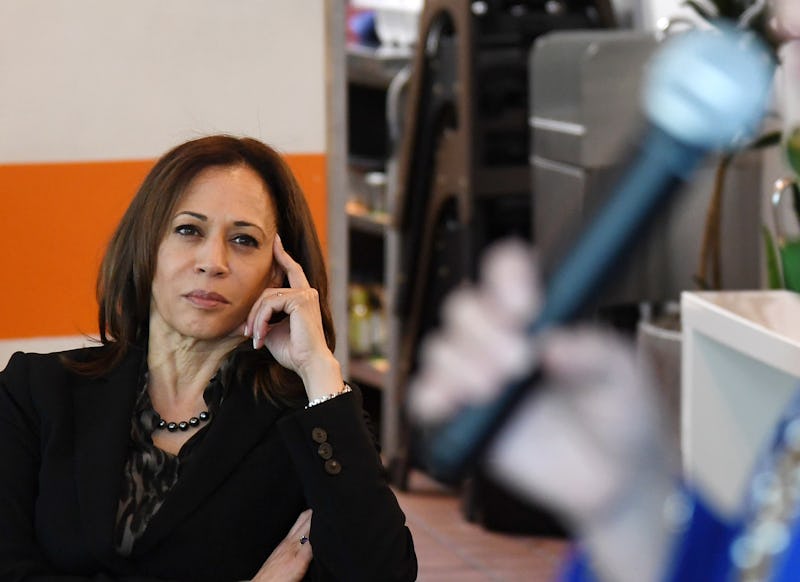 Ethan Miller/Getty Images News/Getty Images
All of this midterm campaigning is putting the next presidential election in mind for a lot of people, as President Donald Trump and many of his potential challengers beat paths across the country trying to help their respective parties in Congress. While 2020 is still far off, polls can make intriguing suggestions about what might happen then. According to a new Axios poll, any of a number of potential female 2020 presidential candidates could probably beat Trump — including Hillary Clinton.
Axios polled survey respondents on seven potential female presidential candidates, and every single one of them polled better than the sitting president. The woman who came out on top of the rest was former first lady Michelle Obama, who the poll said would beat Trump 55 percent to 42 percent. Americans are unlikely to see this match-up happen in real life, as Michelle Obama said at a leadership conference in April 2019 that she would definitely never run for president herself, as Glamour reported.
Oprah Winfrey beat Trump by a similar margin in the Axios poll, at 53 percent to 41 percent. This is another fantasy match-up, though, because Oprah said to British Vogue in July 2018 that running for president "would kill me."
The next three women in line are all potential serious contenders: California Sen. Kamala Harris, Minnesota Sen. Amy Klobuchar, and New York Sen. Kirsten Gillibrand. In June, Harris told MSNBC that she hadn't ruled out a run for president in 2020, and the Axios poll would have her beating Trump by a margin of ten points. Harris, a first-generation American, woman of color, former prosecutor, and former California attorney general, has a lot in her favor, and Axios wrote that she polls especially strongly with black women and white suburban women.
Klobuchar, as Chris Cillizza at CNN described, has appeal among moderates, and she's very popular in her Midwestern state of Minnesota. However, this may not matter if she isn't as popular among the more progressive wing of the Democratic Party. Axios still showed her beating Trump by nine points, though, 51 percent to 42 percent.
On the other side of the Democratic Party of Klobuchar is Gillibrand, who the Axios poll said would beat Trump 50 percent to 44 percent. According to The New York Times, Gillibrand's messaging has moved farther and farther to the left on several fronts. She, Klobuchar, and Harris would all face the same battle, should they throw their hats into the Democratic primary: name recognition. According to the Axios poll, close to a majority of respondents said they didn't know enough about each of those three potential candidates to even rate them as favorable or unfavorable.
The final two women that the Axios poll addressed wouldn't have to worry about name recognition. One was Hillary Clinton, who Axios had beating Trump by five percentage points, and the final one was Massachusetts Sen. Elizabeth Warren, who the poll nearly had in a tie with the current president, at 49 percent to 47 percent. Clinton's margin of victory suggested by the poll isn't actually that far off her actual margin of victory in the popular vote, which was 48.0 percent to 45.9 percent, according to The New York Times.
While the midterms are of course still the focus at the moment, you won't have to wait too much longer before these — and other — potential 2020 contenders start declaring their intentions to run. And primary season is long, but perhaps this Axios poll is a hint that Democratic voters would like to see another female candidate battling with Donald Trump.