A Female Soldier Is On Her Way To Breaking Down A Major Barrier In The U.S. Army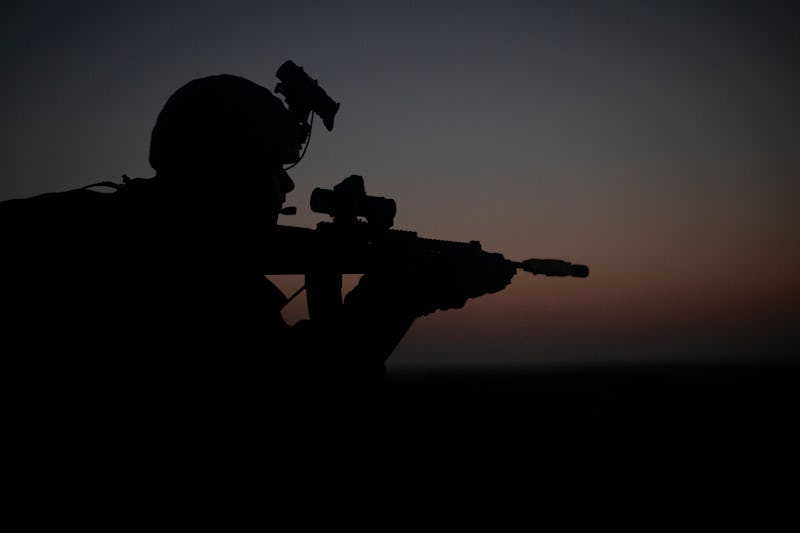 Dan Kitwood/Getty Images News/Getty Images
The first female soldier has completed the U.S. Army's initial Special Forces Assessment and Selection process, CNN reports. The unnamed soldier could soon become the Army's first female Green Beret, an elite special force that focuses on unconventional warfare and counterterrorism.
"Recently, a female successfully completed Special Forces Assessment and Selection and was selected to attend the Special Forces Qualification Course," Lieutenant Colonel Loren Bymer told the Army Times. "We're proud of all the candidates who attended and were selected to continue into the qualification course in hopes of earning their Green Beret."
After passing the demanding 24-day program, she'll now move on to the Special Forces Qualification Course. Bymer told CNN that several women have attempted the program since the military opened up all combat roles to women in 2016, but this was the first to pass.
The Green Berets, named for the hats they wear as part of their uniform, are one of the last Army factions to not have any female soldiers, per the Army Times. Nevertheless, Defense Secretary Jim Mattis commented in September that "the jury is out" on whether female soldiers can succeed in combat roles, saying he needs to see more data.
"This is a policy I inherited, and so far the cadre is so small we have no data on it. We're hoping to get data soon," Mattis said while speaking at the Virginia Military Institute, per CNN. He added that it might not "make sense" for women to serve in combat.
"This is an area we're going to have to resolve as a nation," he said. "And the military has got to have officers who look at this with a great deal of objectivity, and at the same time, remember our natural inclination to have this open to all. But we cannot do something that militarily doesn't make sense."
Women have been breaking down barriers in the military for decades, ever since they disguised themselves as men to fight in the Civil War. The first women were admitted to U.S. military academies in 1976, according to Task & Purpose, but it wasn't until 40 years later that all combat positions were opened up to women. Defense Secretary Ashton Carter announced in 2015 that starting the next year there would be "no exceptions" to what positions women could hold.
"They'll be allowed to drive tanks, fire mortars and lead infantry soldiers into combat," he said, per The New York Times. "They'll be able to serve as Army Rangers and Green Berets, Navy SEALs, Marine Corps infantry, Air Force parajumpers and everything else that was previously open only to men."
Last year, the Marine Corps got its first female infantry officer leading a platoon of infantry Marines after 26 other women unsuccessfully took a stab at the training course. Her rise through the ranks highlighted a significant shift in a branch of the military that was more resistant than others to allow women to serve in combat (a position made evident by a study released by the Marine Corps in 2015 that said all-male units outperformed mixed gender units, as NPR reported at the time.)
One more barrier was shattered in the Army recently, with the first female soldier now on her way to donning a green beret.