A Woman Dressed As A Clown Allegedly Murdered Someone, Then Married Her Victim's Husband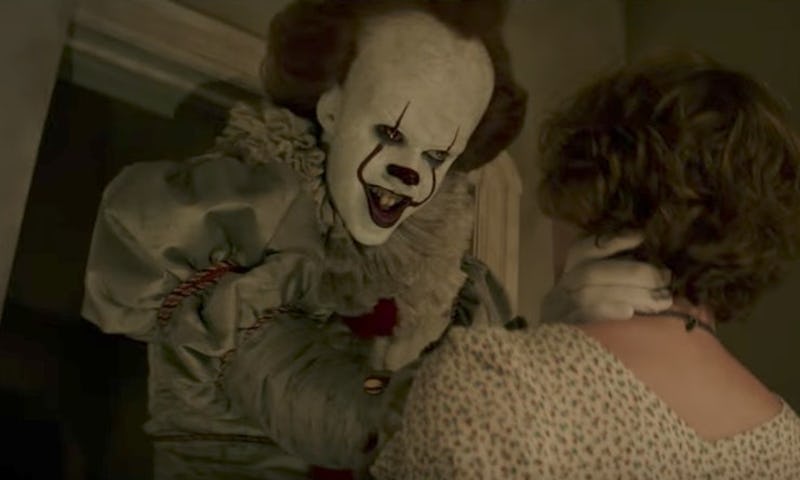 Warner Bros Pictures
If this past year (or two years, depending on who you ask) of creepy clowns dominating the news cycle has left you terrified, rest easy, I guess, that this isn't a new phenomenon. A Florida cold case involving a woman who allegedly committed murder while dressed as a clown in 1990 is one step closer to being solved, after authorities located the woman who — as it turns out — had married her alleged victim's husband.
On May 26, 1990, Joseph Ahrens and a group of his friends allegedly saw a person dressed like a clown get out of a white Chrysler LeBaron and walk up to his parents' front door. Then, while Ahrens and his friends were finishing up breakfast, they allegedly heard that same person shoot Ahren's mother, Marlene Warren, in the face with a revolver. The murderer reportedly gave Marlene Warren a bouquet of flowers and some balloons before delivering the fatal shot. One of the balloons featured Snow White and the Seven Dwarfs, and the other read: "You're the Greatest." Warren died in the hospital two days after the attack, and The Miami Herald dubbed her homicide "the crime of the year."
During the initial investigation that followed Marlene Warren's death, detectives identified a woman named Sheila Keen as a murder suspect. A number of witnesses claimed they saw a woman matching Keen's description buying a clown outfit a few days before the homicide. And clerks at a Publix supermarket near Keen's apartment said they saw a woman purchase a bouquet of flowers and some balloons — including the peculiar Snow White one. On top of all that, it didn't take long for Palm Beach County detectives to suspect that Sheila Keen and Marlene's husband, Michael Warren, were having an affair that might have played some role in Marlene Warren's murder.
"We have two suspects, and they are Sheila Keen and Michael Warren," Lt. Steve Newell told media back in 1991, a year after Marlene Warren's death. Keen's neighbors told police that Michael Warren was allegedly a frequent visitor of Keen's apartment. Since the Warrens owned a car dealership and car rental firm at the time, and Keen and her then-husband repossessed cars for a living, the couples worked together frequently.
Of course, Michael Warren denied the allegations that he'd been seeing Keen on the side. When the white Chrysler LeBaron was eventually discovered abandoned in a parking lot, the only thing police found that might have definitively tied Keen and Michael Warren to the case were some orange wig fibers and several long brown hairs that happened to resemble Keen's. Ultimately, though, the murder weapon and clown costume were never found. Detectives weren't able to make any arrests, and the case went cold for more than 20 years.
But all of that changed in 2014, when the Palm Beach County Sheriff's Office (PBSO) cold case unit reopened Marlene Warren's homicide investigation. PBSO staff re-contacted witnesses and conducted additional DNA analysis, and over the course of that process, detectives were able to finally bring justice to Marlene Warren and her son. It was found that Sheila Keen and Michael Warren had not only gotten married in 2002, they were operating a restaurant together in Tennessee. All of this information, combined with detectives' suspicions about the pair since 1991, was enough to get the case back in court. As PBSO stated in a recent statement on Facebook: "As a result of the investigation, probable cause was established linking Sheila Keen Warren to the murder of Marlene Warren."
On Aug. 31, 2017, authorities presented their case to a grand jury. After reviewing all the available information, the jury issued a true bill for first degree murder, and an arrest was obtained for Sheila Warren. Last Tuesday, Sheila Warren was located and arrested in Washington County, Virginia. No one was injured in the process, according to PBSO.
The indictment is currently under seal, so we don't know much more at this point. One thing seems to be for sure, though: Marlene Warren might soon be receiving justice.