This Is The Memorial Fund For Dr. Tamara O'Neal & You Can Donate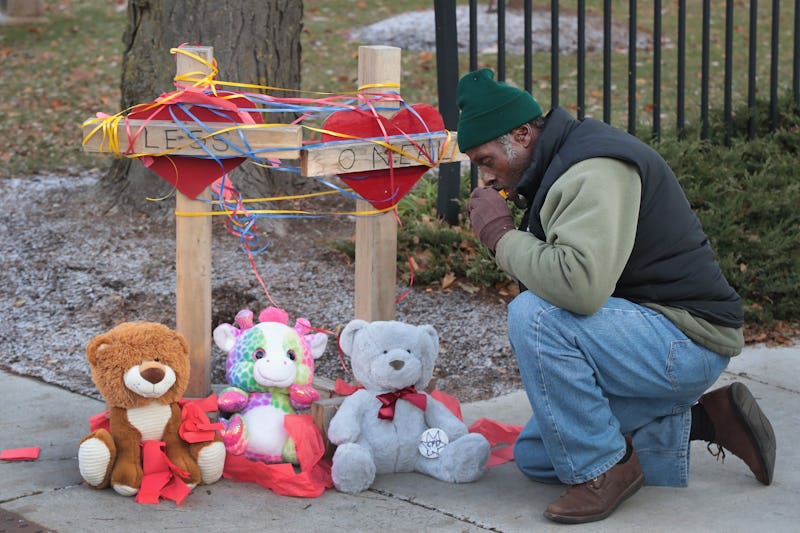 Scott Olson/Getty Images News/Getty Images
As the community around Chicago's Mercy Hospital grapples with the aftermath of a shooting that took place on Monday, people are commemorating the lives lost that horrific afternoon. On Tuesday, a GoFundMe for Dr. Tamara O'Neal was created to raise money for a medical scholarship in her name. O'Neal was one of two Mercy Hospital staffers killed that day, and the shooter was her former fiancé.
Law enforcement authorities say that the 38-year-old emergency room physician was killed in the hospital's parking lot after an altercation with the shooter.
Dr. Garth Walker, a friend of O'Neal's, wrote on the GoFundMe page, "With permission from her family, we wanted to do something to honor her memory that would be reflective of how she lived her life." According to Walker, the funds will be donated to the University of Illinois College of Medicine, which O'Neal attended, in order to create a Tamara E. O'Neal Memorial Scholarship.
The purpose of the scholarship, Walker added, will be to help finance the education of underrepresented minority students in medicine. At the time of this writing, the GoFundMe project has received over $14,000 from more than 200 people. Its goal is $100,000.
Walker wrote that O'Neal's "story is a testament to what happens when someone is lucky enough to have intelligence with persistence, resilience, and an unwavering principle to do right, and look out for others."
Another fundraiser for O'Neal created by FemInEM, a public resource for gender representation in medicine, had asked for donations to cover her funeral expenses. The fund is now closed to the public presumably after receiving the required amount. The creator behind the fundraiser, Dr. Dara Kass, wrote about the late physician's background and aspirations, saying that O'Neal "came from humble beginnings and was the first in her family to become a physician."
"She wanted nothing more than to be an Emergency Physician and give back to her community," Kass added.
In a statement to Bustle, Kass says, "The reason why we're doing it through FemInEM, and not GoFundMe, is [because] we wanted to put our authenticity behind the idea that this was for her. We're not taking any fees." The doctor adds that "100 percent of the money that comes in" would go to O'Neal's family.
Whatever proceeds remain after covering O'Neal's funeral expenses will finance a research fund in O'Neal's name created by the non-profit American Foundation For Firearm Injury Reduction In Medicine (AFFIRM). AFFIRM's research project will "address the intersectional issues of gun violence and intimate partner violence, especially as it affects people of color," according to its page. The non-profit is currently accepting public donations.
In a statement to Bustle, AFFIRM's chief research officer Dr. Megan Ranney says, "As physicians, we treat gun violence; we are often victims of gun violence; and we know that we can solve gun violence."
Ranney adds that AFFIRM will work in collaboration with FemInEM to strengthen its research project dedicated to understanding — and hopefully reducing — America's rampant gun violence problem.