Here's How To Donate Money To Las Vegas Victims & Their Families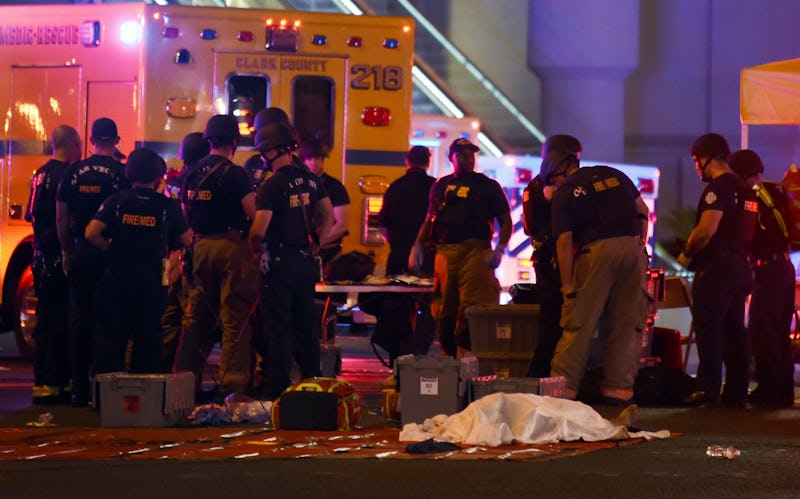 Ethan Miller/Getty Images News/Getty Images
In the wake of the horrific shooting in Las Vegas on Sunday night, which left more than 50 people dead and over 500 injured, Clark County Commission Chairman Steve Sisolak and Las Vegas Metropolitan Police Sheriff Joseph Lombardo have set up a GoFundMe page to raise money for Las Vegas shooting victims and their families.
"We are raising funds to assist the victim's of the tragic Las Vegas shooting," Sisolak wrote on the Las Vegas Victims' Fund page. "I am at Clark County's only level-one trauma center with the victims and their families as we speak. Funds will be used to provide relief and financial support to the victims and families of the horrific Las Vegas mass shooting​."
Sisolak said he pledged the first $10,000. In the three hours since the GoFundMe page went up, the campaign had already exceeded its $500,000 goal by almost $100,000.
"My heart goes out to everyone that has been affected. Thank you first responders and LVPD," one person wrote.
"We wish everyone peace, speedy recoveries, solace for grief. We are grieving with you. Americans are here for you," said another.
Although these funds are an important start, they are likely only a drop in the bucket of the amount of assistance victims will need. The attack, which began just after 10 p.m. on Sunday night when a gunman shot into a crowd of over 20,000 concertgoers on the Las Vegas Strip, is the deadliest shooting in modern U.S. history.
The number of victims continues to rise — new updates put the number of injured at about 515. Of these, it is unclear how many were shot, and how many were inured in the chaos that followed, as tens of thousands of people scrambled to escape the open-air concert venue where they were watching singer Jason Aldean, one of the last performers at the Route 91 Harvest Festival, a three-day country music festival. The Dignity Health-St. Rose Dominican Hospital told The New York Times, of the 56 victims it received at its three locations, most had suffered gunshots, "but others had been trampled while fleeing, or had been hurt climbing fences to escape the shooting."
Right now, one of the most immediate concerns facing victims and the hospitals treating them is not funds, but having enough blood for all of the people who require surgery.
"What we ask for is blood, that's the main thing right now, is that if our people want to do something and they are healthy, then please donate blood," Las Vegas mayor Carolyn Goodman said in a statement on Monday morning. "We'll have banks available, always call a hospital if you're unsure of where to go."
Blood donation centers have been set up around Nevada, and even those of you outside the state can help by donating blood at your local Red Cross.
Financial donations to the Red Cross are also welcome, as its volunteers will be on the ground helping victims and local authorities. In addition to the GoFundMe, there are also a number of local Las Vegas organizations which would benefit from financial support, like the Volunteers in Medicine of Southern Nevada, which provides mental and physical healthcare to those who cannot access or afford it otherwise.
Bustle has compiled a list of ways you can help victims of this terrible massacre and their families here. And for those of you concerned about the political implications of this attack, you can reference this guide to find out the best way to contact your Congress representatives about gun control reform. What happened in Las Vegas is a tragedy, but know that there are ways to help.