A GOP Lawmaker Is Giving Teachers Free Guns (Yes, Seriously)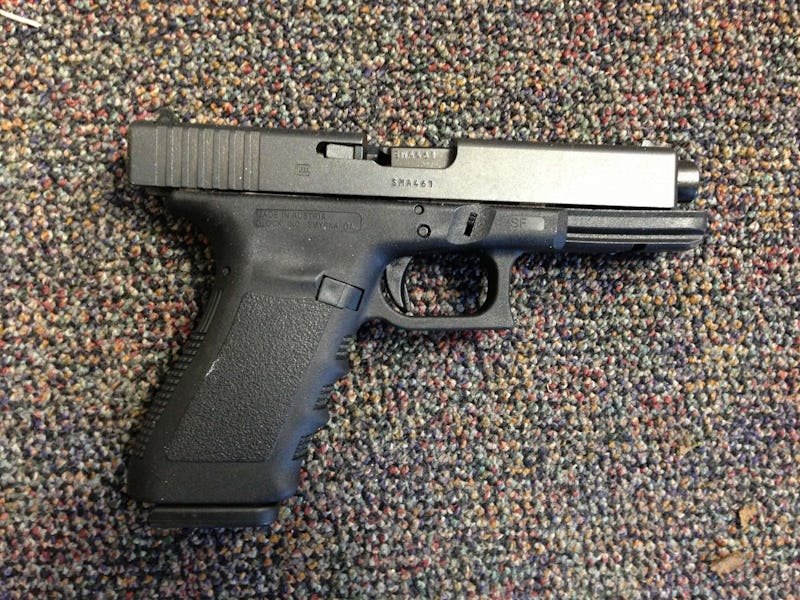 Handout/Getty Images News/Getty Images
While thousands of students, gun control advocates, and parents around the United States are demanding for more sensible and concrete gun control laws, a Republican lawmaker from South Carolina said he would give handguns away to teachers in a "drawing." Bustle has reached out to Long for a comment.
On Monday morning, South Carolina state Rep. Steven Long tweeted an excited announcement that he was "giving away three handguns!" The handguns would supposedly go to a K-12 teacher staff, another to a faculty member in higher education, and the last — Long added — would go to "a freedom loving patriot."
On his official website, Long justified his "giveaway" in a statement:
We must do everything we can to ensure the safety of children in schools, both K-12 and our higher education institutions. Allowing teachers or school staff members to carry is the most efficient and most effective way to do this.
Long added, "This is entirely voluntary. We aren't forcing teachers who don't feel comfortable with a gun to carry. Not every teacher will want to carry or needs to carry, but for those who are willing and able, we need to allow them this protection. I'm open to a discussion regarding the specifics of a program that allows teachers to carry, but it is undeniable that we must take action on this issue."
On Twitter, some observers took issue with Long's offer and asked him to reconsider his decision to give away Smith and Wesson firearms. One Twitter user said, "Tell us, Steven, how much do souls sell for these days? I hope you got a good price for yours." The Republican representative tweeted back, "My soul was bought and paid for by the precious blood of Jesus Christ!"
The criticism against Long seems to have continued as later on the GOP lawmaker said, "My notifications are like a blizzard with all the snowflakes [right now]."
Long, who is endorsed by the National Rifle Association (NRA), according to New York Daily News, isn't the only one to have supported the idea of arming teachers in school zones. Long's support for arming teachers comes shortly after President Donald Trump said that he would consider giving bonuses to teachers who carried concealed permits. "We have to harden those schools, not soften them," Trump said after the deadly Parkland school shooting. "A gun-free zone, to a killer, or somebody that wants to be a killer, that's like going in for the ice cream. That's like saying, 'Here I am, take me.'"
While incentivizing firearm training, Trump went on to say, "These people are cowards. They're not going to walk into a school if 20 percent of the teachers have guns — it may be 10 percent or may be 40 percent. And what I'd recommend doing is the people that do carry, we give them a bonus. We give them a little bit of a bonus."
In spite of the passionate calls from Republicans like Long to arm teachers, there is little research that proves the notion that more guns would mean more safety on campuses. In fact, it's the opposite.
Business Insider reported that more firearms tend to lead to more deaths, pointing to detailed studies conducted by The Harvard Injury Control Research Center. The publication also shared studies that show that faculty members would rather teachers and students not have guns on them. Participants of these studies said that the presence of more firearms made them feel unsafe on campus.
Long's call to arm teachers arrives after the Parkland, Florida high school shooting that killed 17 people, according to authorities. It's worth mentioning that most of the parents in Parkland are actually against giving firearms to teachers. The Tampa Bay Times quoted the mother of one of the victims, geography teacher Scott Beigel. When it came to arming teachers, Linda Beigel Schulman simply rejected the idea. "It could easily cause additional chaos and fatalities," the grieving mother said.