The 'Harry Potter' Version Of "Pokemon Go" Is Officially On The Way & OMGOMGOMG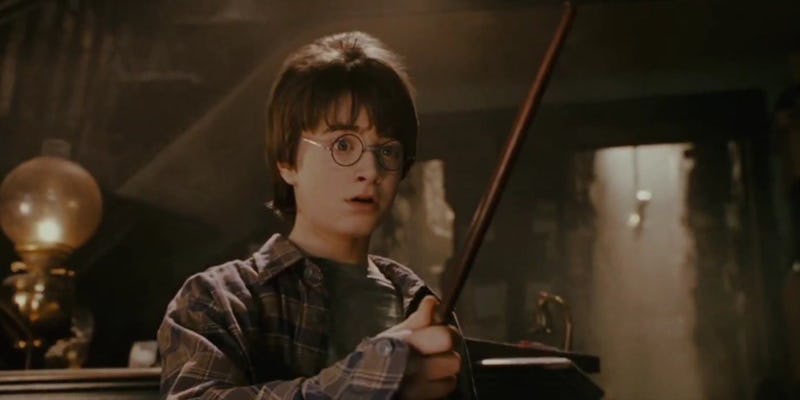 Warner Bros. Entertainment
Way back in August 2016, when the world was slightly more innocent and public parks were overrun with twentysomethings braving the elements and disregarding traffic signals in pursuit of Charizards on "Pokemon Go," Bustle imagined what a "Harry Potter Go" game would look like. Rumors about the development of one were swirling faster than Rita Skeeter's slander, but all seemed to fall behind the figurative veil (too soon?) before they got off the ground. But today, my fellow Hogwarts alumni, comes good news at last: an augmented reality Harry Potter game is on the way, and will be here as early as 2018.
In fact, all of our old jokes about it being called "Harry Potter Go" aren't too too far from the truth — because Niantic, the developers behind "Pokemon Go," are responsible for this ~magical~ version as well. According to Tech Crunch, the company is partnering with Warner Bros. Entertainment Division's new Portkey Games division to bring the game, titled "Harry Potter: Wizards Unite," to life. (Not to be That Witch, but like ... just wizards? Hmm.)
But while the app's existence is official, Niantic and Warner Bros. have yet to set a release date firmer than 2018, or release any of the details of how the game will work or what its objectives are. We do know that it has the potential to massively benefit from Ingress, the platform that "Pokemon Go" utilized to map locations for users, which could mean that a lot of your old favorite Pokemon gym hangouts could be the future Grimmauld Places as early as next year.
While there's plenty to get excited about, with so little to go on, Niantic and Warner Bros. are leaving a lot to the imagination. Luckily, Bustle already spent plenty of time dreaming about this app that I feel reasonably confident that my assumptions about it aren't too off-base.
For instance, it seems likely that, like "Pokemon Go," you'll be asked to create an avatar.
After that, presumably, you're off to Hogwarts, where you find your wand, pick out a faithful pet, collect your books, and are sorted into your House. The Houses would probably operate the way that the blue, red, and yellow teams do on "Pokemon Go"; that way there would still be competition between Houses, but much like the "raids" on "Pokemon Go," plenty of opportunity for those Houses to team up with each other against a greater evil when necessary.
Using the location maps already provided by Ingress, wizards and witches could encounter magical creatures, hone their skill levels with spells, and meet up to fight against magical disturbances that strike the unsuspecting Muggles nearby. Similar to the gyms of "Pokemon Go," users could also meet in specific places to duel.
Your inventory, rather than Pokemon, pokeballs, and candies, could include the spells you've learned, potions ingredients, and creatures you've encountered. If the app goes full on into the Voldemort era of Harry Potter, it may even include a place to collect horcruxes.
Of course, until more details are released, all of this is just speculations/my specific hopes and dreams for this app. For more of what you might be able to expect from this new Harry Potter version, you might want to try checking in on your old pal "Pokemon Go"; even though there aren't nearly as many of us playing as there were back in 2016, aka the Summer Of "Pokemon Go", the app has continued to update and use its AR technologies in fresh, innovative ways, from raids that gather people in different spots in cities, to seasonal promotions, to entire social networks of users behind the scenes of the app. In both Warner Bros. and Niantic's hands, I think it's safe to say we can ~expecto~ the best. (Sorry, sorry; I am a Hufflepuff and it cannot be helped.)