People Are Furious Over A Viral Cartoon About Serena Williams & Naomi Osaka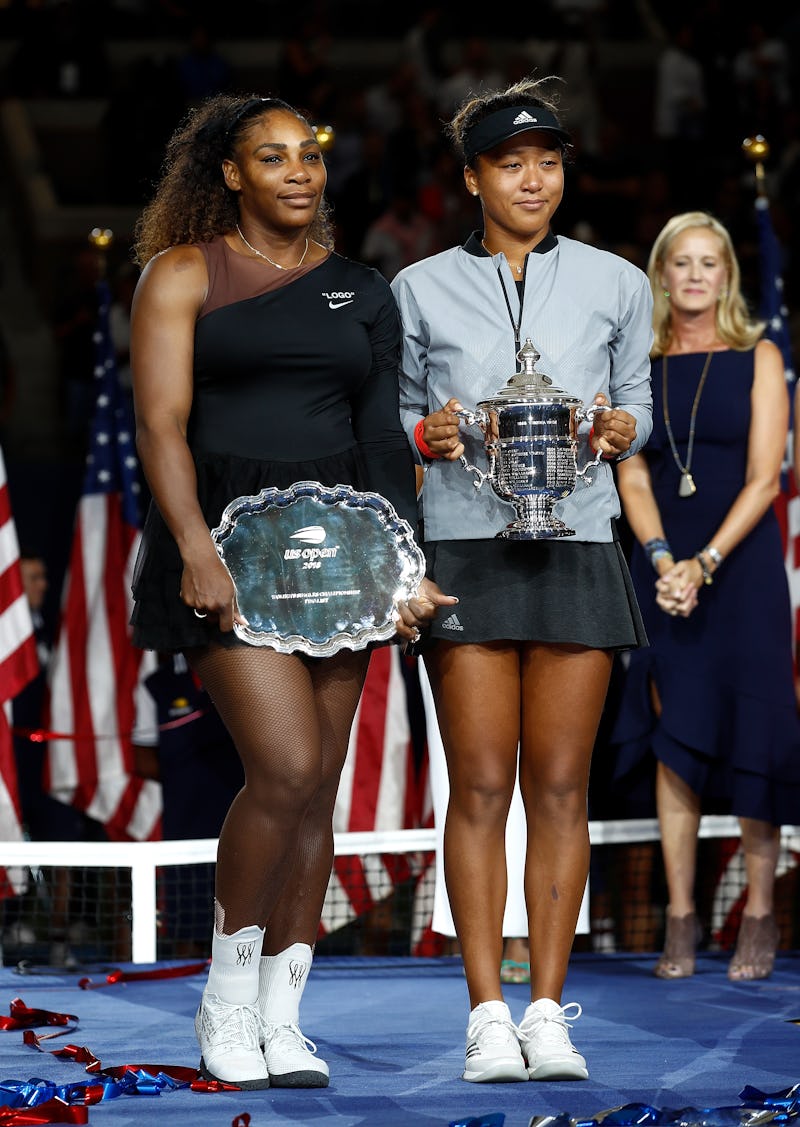 Julian Finney/Getty Images Sport/Getty Images
UPDATE: The Herald Sun has responded to Bustle's request for comment, linking to an article on its site with the statement, "Australia's finest cartoonist Mark Knight has dismissed a global Twitter storm over his depiction of a tantrum-throwing Serena Williams. The Herald Sun's veteran cartoonist says his portrayal was never about race or gender — rather the sporting superstar's bad behaviour at the US Open."
EARLIER: After Serena Williams' unexpected loss to Naomi Osaka during Saturday's U.S. Open final, the tennis star's name is still on everyone's lips and making headlines around the world. This unfortunately includes a now viral cartoon of Serena Williams and Naomi Osaka by Mark Knight, published in Melbourne's the Herald Sun, which has generated swift backlash online for its depiction of both athletes. The cartoon shows a caricature of Williams throwing a tantrum and stomping on her tennis racket with a pacifier nearby. In the background an umpire is telling Osaka, "Can you just let her win?"
(Bustle reached out to the Herald Sun and to Knight for comment on the cartoon and people's reactions to it, and will update this post upon response; Knight has already defended himself on Twitter, pointing out to a user that he also drew a cartoon of a male tennis player who was "behaving badly" and writing, "Don't bring gender into it when it's all about behaviour.")
During Saturday's game, Williams was penalized three times; first, for allegedly receiving coaching from her coach who was in the stands, and then for breaking her racket and calling umpire Carlos Ramos a "thief" when she was upset about his original claim. Williams was also fined $17,000 of her prize money in relation to the violations. The situation has already brought up conversations about sexism — Williams and others believe that often umpires don't treat men the same way — and racism when it comes to the "angry black woman" stereotype.
Many are quick to point out that Knight's cartoon for the Australian newspaper is going along with the derogatory narrative that Williams' actions have already received. While Williams and many fans saw her exchange with Ramos as her standing up for herself in, yes, a passionate way, Knight's drawing makes it seem that she's a whiny baby who doesn't have control of herself. And worse, many have pointed out that he draws her with exaggerated features that are reminiscent of racist art from the past.
Knight's defense of himself has left a lot of users unsatisfied — in fact, a lot of people are pointing out the numerous problems with the cartoon.
The Way "Serena" Looks
As of the time of publication, Knight hasn't answered that last question.
And How "Naomi" Looks
In addition to the way Williams is drawn, the way Osaka is shown stands out because she appears petite, light-skinned, and blonde. While Osaka does have the ends of her hair dyed blonde, if you looked at the cartoon without knowing who it was supposed to be, you would probably think it was a drawing of a white woman — both whitewashing Osaka (who is Haitian and Japanese), and exaggerating
People Are Reporting It
A number of people have said that they are reporting Knight's tweet with the cartoon to Twitter.
And Asking That It Not Be Reposted
The biggest contingent of people is asking that other Twitter users stop sharing and retweeting the image, especially since it's possible to talk about it and denounce it without doing so.
This Offer For A Free Lesson
Women of color don't owe anyone a lesson on the issues with the way Williams has been talked about, but this kind person has offered one.
And This Call To Action
Going beyond reporting the tweet, this Twitter user wants to petition for Knight to be fired and is asking for people to suggest artists who could replace him.
As unacceptable as it is that this was drawn and published, at least there's some positivity in seeing just how many people are speaking out against it in defense of these two impressive, accomplished athletes, whose feats certainly do not deserve to be overshadowed by the controversy of this match.