An Oral History Of The Most Famous Scene In 'Hocus Pocus', As Told By The Movie's Cast & Crew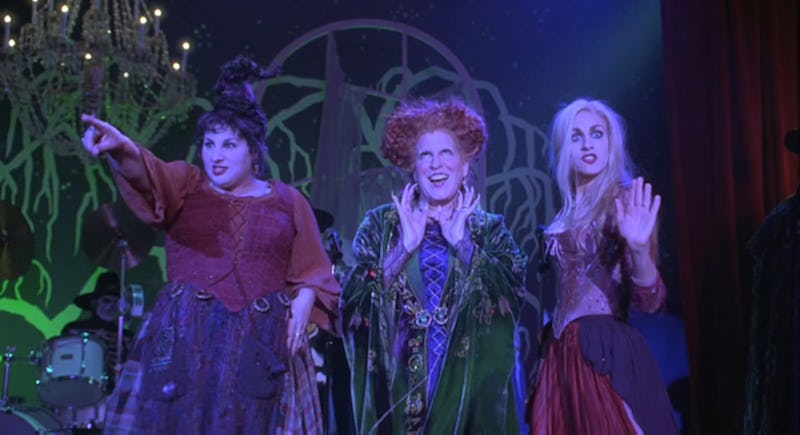 Disney
Thanks to Jurassic Park, the summer of 1993 was all about dinosaurs, which didn't leave much room for three witches looking to steal the souls of the children in Salem. But 25 years later, Hocus Pocus is a cult favorite that plays every Halloween despite its summertime debut. While that original release date has likely long faded away in most fans' memories, one moment in the film is simply unforgettable: Bette Midler's Winifred Sanderson singing "I Put A Spell On You." And in honor of Hocus Pocus' 25th anniversary, the cast, along with producer David Kirschner; costume designer Mary E. Vogt; and Marc Shaiman, who arranged that song specifically for Midler, are sharing behind the scenes secrets of the movie's famous scene.
This includes the story behind that Madonna costume and the lost Billy Butcherson dance number, not to mention the Disney characters you might recognize in that party scene. This is more than just a bit of hocus pocus — it's the oral history of the scene that helped make Hocus Pocus the classic it is today, as told through behind-the-scenes trivia from the movie's cast and crew.
The "I Put A Spell On You" Scene Almost Never Happened
Kirschner, whose story was the basis for Hocus Pocus, says that he originally hated director Kenny Ortega's idea to add a musical number into the movie. "When I heard that they were going to do that, I was so concerned. I just thought, 'You're going to ruin the movie,'" Kirschner recalls over the phone. "This is a movie that puts you on the edge of your seat and you're going to stop it for this musical number?"
"And yet," Kirschner continues, "I'm a billion percent wrong. I love seeing how wrong I was about it."
Now, the filmmaker says he can't imagine the movie without the scene, which is loved by not just him, but his children and grandchildren. "They're always singing it," he says. Kirschner gives all the credit to Ortega, who "was the genius behind it," as well as Midler, who, in the scene, "does what she does so well. The girls [Sarah Jessica Parker and Kathy Najimy] were so great, but that's certainly Bette's moment."
The Song Was Arranged Specifically For Bette
Although, Kirschner originally wanted Winnie to be played by Cloris Leachman because of how much he loved her in Young Frankenstein, the studio wanted Midler for the role. Of course, later Leachman would go on to star in another Halloween staple Double, Double, Toil and Trouble with Mary-Kate and Ashley Olsen. When the part became Midler's, it wasn't long before the film was geared specifically towards her. Case in point: if you've thought that the version of "I Put A Spell On You" in the movie sounded like a Midler original, well, it kind of was. Marc Shaiman, who wrote the Broadway hit Hairspray and worked with Midler on Beaches, arranged the song specifically for her.
Over email, Shaiman says that he was inspired by Midler's live show when arranging the song, giving it a more orchestral feel. "It's the kind of groove the opening song of a Bette Midler concert would be," he explains. "It just fell naturally into that." To make the scene even more like a Midler show, Shaiman even turned Najimy and Parker into Midler's real life backup singers, The Harlettes. "Since I had worked with Bette AND her back-up group The Harlettes so often," Shaiman recalls, "it was natural to give Kathy and SJP the 'Harlette' style back-up parts that they sing (and dance to) in the movie."
Midler now performs her Hocus Pocus rendition of "I Put A Spell On You" on tour, wearing Winifred's dress, wig, and signature makeup.
The Madonna Costume Was Totally D.I.Y.
After using most of her budget on the Sanderson sisters' outfits, costume designer Mary Vogt had to be creative with the looks of the partygoers — specifically, that Madonna costume Jennifer, Max and Dani's mom wears. Look close and you'll notice that this version of Madonna's iconic Gaultier cone bra — which debuted on the singer's Blonde Ambition Tour only three years earlier — is actually made out of two plastic funnels. "It was supposed to look slightly homemade," Vogt says over the phone. "I look at that now and I'm embarrassed, it looks so cheesy."
Actor Stephanie Faracy, who wore the bra, feels very differently about it. "I loved dancing around, filling Madonna's bra — it was the ultimate Halloween outfit at the time," she recalls over the phone, before adding with a laugh, "It was the first prop I ever wanted to steal."
That Halloween Party Was Too Risqué For Kids
When she starred in the film, Thora Birch was only 10. Today, she admits that the while filming, she and her castmates Omri Katz (Max) and Vinessa Shaw (Allison) heard some things that kids probably shouldn't hear.
"There were a lot of inappropriate conversations that were being had, between the Madonna outfit and some of the other more risqué outfits that some of the ladies had on," Birch recalls over the phone. "There was a lot of joking. You wouldn't talk like that around kids today, let's put it that way. But, you know, we loved it."
A Billy Butcherson Dance Number Was Left On The Cutting Room Floor
Doug Jones, who played Billy — not to mention played the Fish Man in 2017's The Shape Of Water — was asked by Ortega to choreograph a spontaneous dance number after the kids ran off and the parents were doomed to dance all night.
In an email, Jones lays out the scene:
"Because I was a zombie, I was immune to the spell, but stayed around just long enough to take the stage and enjoy having an audience just for a minute before joining back in the chase. So I pulled out my best goofy leg kicks, some loose-jointed elbow and head bobbing, and my signature move where I go to the floor in a half split and end up bouncing like a crab off my hands and feet. Kenny told me to finish by blowing kisses to the rabid crowd, like I was having trouble leaving all this attention."
While that all sounds pretty amazing, the scene was cut for time and unfortunately hasn't ever surfaced online. Maybe for the 30th anniversary?
Look Close & You'll Spot Some Disney Easter Eggs In That Party Scene
When watching the "I Put A Spell On You" number, pay close attention to what everyone's wearing. Vogt says she used costumes from previous live action Disney movies for the extras in that scene. There are pirates from Treasure Island, maiden faire looks from The Sword and the Rose, Viking helmets from The Island at the Top of the World, and someone wearing the suit from Tron.
Vogt also snagged a few burlesque looks from Midler's 1993 TV movie Gypsy, specifically the red outfits from the "You Gotta Get A Gimmick" scene. "I was always wondering if Bette was going to recognize those stripper outfits that we put on them," she says. "She was probably too busy doing her own thing to think about it."
Everyone Was In Awe Of Bette Midler
The scene felt like a free Bette Midler concert, and according to Doug Jones, the actor more than delivered. "Even with a pre-recorded vocal track she had to lip sync along with for editing reasons, she still belted that song out with her signature gusto so it wouldn't look like a breathless lip sync," he says.
Thora Birch adds that she's still jealous of Omri Katz for getting to be on stage during that number. "Thora, not Dani, Thora wanted to be up there dancing with the two sisters, I wanted to do background!" she says, laughing.
Turns out, the best reveal about Hocus Pocus' most memorable moment is that nearly three decades later, the people involved still love it as much as the fans do.