Over 91,000 Pounds Of Turkey Were Just Recalled Right Before Thanksgiving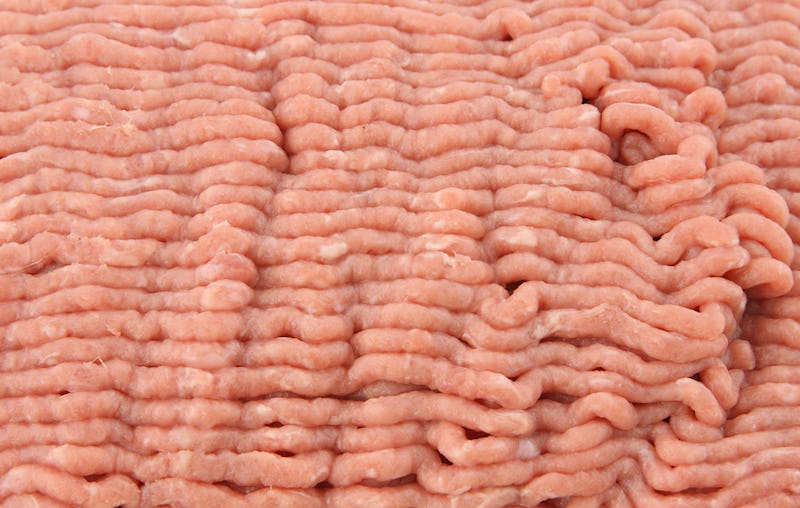 BW Folsom/Shutterstock
A turkey-related outbreak of the Salmonella Reading strain has been going on for a year, and it continues as we once again head into the biggest turkey eating day of the year. In response to the Salmonella outbreak, Jennie-O turkey has recalled over 91,000 pounds of raw ground turkey that may be associated, according to the USDA. This is the first recall of a specific brand in association with this particular .
According to the USDA, the Jennie-O turkey was produced on September 11, 2018, and the following products are being recalled:
1-lb. packages of "Jennie-O GROUND TURKEY 93% LEAN | 7% FAT" with "Use by" dates of 10/01/2018 and 10/02/2018
1-lb. packages of "Jennie-O TACO SEASONED GROUND TURKEY" with a "Use by" date of 10/02/2018
1-lb. packages of "Jennie-O GROUND TURKEY 85% LEAN | 15% FAT" with a "Use by" date of 10/02/2018
1-lb. packages of "Jennie-O ITALIAN SEASONED GROUND TURKEY" with a "Use by" date of 10/02/2018
The USDA also notes that the products were shipped nationwide and "bear establishment number 'P-190' inside the USDA mark of inspection." More information can be found here.
This outbreak of Salmonella has so far affected 164 people from 35 states, including one death and 63 hospitalizations. According to the Centers for Disease Control and Prevention, the illnesses linked to this strain began a year ago in November 2017. The outbreak previously made headlines in July when the CDC reported that it had spread to 26 states. At that time, it was not linked to a particular brand, but was linked to raw turkey, including whole turkeys, ground turkey, turkey pieces, and raw turkey pet food. Before that, it had not been clear what the common source of the Salmonella was, according to what Consumer Reports said at the time, which was why there was such a large gap between the CDC's report and the initial illnesses.
According to the CDC, a "single, common supplier of raw turkey products or of live turkeys has not been identified" and because the strain is present in live turkeys and in so many products it may be widespread across the turkey industry.
That said, the CDC is not advising people to avoid turkey if it is cooked properly, so carry on with your Thanksgiving plans as long as you follow the rules. Jean Halloran, the director of food policy initiatives at Consumer Reports, said of the situation, "It would be prudent for everyone to handle and prepare their turkey with the assumption that it could be contaminated with this disease-causing bacteria. Given how widespread this outbreak appears to be, this season, more than ever, it is crucial to employ the proper food safety practices when cooking your turkey."
The CDC notes that turkey should be cooked to an internal temperature of 165°F and leftovers should be reheated to the same temperature. Hands, food prep areas, and equipment should all be kept clean to avoid spreading germs. Turkey should never be thawed by leaving it out on the counter. Also, the CDC advises against feeding raw diets to pets, which can make the pet sick, as well as whoever is feeding them sick from handling the raw meat. More tips and information can be found on the CDC site here.
And, of course, be sure to keep an eye out for future recalls, especially because turkey is not the only food in which strains of Salmonella can be found. (There was recently one also linked to chicken.) Thanksgiving can be stressful as it is. No need to add any illnesses to the mix.