A Man Accused Of Rape Used Kansas' Abortion Law To Argue The Teen Victim Could Consent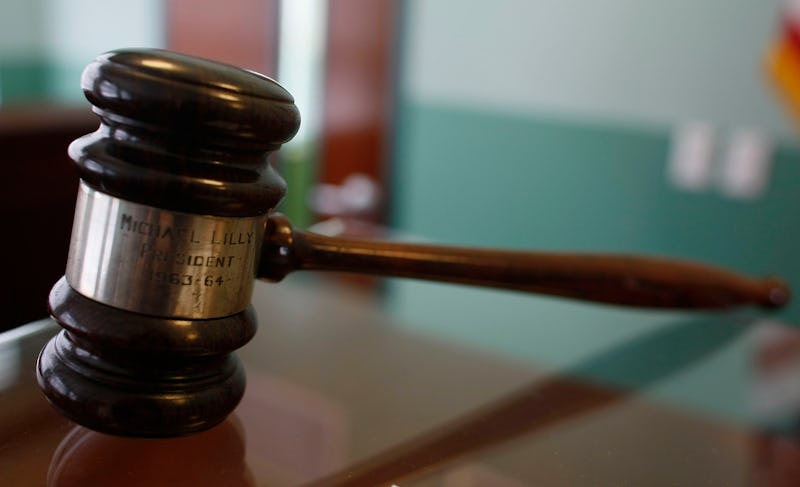 Joe Raedle/Getty Images News/Getty Images
When a man in Kansas was accused of raping a 15-year-old girl last year, he cited Kansas' "life begins at conception" abortion law to argue that he should not be charged with taking advantage of a child. The law in question states that life begins at fertilization, which according to the accused man would have made the alleged victim 16 years old — the legal age of consent in Kansas.
According to The New York Times, Jordan Ross — now 21 — was charged with raping a then-15-year-old girl at an August 2017 party in Lawrence, Kansas. Given the alleged victim's age, defense attorney Cooper Overstreet argued that Ross could not be be convicted of aggravated indecent liberties with a child.
"Because of recent statutory amendments establishing that life begins at fertilization, the alleged victim in this case should be considered by this court as nine months older than her date of birth," Overstreet argued in his motion, per the Associated Press. "Because of this, at the time of the alleged incident, the alleged victim would have been 16 years old and thus a charge of aggravated indecent liberties is factually impossible."
Douglas County District Court Judge James McCabria ultimately shot down Overstreet's motion, and wrote that the law applied only to public health codes.
Overstreet had initially planned to argue that the sex in Ross' case was consensual, but prosecutors then introduced the charge of aggravated indecent liberties with a child, prompting Overstreet to argue that the alleged victim in the case was not actually a child. In her argument against Overstreet's motion, Prosecutor Alice Walker stated that calculating age based on time of conception would "introduce an unacceptable uncertainty into the criminal law," The New York Times reported.
According to Adrienne Kimmell, the vice president of NARAL Pro-Choice America, the use of Kansas' abortion law in this case illustrates the dangerous consequences of "life begins at conception" measures.
"This is an utterly disturbing case," Kimmell tells Bustle, "and a sobering reminder of the dangers of these extreme 'personhood' measures that undercut the lives, health, and rights of women, and serve as a vehicle for the most egregious examples of the 'pro-life' hypocrisy."
The law that Overstreet cited in Ross' case was signed into law in 2013 by former Kansas Gov. Sam Brownback, who is currently serving as the U.S. ambassador-at-large for international religious freedom. When Brownback signed the statute into law, he proclaimed that "with this, we continue to build this culture of life in our state." However, the use of this abortion law in a sexual violence case could have worrisome implications, says Laura Palumbo, the communications director at the National Sexual Violence Resource Violence Center.
Overstreet's attempt to cite Kansas' abortion law in Ross' case "suggests a very concerning lack of understanding of why age of consent laws exist and how they are intended to protect children," Palumbo tells Bustle.
Because McCabria ultimately rejected Overstreet's motion, The New York Times reported that Ross remains free on a $20,000 bond while awaiting his new trial date, which is slated to be set during a hearing on Jan. 3.