A Knife-Wielding Man Demanded To Meet Ivanka At Trump Tower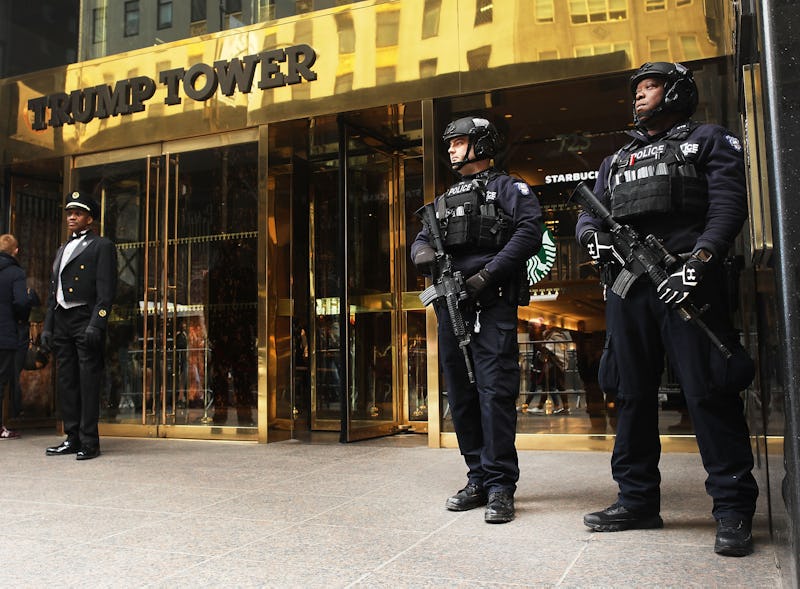 Spencer Platt/Getty Images News/Getty Images
Armed with two knives and donning a bulletproof vest, a man at Trump Tower demanded a meeting with Ivanka Trump on Thursday, claiming to be a U.S. senator. According to reports, police quickly arrested the man, Sixto Benitez, and he was subsequently hospitalized at a nearby medical center for a mental health evaluation.
Benitez reportedly arrived at a Secret Service checkpoint at Trump Tower around 4:00 p.m. ET Thursday. He identified himself as a senator, a special agent, and the owner of Trump Tower, according to BuzzFeed News. He also asked to meet with Ivanka about her dress line. According to the New York Daily News, Benitez was carrying two throwing knives, a weighted sock and a fake New York state ID card. He was also reportedly wearing a bulletproof vest underneath his shirt.
Police charged Benitez, a 52-year-old from the Bronx, with criminal possession of a weapon and possession of a forged instrument (most likely with regard to the ID card). He was taken to Weill Cornell Medical Center, cops told BuzzFeed News, for a psychiatric evaluation.
"He was trying to meet with Ivanka Trump to discuss her dresses," the NYPD's deputy commissioner of public information told Newsweek. "He was discovered to be wearing a bullet-resistant vest. ... Further investigation revealed he had a forged identification card."
The first daughter herself was not in Trump Tower at the time, but rather in Hamburg, Germany, for the G20 summit. She also doesn't live in Trump Tower; she and husband Jared Kushner moved to Washington, D.C. after her father was elected president. However, First Lady Melania Trump and her son, Barron, did opt to live in Trump Tower for the first five months or so of Donald Trump's presidency. In May, Congress appropriated $120 million in spending to pay for Trump's security services, including $23 million allocated to protecting Trump Tower.
The Secret Service has drawn criticism for several high-profile security breaches in the first few months of Trump's presidency. In March, a man was reportedly able to jump over the White House fence and remain on White House grounds for 15 minutes before being apprehended. Two months later, a woman hopped a bike rack near the White House and attempted to scale the fence, but Secret Service agents arrested her before she succeeded.
A spokesman for the Manhattan District Attorney's Office told BuzzFeed News that no court date is set for Benitez yet, as he is still undergoing a medical evaluation.