A New Study Shows Just How Many People Don't Tell Their Partner How Much They Make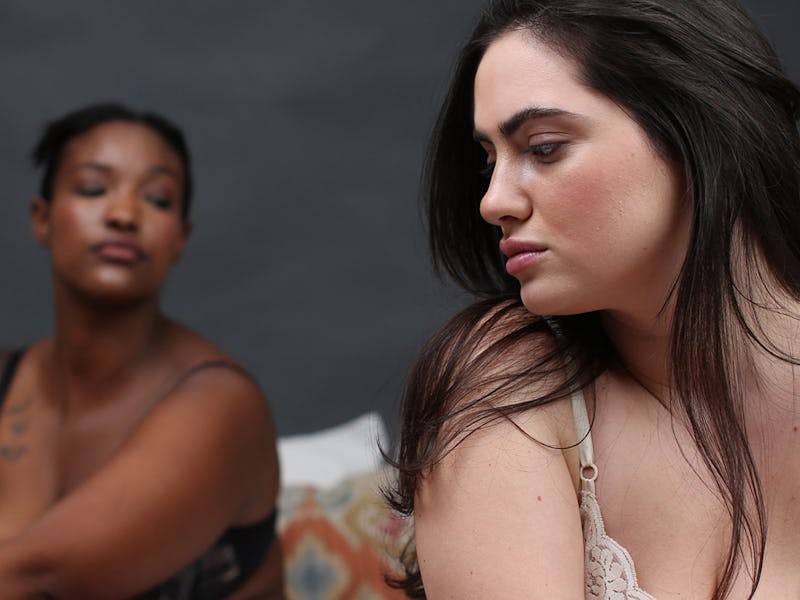 Ashley Batz/Bustle
It's no secret that talking about money isn't easy. Even if we know it's important, many of us feel uncomfortable or awkward — maybe even a little embarrassed — talking about our finances. And according to a new report from Bankrate.com, a personal finance website, we're even keeping our salaries a secret from those closest to us.
In fact, only 68 percent of people have told their spouse or live-in partner how much money they make, meaning 32 percent of us are keeping it a secret from the people we care about the most.
"Talking about money in a relationship is non-negotiable," Brianna McGurran, student loans and personal finance expert at NerdWallet, tells Bustle. "Consider it as important to the health of your partnership as supporting each other's hobbies or being polite to each other's moms. Opening up about your financial life means you're showing each other the real you, and that honesty and vulnerability helps the relationship grow. Keeping secrets about money erodes trust, and avoiding the conversation for too long means you won't have the tools to deal with money issues as they come up." Even if it doesn't seem like that big of a deal at first, not being open about money can be a form of secrecy that stifles communication. If you're at a point in your relationship where you're living together or married and you don't feel comfortable sharing your salary, it may be time to address the issue as soon as possible.
And, for women especially, it's so important to do — even beyond our relationships. "One of the biggest mistakes we see is women just don't talk about their money," Sylvia Kwan, chief investment officer at Ellevest, tells Bustle. "The implications of this are far-reaching — money plays a major role in our society, our politics, our work, even our relationships. If we shy away from talking about it, we put ourselves at a disadvantage. Money is power, and we need to get comfortable talking about it."
But, as this survey shows, we're just not quite there yet — although there may be some signs of improvement. Here's what else the survey found.