A Man Repeller x Topshop Collab Might Be Happening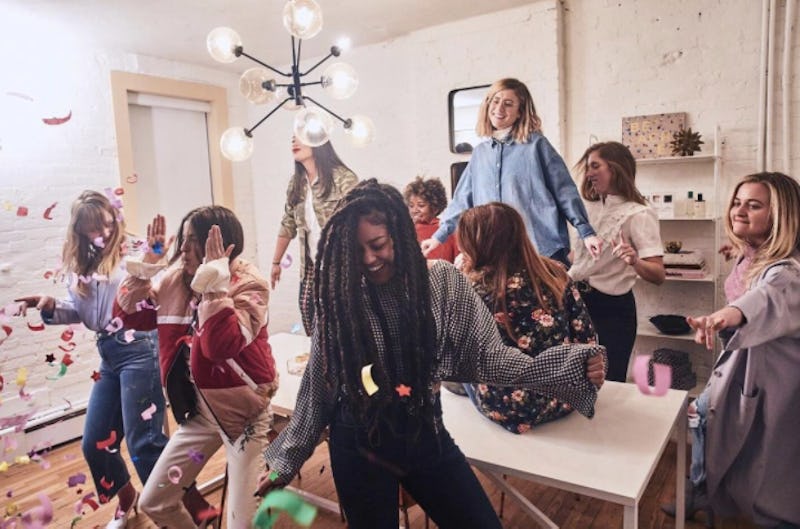 Man Repeller/Instagram
If you were told to name two of the coolest, trendiest fashion entities, chances are Man Repeller and Topshop would probably be some of the first to come to mind. So when the news broke that Man Repeller and Topshop would be collaborating for spring, we were immediately excited.
Not too much information has been released about the collab, but we know that the blogger-turned-editorial site and the UK-based fast fashion brand are for sure working together. On Thursday, Man Repeller shared a picture on Instagram of the Man Repeller team dancing around the office in Topshop jeans, captioning the pic, "A really good collection of jeans multiplied by nine happy butts equals uncontrollable shimmying and limitless confetti. It's basic math. @Topshop#TopshopxManRepeller #MRPartner," which hints to the idea that a Man Repeller x Topshop collaboration is in the works.
Man Repeller also shared a video that shows Leandra Medine getting ready in the morning and being disappointed by her stiff skirt options, eventually opting for a pair of cropped white embroidered jeans. The video then shows Medine with her coworkers, each wearing a different style of jeans, from kick flares to mom jeans. However, the video does not make it clear whether Man Repeller and Topshop are collaborating on a jean collection, or if they're just working together to promote Topshop's spring denim line.
My hunch is that this video is a subtle way of promoting an upcoming jean collaboration between Man Repeller and Topshop, but that has not been confirmed. However, Topshop's site says that Man Repeller's team is helping them style their spring jean collection, so that leads me to believe that Man Repeller isn't helping Topshop design their denim line. But it's all a little up in the air.
But of course, this little video promo got everyone excited for a potential collaboration.
Because these two fashion powerhouses can do some great things.
Cool, indeed.
We're super excited for more news about the "maybe" collab, because a collection of Man Repeller denim is sure to be amazing, if the previews are any indication.