Lady Gaga & Metallica Had Grammys Mic Issues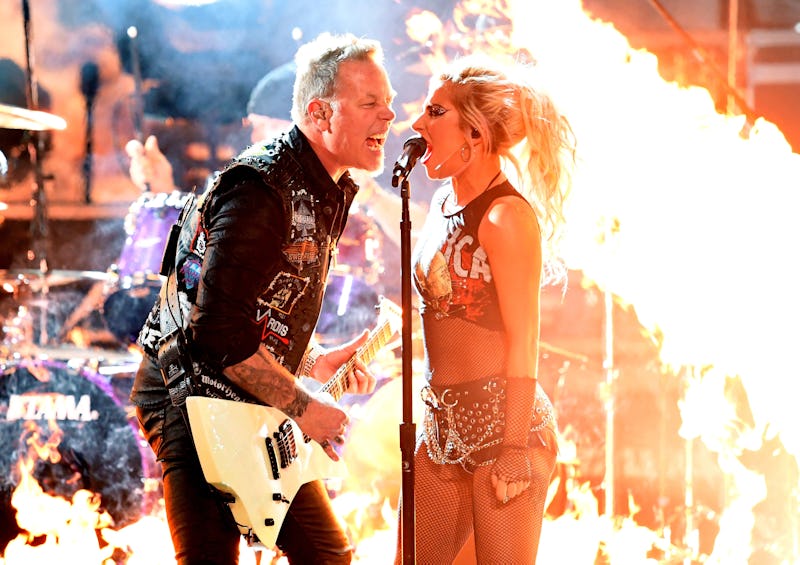 Kevin Winter/Getty Images Entertainment/Getty Images
One can argue that the point of the Grammy Awards has shifted over the course of its history — the music industry is in decline, allegedly ruined by streaming and downloading and all that jazz — and for the most part, I agree. Is the ceremony even relevant anymore? The people getting the awards aren't necessarily indicative of what's popular, but there's one thing about the Grammys that I love, and that's the performances. My favorite this year? Metallica and Lady Gaga performed together at the 2017 Grammy Awards, and it was awesome. Well, not all of it was awesome. From the get-go, Metallica singer James Hetfield's mic was having problems — as in his mic was off.
Not a good look (or sound). Luckily, Hetfield and Gaga recovered quickly, sharing a mic before a technician brought out a hand mic, and they finished out Metallica's "Moth To A Flame" in spectacular form. Besides that, everyone (especially Gaga) looked like they were having an amazing time. Gaga, clad in fishnets and a Metallica t-shirt, even dove into the crowd for a spin (they did catch her, too). While I'm decidedly not a hard rock fan, the music that Metallica and Gaga put out at the Grammys worked.
The best part of the Grammy Awards is watching different artists from different genres come together on stage and bring the house down. Would you have ever thought that Kendrick Lamar and Imagine Dragons should have performed together before you saw them at the Grammys? No. Did it pop first into your head that Lady Gaga and Metallica would play together? It did as soon as I saw it happening. Lady Gaga may be a pop star, but she's crossed into other genres before — she sings standards with Tony Bennett, and her latest album, Joanne, has a decidedly country vibe. Why not bridge another gap and move into hard rock with Metallica, who after 30 years in the business still sounds just as good as they did on day one? It was the right move for the rocking number, mic issues or not.