Border Patrol Said A Fourth Migrant Has Died In Its Custody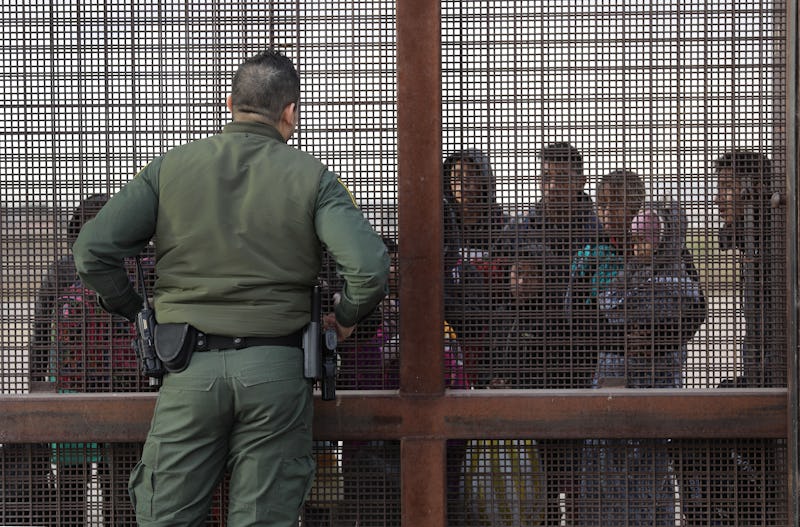 John Moore/Getty Images News/Getty Images
The U.S. government said Tuesday that a Mexican migrant in Border Patrol custody died on Monday, marking the fourth time in as many months that an immigrant has died in U.S. custody after being apprehended by immigration officials. Customs and Border Patrol (CBP) said that the man, who hasn't been identified, exhibited flu-like symptoms after being apprehended, and passed away shortly thereafter.
Bustle has reached out to the Department of Homeland Security, which oversees CBP, for comment.
"Our thoughts and prayers go out to the family and his loved ones," CBP Assistant Commissioner for Public Affairs Andrew Meehan said in a statement. "CBP remains committed to ensuring the safe, humane and dignified treatment of those within the care of our custody. Consistent with CBP policy, CBP's Office of Professional Responsibility has initiated a review."
CBP said that the man was apprehended near El Paso on Sunday. He was examined by medical personnel later that day and diagnosed with "flu-like symptoms, liver failure and renal failure," according to CBP, and was taken to Las Palmas Medical Center. Physicians treated him, but he died on Monday, CBP said.
The man is the fourth immigrant to die in CBP's custody in recent months. On two separate occasions in December, a Guatemalan child passed away under the agency's care after being detained, while a Mexican man passed away in February after being diagnosed with cirrhosis of the liver and congestive heart failure.
NBC News reported in January that since President Trump took office, a total of 22 immigrants have died in the custody of Immigrations and Customs Enforcement, a different branch of DHS.
The most recent death is likely to increase the already intense criticism the Trump administration has faced regarding the treatment of the immigrants it has detained.
In addition to the widespread condemnation the administration faced for separating immigrant children from their parents and holding them in what amounted to cages, a June lawsuit accused U.S. officials of forcibly giving psychotropic drugs to immigrant children without their parents' consent. Government data released in February showed that there have been 2,330 allegations of sexual assault against child immigrants in U.S. custody since Trump took office, while four women told BuzzFeed News in July that they miscarried while in ICE's custody and were denied adequate medical care.
After the two Guatemalan children died in CBP's custody in December, House Democrats vowed to hold hearings on their deaths and, more broadly, the conditions in which detained migrant children are held. Trump has refused to accept any blame for the deaths that occurred under his administration's watch, writing on Twitter that "any deaths of children or others at the Border are strictly the fault of the Democrats and their pathetic immigration policies that allow people to make the long trek thinking they can enter our country illegally." In a follow-up tweet, Trump said that "it will all end" if and when a wall is built on the U.S.-Mexico border.
In its press release on Tuesday, CBP said that it "will ensure an independent and thorough review of the circumstances" that led to the Mexican man's death.