A Miami Street Is Being Named After 'Moonlight'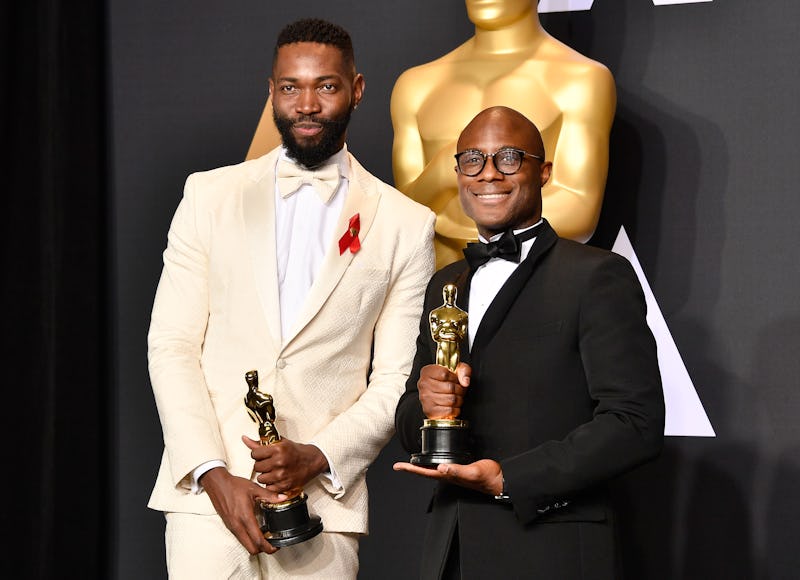 Frazer Harrison/Getty Images Entertainment/Getty Images
The biggest film of 2016 is still making headlines. According to the Miami New Times, Miami-Dade commissioners are renaming a Liberty City, Florida street after Moonlight. Northwest 22nd Avenue from Northwest 61st Street to Northwest 66th Street will soon be known as "Moonlight Way."
The independent movie tells the story of a poor, young black boy named Chiron coming to terms with his sexuality, while growing up in a hyper-masculine neighborhood in Miami. Playwright Tarell Alvin McCraney co-wrote Moonlight based on his own play, In Moonlight Black Boys Look Blue.
McCraney and co-writer/director Barry Jenkins were awarded the Academy Award for Best Adapted Screenplay for the film. McCraney marveled at how far he and Jenkins had come during his acceptance speech in February 2017. He said, "...we can really be here and be somebody. Two boys from Liberty City up here on this stage representing 305."
Spotlighting not only Liberty City but also the underprivileged young men and women who inhabit the neighborhood offered McCraney and Jenkins a reward far greater than one the Academy of Motion Picture Arts and Sciences could immortalize in gold. According to Miami-Dade Commissioner Audrey Edmonson, who is sponsoring the street renaming project, Moonlight gave struggling Miamians more reason to persevere beyond their circumstances. She said to the Miami New Times,
"This movie — at least what I got from it — really depicts the life of how a lot of us were raised and what we had to go through and endure as children in the inner city. This goes out to children still living here in the inner city that are told they'll never amount to anything. It shows that it doesn't matter how you were raised or where you grew up; you can still turn out to be someone."
As the film showed, "being someone" does not just mean winning awards — let alone the biggest award there is: The imperfect Juan impacted Little Chiron's life by serving as his father-figure. Kevin's friendship and affection offered Chiron hope and love during the lowest times of his lonely life. And McCraney and Jenkins are leaving an indelible mark on their hometown with their heartfelt ode to their city.