A 7-Year-Old With ADHD Was Handcuffed After School & Now His Mom Is Fighting Back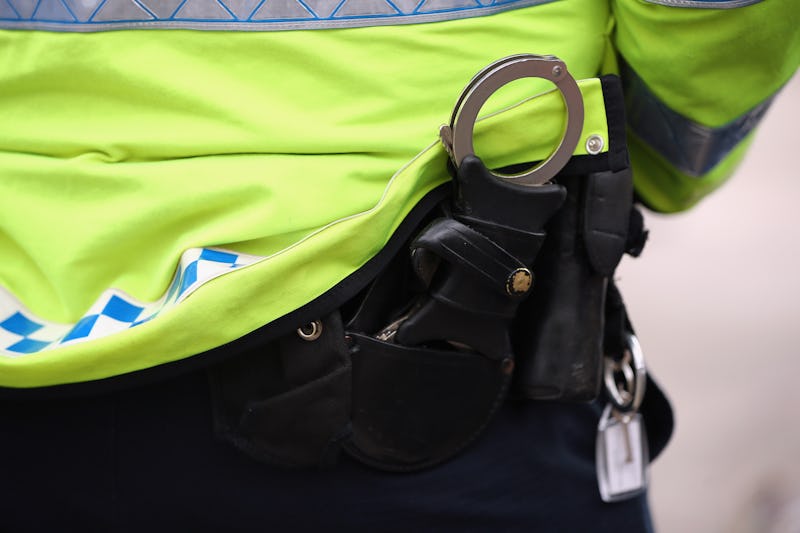 Dan Kitwood/Getty Images News/Getty Images
The city of Flint is making headlines all over again, for something totally unrelated to its infamous water crisis: a Michigan boy with ADHD was handcuffed in Flint in 2015 in an after-school program, and now his mother is suing the city for it. The lawsuit holds that Chrystal McCadden's son has attention deficit hyperactivity disorder (ADHD), and didn't deserve to be handcuffed for simply kicking over a supply cart.
The ACLU Michigan chapter filed the federal lawsuit on behalf of McCadden and her son, whose name has been withheld, on Tuesday afternoon. McCadden's son was reportedly handcuffed for over an hour. The lawsuit reads,
The use of handcuffs on children with disabilities is contrary to guidance on the use of restraint against children with disabilities. At no time did Cameron pose an imminent danger of physical harm to himself or anyone else that would have justified Officer Walker's prolonged handcuffing of him. As a result of being subjected to unwarranted and prolonged handcuffing, Cameron has suffered fear, anxiety, emotional trauma and an exacerbation of his disability.
McCadden took a video of her son while he was handcuffed, which can be seen below.
In the video, McCadden can be heard saying, "I don't care what he was doing. He don't deserve to be in no handcuffs. He ain't in here with no knife, he ain't in here with no gun."
McCadden continues, "I don't need to talk to nobody, I want my son out of these handcuffs."
Another voice is heard saying that the key for the handcuffs is on its way, and McCadden replies, "So you don't even have the key. You locked my son in handcuffs, and you don't even have the key to get him out?"
McCadden has mentioned multiple times that her son was just seven years old, a point she makes to illustrate how ridiculous the punishment of handcuffs seems to her. "I don't think that an officer should be called on a kid," McCadden said, via ClickOnDetroit. "How do you handcuff a 7-year-old child? He was 7 years old."
The incident in Flint isn't the first time that a child has been handcuffed due to supposedly erratic behavior, as can be seen in the video below.
McCadden maintains that her son has since gone to therapy, and that she's working with him to not be afraid of police officers. Her attorney, racial justice attorney Mark Fancher for ACLU Michigan, said of the incident, via ClickOnDetroit, "We have sued them because they have violated both federal and state law ... we're asking that the police withdraw completely from the elementary schools in the city of Flint."
Within the lawsuit document, the ACLU further points out the number of officers present in Flint public schools was doubled in 2018, and despite that, the Flint Police Department "has not designed or implemented adequate policies, practices, procedures, or training regarding the use of mechanical restraints, handcuffs, and other modes of force on young schoolchildren.
According to The New York Post, a city spokeswoman for Flint confirmed that the city does not comment on any pending litigation.