School District Calls Teenager "A Hero" For Speaking Out After A Teacher Allegedly Made A Racially Insensitive Comment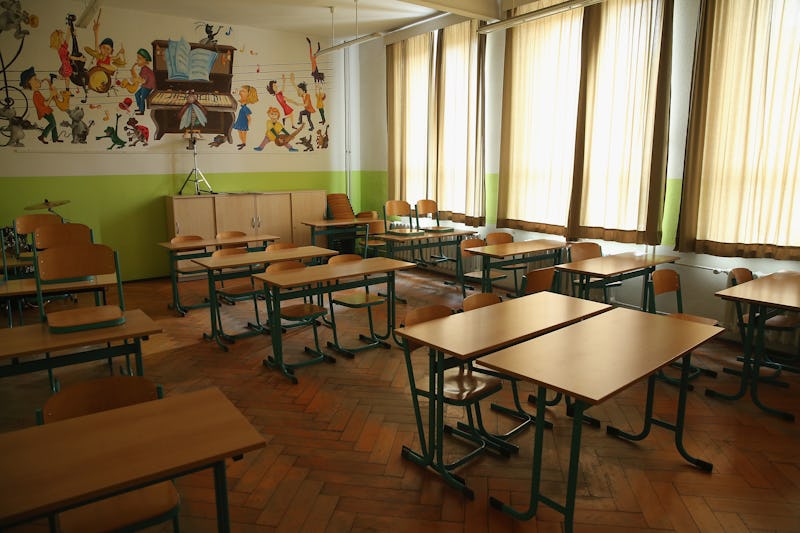 Sean Gallup/Getty Images News/Getty Images
An Ohio middle school teacher has been placed on indefinite administrative leave after allegedly telling a Black student his classmates would "become a mob who will want to lynch you" if he didn't finish his homework, Cincinnati.com reports. The 13-year old student didn't tell anyone about the incident, which reportedly happened on Dec. 4, for a week because he was worried he'd get in trouble for standing up to an authority figure, his mother, Tanisha Agee-Bell, told The New York Times. According to Cincinnati.com, the teacher, Renee Thole, acknowledged in an incident report that she made the comment. The school said it has "formally reprimanded the teacher and placed a disciplinary report into her personnel file," according to a statement on the district website.
After Agee-Bell reported the alleged incident to school officials, the district faced criticism for not doing enough to reprimand Thole. The first response from Mason City Schools said all teachers would receive cultural sensitivity training and resources, according to a statement posted on its Twitter feed. Agee-Bell responded in a Facebook post and said, "As a taxpayer, the district is supposed to work for me and my family. Its not [sic], and that is unacceptable." She wasn't the only person upset — people took to Twitter to express their frustration that the teacher was not immediately reprimanded. Last week, the teacher was placed on administrative leave. On Jan. 17, Mason City Schools released a statement on its website and called the student "the hero in this story" because he "bravely stood up and called his teacher to account." The statement reads:
"The teacher is currently on administrative leave while we continue to look into all that has been reported. We've also formally reprimanded the teacher and placed a disciplinary report into her personnel file. This is the first and only time the teacher has been disciplined in more than 22 years with our district.
Some have called for this teacher to be immediately fired and banned from ever teaching again. We understand and respect the passion of these viewpoints. The teacher has been disciplined. She is required to take further training to learn from this troubling mistake. And our school district will do more to help educators make their classrooms more inclusive and equitable by providing training on how to combat bigotry and bias.
Those of us who've dedicated our lives to educating others understand that everything that happens in and around a school is important because it involves our most precious asset; our children. We also realize that we must use even the most difficult moments as an opportunity to reflect, grow, and learn. On a daily basis, in classrooms around the world, people make mistakes, someone corrects them, and everyone learns from the mistake. The teacher made a racially insensitive remark. The student bravely stood up and called his teacher to account. The student could have reacted poorly and could have rightfully berated the teacher for her thoughtlessness. Yet, he extended grace to the teacher. The student is the hero in this story."
People pointed out that the racial implications of using the phrase "lynch mob" as an implied threat toward a Black student are impossible to ignore. Lynching a form of extrajudicial punishment that was often violent or fatal, was common in the U.S. during the 19th and 20th centuries, and Black people were almost always the victims.
Agee-Bell said on Facebook that she "never wanted the teacher fired," but rather "trained properly." "This is a great first step on the district's journey, and I am glad to know that, regardless of why they recognized the need for the teacher to be out of the classroom, they have made it happen," she says. The teacher's original alleged comment was widely regarded as inappropriate, especially in a school setting, and the school district's actions demonstrate a commitment to a safe and inclusive environment for all student. Importantly, the boy is being recognized for the courage it took to tell an adult what he'd heard.