A Mormon Mom Was Reportedly Punished For Breastfeeding In Church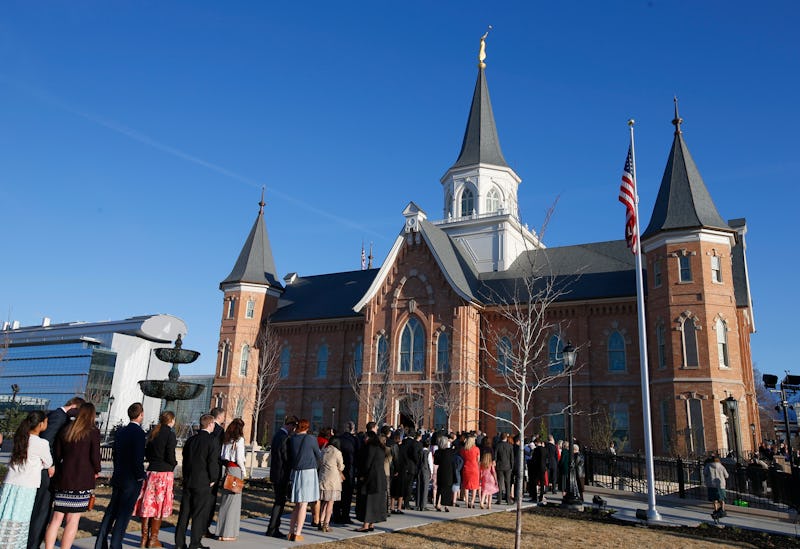 George Frey/Getty Images News/Getty Images
A woman living in northern Utah was forced to choose between her rights as a mother and her devotion as a churchgoing Mormon, Buzzfeed reports. While attending church with her four children and husband, the woman (who chose to share her story anonymously) began nursing her 19-month-old daughter. After the meeting, her bishop wanted to address the Mormon mom's breastfeeding in church. And after standing up for her rights to openly nurse her child, church leadership supposedly threatened to block the woman and her family from the community.
In a later meeting with the stake president (the religious leader just above a bishop), the mother and father were told that her openly breastfeeding was "a modesty issue." According to Buzzfeed, he said a woman's modesty is necessary "so that men don't have dirty thoughts." He later told the husband he should control his wife. Eventually, the stake president threatened to withhold the parents' temple recommends (papers that provide access to the rites and buildings most sacred to Mormon practice) if they didn't comply.
For weeks, the family did not return to their church, feeling unwelcome. Finally, the mother decided to compromise for the sake of her religion, reports The Salt Lake Tribune. While she maintains it's a woman's right to openly breastfeed in public, the mother said she will be using a more modest method of breastfeeding that more completely covers the breast during nursing.
Within the Church of Jesus Christ of Latter-Day Saints, also known as the Mormon Church, there is no standard policy on breastfeeding. Some bishops allow nursing, while others demand it be done in private, forcing some mothers to quit their religion in protest.
The issue plays into the larger problem of society's habit of sexualizing a behavior natural to raising a child. As one woman said on Twitter, "you wouldn't want to eat in a public bathroom or with a blanket over your head."
Mothers have long fought for the right to nurse their child in public. Recently, dozens of mothers staged a "nurse-in" at a Minnesota public pool in solidarity with two breastfeeding women who were asked to leave after refusing to cover up. Afterwards, the pool center issued a statement saying that it supported nursing mothers and that the two in question were never asked to leave, Newsweek reports.
It's not just an American issue, either. Women in Kenya marched together in May to show support for a woman who was reportedly shamed for breastfeeding in a Nairobi restaurant, BBC News reports.
Protests like this are diverse and fairly common. In 2016, women participated in a "virtual nurse-in" by posting #brelfies (breastfeeding selfies) on social media to help normalize the act.
Women's efforts might finally be making some headway: breastfeeding is now protected by law in all 50 states. After Idaho and Utah passed legislation in late July, a mother's right to feed her child in public became guaranteed nationwide.
That doesn't mean women won't face social discrimination, however. People who are uncomfortable with public nursing are sure to continue to make comments, but Parents magazine provides some tips on how to breastfeed with minimal confrontation. They say to focus on your child, finding somewhere comfortable to nurse (i.e., not in the bathroom). Mothers are advised to keep their belongings close, as diaper bags and purses have a way of spreading out when unattended, and to remain polite, even when the public isn't as courteous.