Tyra Banks Just Dropped A New 'Life Size 2' Teaser That Looks SO Good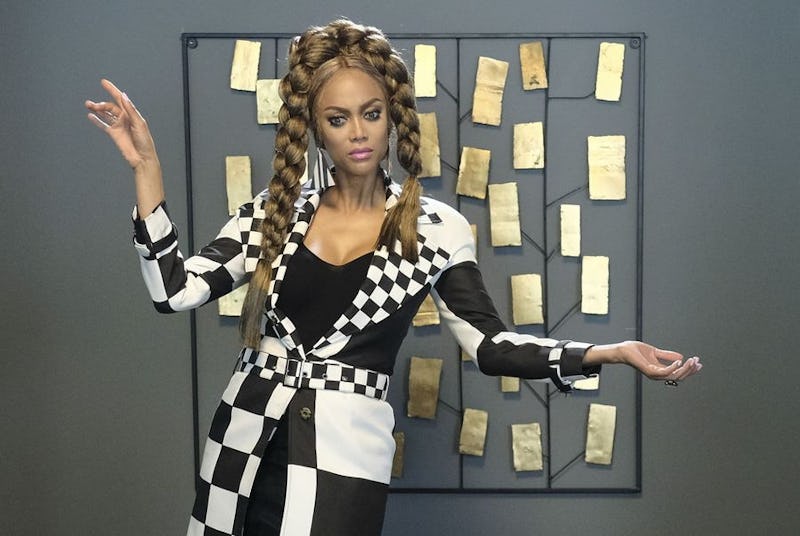 Freeform/Guy D'Alema
It's hard to believe that Life Size is getting a sequel a full 18 years after the original was released, but now, fans can finally get a sneak peek at the movie. On Sunday, Tyra Banks dropped a Life Size 2 teaser on Twitter that will get you so excited to see what Eve (and her fellow dolls) have been up to after all these years.
"Surprise! Calling from Sunnyvale!" Banks tweeted, adding a reminder that the movie hits Freeform on Dec. 2.
In the teaser, Eve is calling another Eve doll back in Sunnyvale to let them know that Marathon Toys is planning to stop making the Eve doll, which is a major issue, because "if Eve is discontinued, all of the other Eve dolls will no longer exist." That means that the living Eve is required to reverse a spell and convince Grace, who's the CEO of the company, that the dolls are important to children everywhere, or she'll never be able to return to Sunnyvale again.
Sounds like Eve has a lot of work to do, especially if she wants to save all of the dolls. Oh, and of course, somehow Banks looks like she hasn't aged a day in the last 18 years — must be all that smizing.
Since the sequel was first announced last year, Banks and Freeform have been dropping hints about what fans can expect. In July, it was announced that Francia Raisa would be co-starring in the movie alongside Banks as Grace, the character that the Eves were talking about in the teaser.
"Grace is also notorious for her drunken exploits that wind up on the front page of the tabloids and cause the company's stock to plunge on a daily basis," Freeform said of the character at the time.
And speaking of casting, unfortunately, it seems like Lindsay Lohan won't be reprising her role this time around because of her show, Lohan Beach House, keeping her busy, although Banks has hinted that Lohan's character will be honored in the sequel.
"[Lohan] will be in the movie in some kind of way," Banks told The Hollywood Reporter earlier this fall. "We'll see where that ends up."
So far, it seems that Banks is just as excited as fans are that Life Size is making a return, and she's been tweeting a lot about the movie about how much fun she's had returning to the role.
In October, she also shared a teaser that included a look at the spell that brings Eve to life being cast again, this time by Raisa, which could just so happen to be what sets the entire plot off.
Now that this latest teaser has given fans a look into what we can expect from Life Size 2, it seems like it's going to be a movie filled with nostalgia for those of us who were obsessed when it first came out in 2000 (and OK, for those of us who are still obsessed now). Is it Dec. 2 yet?