A Photo Of George HW Bush's Service Dog Lying By His Casket Is So Moving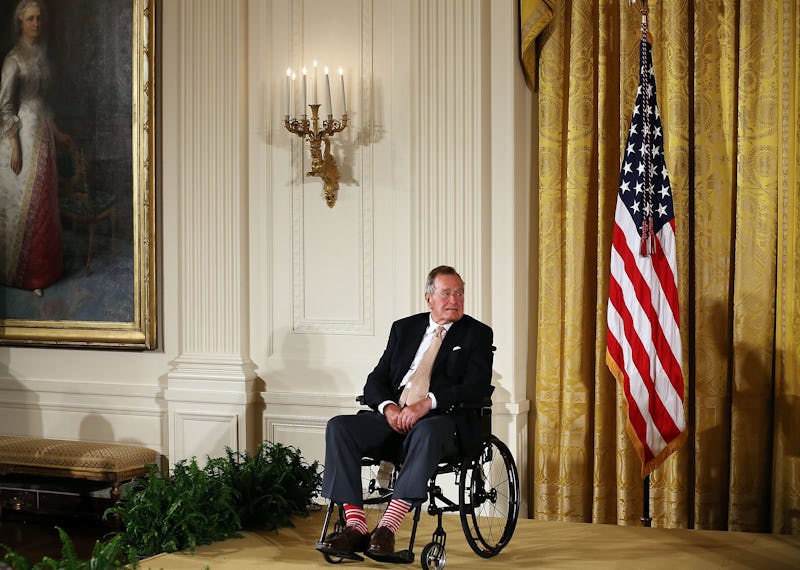 Mark Wilson/Getty Images News/Getty Images
As the nation mourns the death of a former president, one of his most loyal helpers prepares for one final mission. A photo of George H.W. Bush's service dog lying near his casket is proof that dogs really are man's best friend.
A photo of Sully, Bush's yellow Labrador service dog, lying next to his late owner's casket was shared on Twitter early Monday by Bush family spokesperson Jim McGrath. "Mission complete," McGrath wrote along with the hashtag Remembering41.
According to CNN, Sully will take one last trip with the former president. The service dog will accompany Bush's casket on its flight to Washington D.C. later this week. Sully will then transition into a new assignment helping veterans at Walter Reed National Military Medical Center, according to a post published on George W. Bush's Instagram account.
"As much as our family is going to miss this dog, we're comforted to know he'll bring the same joy to his new home, Walter Reed, that he brought to 41," the post read.
Sully was trained by America's VetDogs, a nonprofit organization that aims to provide military veterans with service dogs, and came to Bush's aid in June, according to Fox News. The president suffered from vascular parkinsonism, a syndrome in which small strokes bring about symptoms that mimic those of Parkinson's disease, such as difficulty walking and balancing and tremors. In his later years, Bush used a wheelchair. In June, it was reported that Sully was trained to open doors, pick up items, and even summon help when needed. Indeed, McGrath joked to CNN that Sully "can do just about anything except make you a martini."
"But not to worry, he can go get you someone to make you a martini," the Bush family spokesperson said.
But Sully was valued by the Bush family for more than just the physical things he could do to assist the former president. "More than anything else the dog will be a wonderful companion," Bush aide Evan Sisley said when Sully first came to live and work with Bush, as Fox News reported.
Bush himself said he was grateful for the dog and the work America's VetDogs does. "A great joy to welcome home the newest member of our family, 'Sully,' a beautiful — and beautifully trained — lab from @AmericasVetDogs," Bush tweeted alongside a photo of him, Sully, and President Bill Clinton in June. "Could not be more grateful, especially for their commitment to our veterans."
According to a post on Sully's Instagram — yes, this service pup has his own Instagram — he was named after Chesley Burnett "Sully" Sullenberger III, the now retired airline pilot who safely landed U.S. Airways Flight 1549 on the Hudson River in 2009. He knows more than 32 commands, including how to flip a light switch, thanks to his American Vet Dogs trainer, and reportedly loves a good game of fetch.
One task Sully reportedly did have some trouble assisting Bush with? Voting! "Assisting with voting must be easier with thumbs," a post on Sully's Instagram from November read.
Bush's body will be flown from Houston, Texas, to Joint Base Andrews in Maryland on Monday so the former president can lie in state in the Capitol's Rotunda before being flown back to Texas on Wednesday. He will be laid to rest Thursday at the George Bush Presidential Library and Museum.