A Kim Kardashian Baby Photo Is Here — But Here's Why You Shouldn't Look At It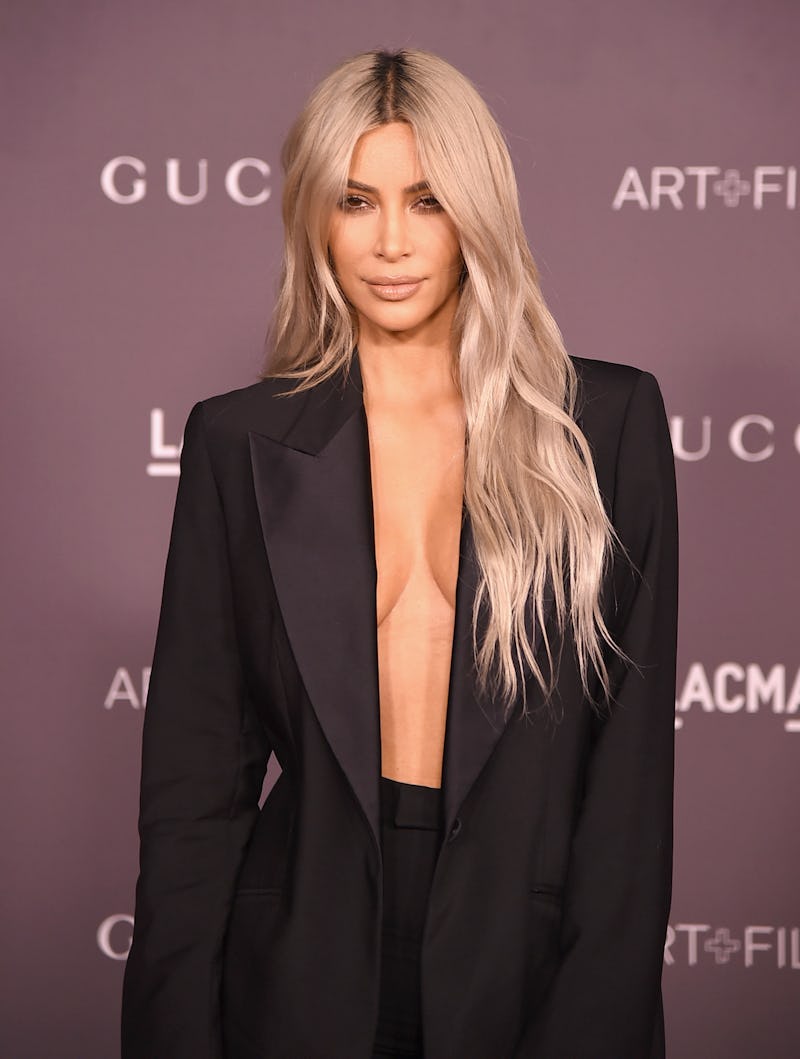 Kevin Winter/Getty Images Entertainment/Getty Images
TMZ has released the first public photo of Kim Kardashian's new daughter, Chicago, and... well, it's very obvious that these are not the first official photos from the mom of three herself. The paparazzi photo shows Chicago in a stroller with Kardashian while they were reportedly at a doctor's appointment. According to TMZ, this was the first time Kardashian took her newborn daughter out in public since she was born.
There isn't much to see in the blurry image — Chicago is in a stroller, while an attentive Kardashian leans in to check on her child. It's evident from the image that Kardashian didn't know the photo was being taken and that she didn't authorize its release. Chicago West is a newborn, after all — she's less than a month old. Kardashian might not have been ready to share photos of the baby with the world just yet.
Of course, celebrities share photos of their families — including their kids — all the time, and the Kardashians are no exception. After all, Kardashian shared the below pic of herself with Saint and North.
But that's the thing: They share the photos of their children, meaning they do it when they're ready and on their own time. They don't owe it to us to show photos of their children.
Last summer, paparazzi faced similar criticism from fans after what appeared to be a private video of Beyoncé and JAY-Z's daughter, Blue Ivy Carter, dancing during an intimate family moment was shared online. Fans wondered how the video was obtained and lamented the fact that the family was subject to invasions of privacy. There was also a clip circulating of Blue Ivy performing at her school's ballet recital in June. It's hard enough to have privacy as an adult celebrity, but encroaching on the private lives of celebrity children definitely feels like an overstep. Yes, the videos of Blue Ivy dancing are cute and sweet — but if the Carters themselves didn't share them, they're not really ours to see.
There's also the fact that on more than one occasion, North West was seen telling paparazzi not to photograph her. It's heartbreaking that North already knows the deal when it comes to these photographers at such an early age. Sure, her parents are celebrities, but that doesn't mean she should have to live every moment of her childhood in the public eye. Celebrity kids are still kids, and they shouldn't have to worry about being photographed every time they leave the house.
Kim Kardashian is quite active on Instagram, as well as on her personal website, so fans are sure to get some super cute photos of Chicago West — possibly with her two elder siblings, North and Saint West — when she deems it's an appropriate time. In her recent social media posts, Kardashian's been focusing her Instagram efforts on her new KKW fragrances and Yeezy Season 6 line, rather than sharing details about her family.
Until Kardashian and West decide it's an appropriate time to share photos of their newborn daughter, we can still enjoy the other Kardashian-West family photos they've shared with their fans. That includes, for example, the instantly iconic holiday photo Kardashian shared of her, Kanye, North, and Saint in front of a Christmas tree.
Anyone who's a fan is thrilled that Kardashian and West's baby appears healthy, but we don't need to seek out paparazzi photos for a glimpse at Chicago's face. It's up to the couple alone when to share those images.
Editor's note: This post has been updated from its original version.