Kim K's Baby Name Was Just Announced & It's The Sweetest Tribute To Kanye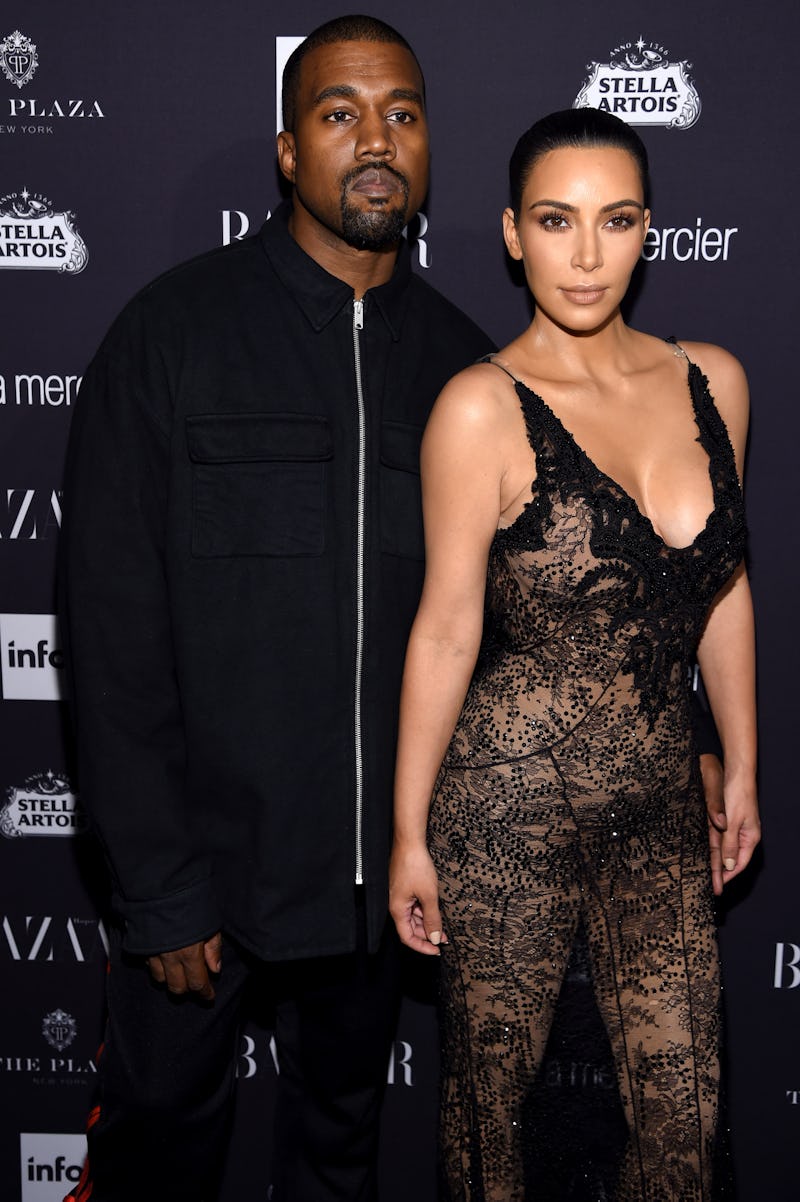 Dimitrios Kambouris/Getty Images Entertainment/Getty Images
The moment you've been waiting for is here: Kim Kardashian's new baby name has officially been revealed. As reported by TMZ, the child's name is Chicago West, a tribute to husband Kanye West's hometown. Honestly, it's such a sweet way for him to celebrate where he came from. This news, which Kim K shared via her app, comes just a few days after the couple first announced the arrival of their child via a gestational carrier. In addition to the name, Kardashian shared the following information on Friday:
Chicago West
January 15, 2018
12:47am
7lbs 6oz
The reality star's original baby announcement, shared on Tuesday, read:
Kanye and I are happy to announce the arrival of our healthy, beautiful baby girl. We are incredibly grateful to our surrogate who made our dreams come true with the greatest gift one could give and to our wonderful doctors and nurses for their special care. North and Saint are especially thrilled to welcome their baby sister.
Ever since then, speculation about the name choice has been ruling the internet — even with some people thinking she named her daughter after Louis Vuitton, simply because she posted a close-up Instagram photo of a handbag. Kardashian quickly shut down that theory with a funny tweet, explaining she was just excited for Kim Jones' last show.
At least now the guessing game is officially over. Kardashian made things quite obvious in her latest tweet, sharing the app announcement. In big bold letters, she let the whole internet know the truth.
And in case you're curious if they're going to call her Chicago all the time, you would be incorrect. She's already got a sweet one-syllable nickname to match her siblings, Saint and North West. The names really do sound adorable together.
Oh, and she's making sure no one mispronounces that very nickname. As confirmation, Kim K retweeted a fan, who clarified that it's pronounced "shy." No, it's not "chai," like the latte, or "chee." Just shy.
Keep in mind that it was only on Wednesday that West said they hadn't yet picked out a name. According to The Daily Mail, when paparazzi asked the new dad about it, he said, "Can't think of a name!" Apparently the photographer suggested Donda, as a way to honor his late mother, and West reportedly said, "Oh, that's fire."
While he may not have taken the paparazzi's suggestion, choosing to name his new daughter after his hometown is another way to honor his mom's memory, when you really think about it. And it's also impressive that just days later, Kardashian and West were able to choose such a perfect moniker after being so stumped. Even sister, Khloé Kardashian, voiced her approval.
The mom-to-be wrote, "I LOOOOOOOOOOVE her name" along with a slew of heart-eyed emojis and a nod to the correct nickname pronunciation. You know, just in case it already wasn't very clear. And given that Khloé's own baby is arriving in the near future, she'll have some name choices to make herself. (Though, she's already revealed if she has a boy, he'll be named after boyfriend, Tristan Thompson. Khloé told Ellen DeGeneres a few weeks ago, "I think if it's a boy I'll go with Junior — Tristan Jr. Then for a girl, I don't know where to begin.")
Khloé isn't the only one reacting to the big news. Fans on Twitter have plenty of feelings about the choice. Some approved.
Others couldn't help but make jokes and share memes. Because, of course.
Regardless of whether you love or hate the name choice, Kardashian managed to "break the internet" yet again. And at least the mystery surrounding baby number three's name has finally been solved.