A Kylie Jenner Lookalike Was Spotted In CVS, But Not Everyone's Falling For It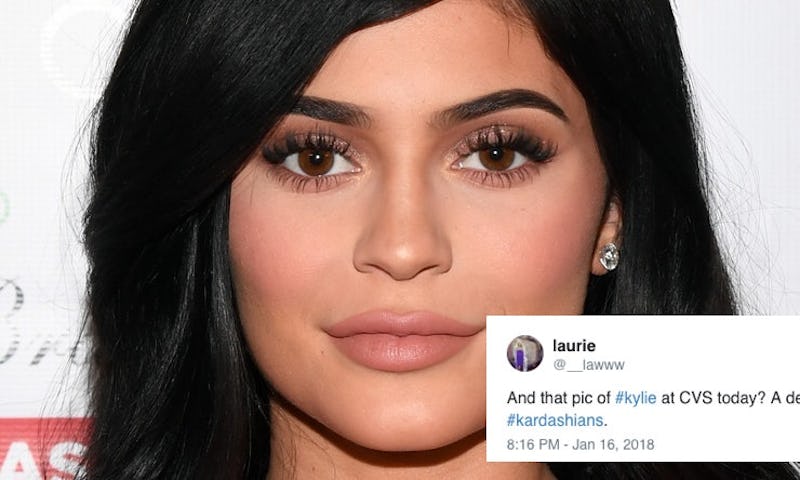 Ethan Miller/Getty Images Entertainment/Getty Images; @__lawww/Twitter
According to some suspicious fans on Twitter, a new photo of Kylie Jenner's rumored baby bump has emerged, courtesy of a paparazzi snapshot supposedly snapped between the aisles of a Los Angeles CVS store. But as much as Kylie enthusiasts would love to latch onto any morsel of information that might shed some light on the reality star's markedly covert maybe-pregnancy, for the most part, people aren't buying it.
Still, Twitter has all but exploded with fans' responses to the Kylie lookalike photo in the aftermath of its release. And their comments, essentially, amount to this: They think it's a fake. (Bustle reached out to Kylie's rep about the image circulating, but did not receive an immediate response.)
The grainy snapshot — which began making the rounds Tuesday and has since gone viral — claims to have finally graced the internet with the bona fide "proof of fact" that Kylie's fans have been longing for: photographic confirmation of the 20-year-old reality star's long-rumored pregnancy, the fuzzy details of which have been circulating for months. But much to the dogged exasperation of her diehard fans, Kylie has yet to confirm the pregnancy. Or utter any single word about it, really.
In the newly dropped photo, Kylie (or alternatively, a first-rate Kylie lookalike) appears to be perusing the drugstore aisle of a CVS, clad in an oversized, olive-green hoodie, leggings, and sunglasses. And in keeping with the rumored timeline of Kylie's pregnancy (which set her rumored due date sometime in February), the "Kylie" pictured also seems to be sporting a conceivable baby bump.
Following its unveiling, the photo immediately became a source of speculation. Beyond the inkling of suspicion that tugs at your gut upon seeing it (the one that suggests the woman pictured in that photo doesn't look exactly like Kylie), the photo, for all its worth, seemed a little too good to be true.
After all, here's a young woman whose multi-million dollar brand is rooted in public appearances, an active social media presence, and a generally well-maintained relationship with her robust fanbase — three substantial pillars of fame that Kylie has (temporarily, most likely) almost entirely pushed to the side since rumors of her pregnancy began to circulate back in September. And then, suddenly, she decides to break four months' worth of radio silence right before her rumored due date? For a CVS run? The logic on that gets pretty murky pretty quick.
In response, one frustrated fan tweeted at Jenner after the snapshot's release, asking, "Are you pregnant or what ... I'm tired of defending to you my family members that don't understand or respect The Kardashian/Jenners." Meanwhile, another Twitter user took the opportunity to comment on the questionable legitimacy of the photo, point-blank. "She definitely is, she was spotted in CVS drug store with a baby bump. I don't think someone could photoshop this," the user cracked dryly. And that fan makes a pretty valid point, considering the modern-day cosmetic witchcraft made possible by photoshop and also the fact that Kylie herself called out the paparazzi for doctoring photos of her "baby bump" back in November.
The supposed CVS "spotting" trails a round of false rumors that rapidly unfurled last Friday, which claimed that Jenner was in labor at Cedars-Sinai Medical Center in Los Angeles (the same hospital where both Kim and Kourtney Kardashian have given birth in years past). The purported "news" immediately picked up steam on Twitter, where excited fans showed up in droves to share in the collective hype-monster that tends to accompany the imminent arrival of an A-list celebrity baby.
The means for their rejoicing was debunked not too long after when TMZ confirmed that the "news" was, in fact, just an enthusiastic bout of hearsay. But, according to Harper's Bazaar, the CVS where Jenner was supposedly seen on Monday is reportedly located somewhere near Cedars-Sinai hospital. And this seems to be where fans have tossed all remaining scraps of logic to the wind. Because, following the news of Kim K and Kanye West's third child, who was born in the early hours of Monday morning, Jan. 15, fans hopped on the "conspiracy" train, theorizing about the possibility that Kylie was actually Kim and Kanye's surrogate.
But, at this point, when it comes to all pregnancy-related findings, it seems like exhausted Kylie fans are mostly just grasping for straws.
And that's probably just the way the Kardashian-Jenner crew likes it. After keeping a surprisingly persistent tight-lip on the subjects of all (three?) brand-new additions to the clan over these past few months, it seems like the family of media moguls probably knows exactly how much information to withhold from doting fans ahead of a big-league life event.