The Entire Island Of Puerto Rico Just Lost Power — Again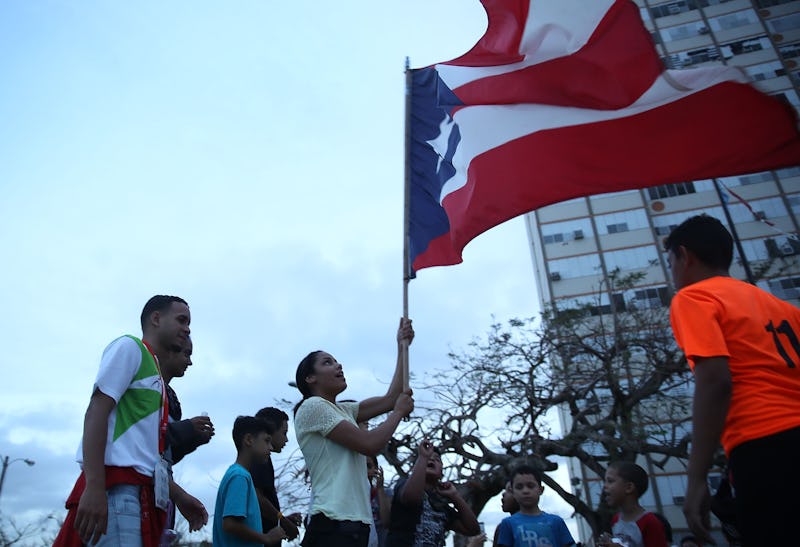 Joe Raedle/Getty Images News/Getty Images
Nearly seven months after Hurricane Maria tore through the island of Puerto Rico, the ongoing dire conditions on the island are getting a lot less attention from the mainstream media than they once did. And on Wednesday, the situation actually got even worse ― Puerto Rico has suffered an island-wide power outage, with homes and businesses all throughout the U.S. territory suddenly losing power.
According to NBC News, a representative of the Puerto Rico Electric Power Authority, also known as PREPA, announced on Wednesday that the island was at "zero percent" power generation, and that it could take as long as 36 hours to bring the power grid back online.
Puerto Rico was not even totally recovered from the massive power outages that swept the island in the immediate aftermath of Maria, to be clear; earlier this month, there were still approximately 60,000 Puerto Ricans living with no electricity. The initial hurricane absolutely ravaged the island's power grid, in addition to leaving tens of thousands of people with no food and no potable water.
In a post to Twitter on Wednesday afternoon, PREPA made it clear that the top priority would be restoring power to the island's hospitals, its airport, its pumping services, and its banking sector.
This is not the first time Puerto Rico has experience widespread blackouts since the hurricane hit. In March, power generator failures left the island's capital city of San Juan almost totally in darkness, in addition to surrounding municipalities. In February, swaths of northern Puerto Rico were similarly left without electricity after a power plant explosion. November of last year saw similar setbacks, with blackouts breaking out just as the island had recovered to about 50 percent power generation.
San Juan mayor Carmen Yuliz Cruz, a vocal critic of the federal government's handling of the Hurricane Maria recovery, tweeted on Wednesday that the new round of blackouts effectively took the island''s electricity situation "back to September 20," the day Hurricane Maria made landfall.
She also tagged a number of people in media in the tweet, including MSNBC host Rachel Maddow, CNN correspondent Leyla Santiago, and CBS correspondent David Begnaud. Cruz has been a prominent face in the post-Maria news coverage; just days after the hurricane made landfall, she claimed that the logistically challenged response from the federal government was enabling "something close to a genocide."
Backup generators will reportedly be deployed to Puerto Rico's Hiram Bithorn Stadium, where two Major League Baseball teams ― the Minnesota Twins and Cleveland Indians ― are supposed to play a game on Wednesday night. Baseball is a highly popular sport on the island, so much so that teams will sometimes be scheduled to play a game there, despite the fact that Puerto Rico does not have a major league team of its own.
There are approximately three million residents of the island of Puerto Rico. It's also worth noting ― since recent polling has suggested that nearly half of Americans are unaware of this fact ― that Puerto Ricans are themselves American citizens, and as such they pay taxes to the U.S. government, and can vote in presidential elections.
It remains to be seen how long it'll take before this latest power outage is reversed; PREPA has stated that it's likely to take between 24 and 36 hours, which would ideally mean the power would be back on by Friday. As previously mentioned, however, Puerto Rico's power grid was not even fully recovered from Hurricane Maria before this latest outage, as tens of thousands of Puerto Ricans were still living without power prior to Wednesday's events.