Watch John Krasinski & Emily Blunt Hilariously Test How Well They Really Know Each Other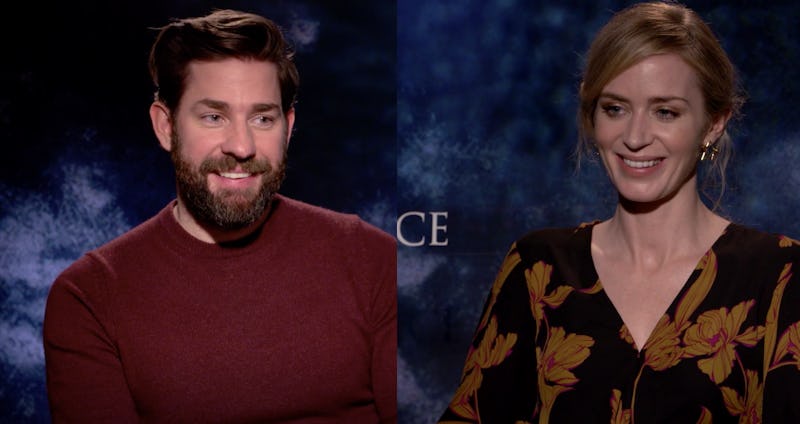 Bustle
In a lot of ways, John Krasinski and Emily Blunt seem like the perfect couple. The parents of two (young daughters Violet and Hazel) appear to be a supremely happy pair, frequently posting photos together on social media, sharing adorable anecdotes about their marriage, and posing side-by-side on red carpets when supporting each other's work. With that kind of bond, it's no surprise that they decided to star together as a married couple in A Quiet Place, the new horror movie directed by Krasinski. But what is surprising is that while the duo may be very much in love, they don't actually know each other as well as they think.
You see, when I quizzed each actor about their spouse with the game "Two Truths and a Lie" during A Quiet Place's New York press day, I discovered that both Krasinski and Blunt have some blind spots when it comes to their significant other. The Office alum, for instance, didn't realize until I pointed it out that his wife had three movies out this year, not two, while Blunt didn't know which famous horror film inspired Krasinski to make A Quiet Place — you know, the movie she stars in, too. Oops. Although, to be fair, these were tough questions — you can't blame Krasinski and Blunt for goofing up.
Overall, the couple proved that they have a pretty solid wealth of information about each other, at least in regards to the important topics like Golden Globe nominations and People's Sexiest Man Alive designations. And hey, that's what really matters, right?
Krasinski and Blunt clearly work well as a couple, and that real-life chemistry makes their relationship in A Quiet Place, out April 6, all the more believable. "We realized that as a married couple, we could serve the film more, actually," said Blunt in an interview with Bustle out of the movie's March press day. "We could bring so much of our own memory bank into this experience."
For the actors, that experience must've been nothing less than unforgettable. In the terrifying new film, the duo play a nameless married couple fighting for survival in a dystopian world where deadly monsters attack via sound — so the slightest noise made by the duo, or their two pre-teen children (Millicent Simmonds and Noah Jupe), could signal the creatures to hunt the family down. Krasinski and Blunt's characters do everything they can to keep the group safe, but past tragedy has made it clear that the slightest mistake could be cause for disaster.
It's a heart-pounding premise, and don't be surprised if you watch the mostly-silent movie holding onto your seat's armrests with the tightest grip possible. While A Quiet Place may not be particularly gory (it does have a PG-13 rating, after all), it is truly scary, filled with shocks and thrills made all the more intense by the lack of sound throughout the majority of the film. Horror might not be Krasinski's favorite genre, as Blunt learns to her surprise in the "Two Truths and a Lie" video, but you wouldn't know it by how well he directed this movie. He may forever be best known for playing the affable Jim on The Office, but in real life, it seems, Krasinski is more than capable of scaring audiences to the max.
Luckily, viewers of A Quiet Place can take comfort in knowing that off-screen, Krasinski and Blunt's relationship is full of far less terrors than their characters deal with in the film. The actors may not know everything about each other, as they adorably discovered while playing the game, but that's a problem far easier to deal with than ferocious monsters looking for their next good meal.