The Hack Emily Blunt Has To Use Every Time You Freak Out Over Her & John Krasinski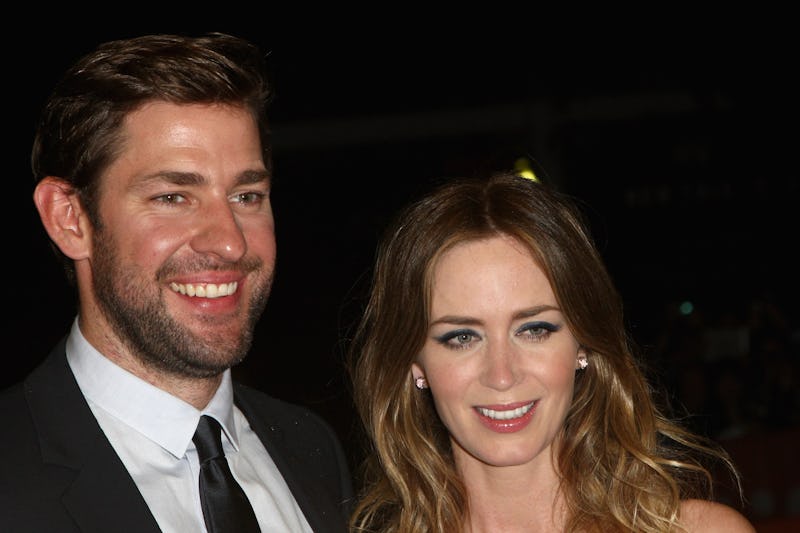 Tommaso Boddi/Getty Images Entertainment/Getty Images
Since they first got together in 2008, Emily Blunt and John Krasinski have become one of those celeb couples — you know, the type who can't post a selfie or walk a red carpet without the whole world freaking out over how cute they are. It's easy to see why; the stars of the new movie A Quiet Place are both attractive, charming, and talented, with a love for each other that's palpable in interviews and Instagrams. People just adore them, and neither Blunt nor Krasinski is naive to that reality; in fact, they're even auctioning off a double date for charity, knowing that fans will jump at the chance to hang out with "Krunt," as they jokingly call themselves in the promo video. But while the duo may understand that their marriage is #relationshipgoals to many, that doesn't mean they're totally OK with that fact.
"When people talk about us as in, like, those people, Emily Blunt and John Krasinski, it's almost like you're talking about somebody else," says the actor when we chat at New York's Four Seasons Hotel on a recent Saturday. "It's almost so removed that it's like a different life [from] our real life. I don't know — it's an odd thing. I tend to compartmentalize the two, for my own sanity."
The everyday lives of the couple, Blunt explains, are "so like everyone else's," with the duo hanging out, watching football (Krasinski's a major Patriots fan) and playing with their kids, 4-year-old Hazel and the baby, Violet. Totally normal — except when it's not, like when the actors decided to co-star in A Quiet Place, which Krasinski also directed. The horror movie, out April 6, is the first film the pair have acted in together; in the past, Blunt says, they've preferred to keep their careers separate, and besides, there wasn't much of a fit for Krasinski in Into the Woods or Blunt in an episode of The Office. But with A Quiet Place, about a family trying to survive in a world where deadly creatures attack if you make a sound, the duo simply couldn't resist joining forces.
"We realized that as a married couple, we could serve the film more, actually," explains Blunt. "We could bring so much of our own memory bank into this experience." Although the pair were initially hesitant about working together — "it was unknown territory before," Blunt explains — the experience was so good they'd do it again in a heartbeat. "We realized how much we love it and how effortless it was, really. We work really well together," she says.
A movie's stars having a good on-set relationship would help any production, but it was essential to A Quiet Place, a film in which the lead actors (alongside their on-screen children, played by Millicent Simmonds and Noah Jupe) are practically the only people ever seen on-screen. The characters' tight bonds are key to their survival; thy must rely on each other and communicate wordlessly in order to evade the terrifying creatures that've killed millions — if not more — around the planet. A Quiet Place is a movie that, as Blunt says, is "carving out completely new space within the horror genre," and that's not hyperbole. The film is that terrifying, and that good, and it's thanks in large part to Krasinski and Blunt's affectingly real performances as two parents who'd do anything to keep their kids safe.
"It was kind of a parallel thing for me to play a mother wanting only to protect her children," says Blunt. "That's something I think about every day of my life. That's the only thing I want, to protect them and make sure they happy." That kind of ferocity is echoed in A Quiet Place's unnamed heroine, a woman who, in one nail-biting scene, fights off monsters and gives birth — at the same time ("it's definitely a sequence that will have women crossing their legs," Blunt jokes). And it's also echoed in Blunt's other leading ladies, from Sicario's FBI agent Kate to Edge of Tomorrow's warrior Rita, who use a combination of physical and mental prowess to succeed in a dangerous world.
"I enjoy playing these very empowered women and women where the roles are sort of reversed," says Blunt now. "I think it's awesome that that's a genre that I've sort of fallen into." Before 2014's Edge of Tomorrow, the actor was best known for period pieces and playing Miranda Priestly's sharp-tongued assistant in The Devil Wears Prada; "nobody considered me for that kind of role," Blunt says of the action genre. But thanks to Tom Cruise, who "fought" for her to co-star with him in Edge of Tomorrow, Blunt's resume quickly began filling up with the kind of dark, physical parts typically played by men. The switch is "exciting," she says. "I want to put that out there into the world."
In recent years, Blunt has been taking a more hands-on approach when choosing roles, revising scripts and working with directors to strengthen each project. She's thrilled to see that so many other women, from Reese Witherspoon to Eva Longoria, are also making moves behind-the-scenes; "reclaiming the word ambition," Blunt says with a smile, "is becoming a positive thing." And while she hasn't yet officially taken on the title of producer or begun directing like her husband, it's something she "would definitely entertain, and certainly a route that I'm leaning towards anyway," she says.
If Blunt does decide to make her own movie someday, perhaps Krasinski would star; there's certainly nothing audiences would love more than seeing the duo team up again, this time under Blunt's leadership. But even if the actor's husband stays off-screen, he'll most definitely be supporting her from the wings — as will countless other people just as excited to see what Blunt has in store.