The Spice Girls Could Be Working On An Animated Film — No, Really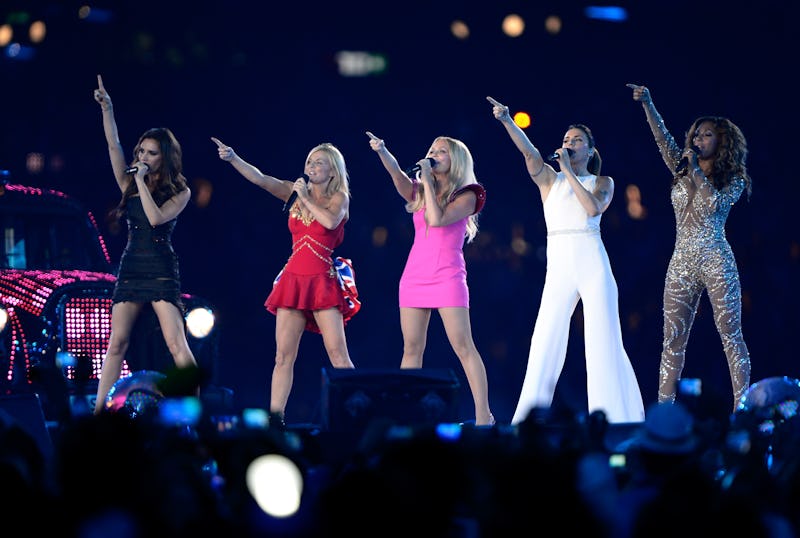 Pascal Le Segretain/Getty Images Sport/Getty Images
You thought a reunion was all there was to hope for, but there's even more adorable news on the horizon for your favorite nostalgic girl group.Variety reports that an animated Spice Girls project is in the works, and, if these rumors are true, there's a lot to look forward to. For one thing, this isn't just some flash-in-the-pan episode of television. Apparently we're talking about a full-blown movie, and a superhero movie at that.
And that is excellent news for those who were skeptical about being able to afford a ticket to this rumored reunion tour. (That's if it happened at all, which is seeming less and less likely as more members of the group shut down the whispers.) But an animated feature is forever, and the cost of a movie ticket is way less than what you'd pay to see these five in concert, not to mention a pretty good deal for what it sounds like we'll be getting.
It is important to note, however, that these rumors haven't been confirmed yet. Variety reached out to the Spice Girls' manager Simon Fuller for confirmation, and he refused to comment on the rumors. So while obviously it would be great to get a solid, unequivocal, "yes this is happening," the absence of a no is nothing to sneeze at. They've been happy to shut down tour rumors every time they crop up, so, if they aren't denying this, it's a good sign. This group has been trucking around for 24 years now, and they're showing no signs of slowing down.
The plot will reportedly be fixated around the message that the Spice Girls made so famous: each character will have her own unique "girl power" that fits her personality. Maybe something athletic for Sporty Spice, an ear-drum shattering cry for Baby Spice, and an icy death-glare for Posh. (Feel free to just put the check in the mail if any of those ideas get used.)
But that isn't even the best part. Not only has every single member of the fivesome reportedly agreed to have her likeness used, but Victoria "Posh Spice" Beckham, Melanie "Scary Spice" Brown, Emma "Baby Spice" Bunton, Melanie "Sporty Spice" Chisolm, and Geri "Ginger Spice" Halliwell have also all reportedly signed on to provide the voices for their characters.
The British group is so beloved that some fans would likely have shown up for a Spice Girls-themed movie regardless. But the fact that no one will have to settle for any Wannabes makes this whole thing almost too good to be true. It will be Scary Spice's real Leeds accent tickling our ears, Baby Spice's real giggle, and Posh Spice's... real cheekbones? It's still early days in this project, so it remains to be seen if her infamously aloof character will be given any lines, or if she'll just stay coolly silent throughout the feature. Either way, it'll be Posh to a T.
The 43-year-old claimed in 2016 that the Spice Girls' team used to turn off Beckham's microphone during concerts so that she wasn't singing live with the rest of the women. Brown later dispelled those rumors, saying of her bandmate, "She wishes it was turned off!" She added, "We sung live, and we wrote and recorded all our music together live and we performed it live. It wasn't turned down. Not that I know of." But for all the emphasis on performing live that went down back in the day, it's a whole different ballgame this time around, and the Spice Girls are here. for. it.
A source speaking to Variety says the women are not only just committed to the idea but "fired up about the idea." AKA, they're just as excited as you are.
"The Spice Girls are thinking big in terms of a franchise on a global scale. They're the most successful girl group on the planet. It's just what Marvel or Disney needs."
Forget Marvel or Disney — this is what the fans need. Waiting for the hypothetical reunion tour has become a roller coaster that no one can handle, so let's hope that this animated project pans out.