This New Starbucks Is Run Entirely By Senior Citizens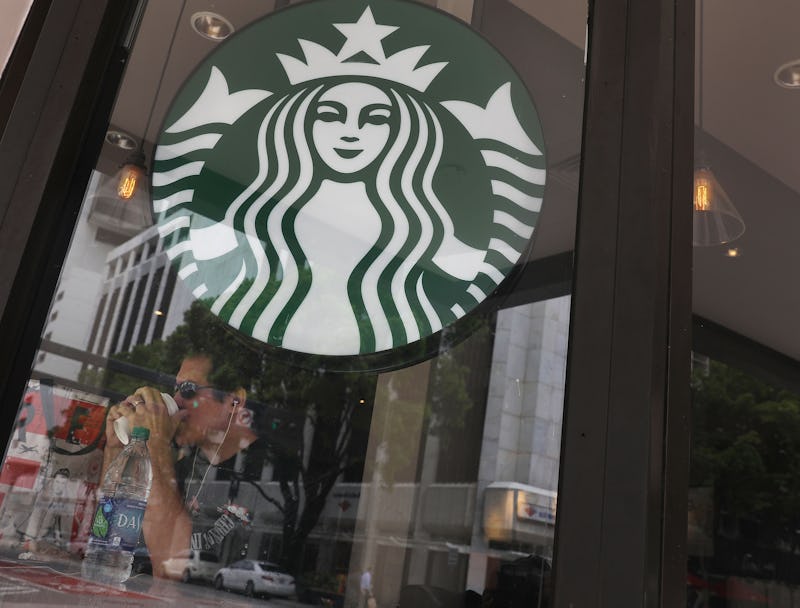 Joe Raedle/Getty Images News/Getty Images
As hordes of pumpkin spice stans have started flocking to Starbucks, one store location in Mexico is marking another significant start date. On Tuesday, a Mexico City Starbucks with an all senior staff opened its doors to the public, making it the first Starbucks to be run by employees all aged 55 and older.
The staffing choice is part of a partnership between Starbucks and the National Institute for the Elderly, as local station WPXI reports. As part of the initiative to offer more employment opportunities to an older demographic, the Starbucks located in the Colonia del Valle neighborhood of Mexico City staffed their store with employees ages 55 and up. Currently, as Yahoo reports, there are younger staff members present at the store to help with training the new hires.
This Starbucks location will function like any other store with the addition of some key employee benefits. The staff of this store have a guaranteed two full days off every week and will only work a maximum shift of six-and-a-half hours. Yahoo also reports that employees will receive some medical benefits including health insurance for major medical expenses. As far as store layout, the only minor change involves lowered shelves to minimize the risk of injury. Aside from that, the store is like any other Starbucks, PSL and all.
According to Reuters, 10 percent of the population in Mexico is aged 55 and older. That works out to be 12 million people. With that in mind, the location of this Starbucks no accident. The patrons of this particular location are younger people and college students.
"It took us two years to land the best scheme to contribute to the elderly community in Mexico, opening the doors of our stores to senior baristas was not a goal, it was an act of congruence with the inclusion philosophy of Starbucks," Christian Gurría, CEO of Starbucks Mexico, told Reuters in an interview.
In addition to offering more job opportunities to older employees, store patrons who may typically interact exclusively with other young people will have more age diversity in their daily interactions.
In the United States, aged-based discrimination makes up a significant number of cases the Equal Employment Opportunity Commission (EEOC) receives. In 2016, one in five discrimination charged the EEOC received were in regards to age based discrimination. Recent studies suggest a bias against older applicants still persists in the hiring process. As the average retirement age continues to increase in the U.S., workers are looking for job opportunities well into their 50s and 60s. In turns, employers need to make sure their workplace is open and accommodating for older employees.
"It's becoming more difficult to employ people over 40 years of age, but the need to keep elderly people in work exists," Gurría told Reuters. "If the opportunity is there I'm happy to help."
Employees are equally grateful for the job opportunity. In an interview with Mexico News Daily, employee Carmen Lazo said, "I'm very happy and grateful to be part of this beautiful Inapam-Starbucks project that gives me the opportunity to learn something so different and removed from what I did before." Lazo also added, "I'm excited about what's to come, I've always liked to give my best effort in everything I do and this time will not be the exception."
Currently, 65 of Starbucks Mexico's 7,000 employees are older than 55, according to Gurría. However, the goal is to almost double that number. By the end of this year, Starbucks intends to employ 120 people aged 55 and older in its store. It's a fraction of the overall 55+ population but certainly a step in the right direction.