A 'Surviving R. Kelly' Screening Was Evacuated Due To Threats, But These Women Aren't Backing Down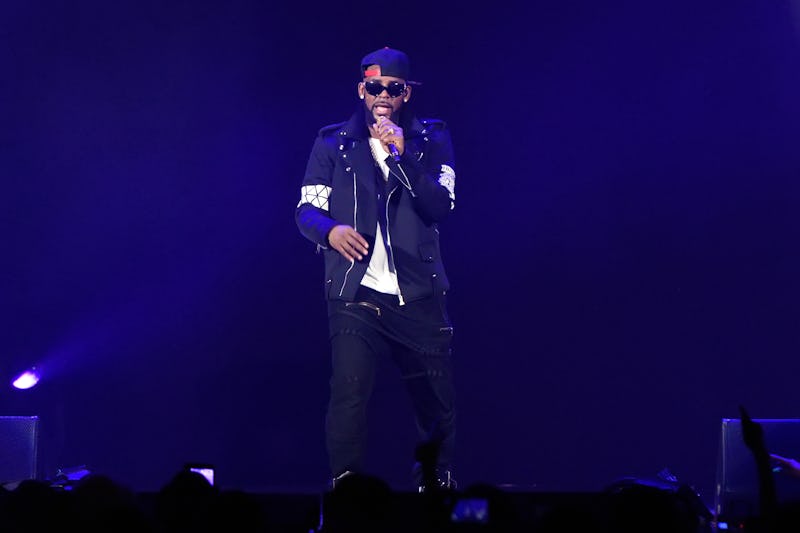 Daniel Boczarski/Getty Images Entertainment/Getty Images
A New York screening of Lifetime's upcoming docuseries Surviving R. Kelly was evacuated Tuesday night after several anonymous threats were called in at the venue, according to CNN. A NYPD spokesperson told the network that one unknown caller warned that if the film continued to play, someone inside the theater would start shooting the attendees. "As a precaution, the network chose to evacuate the building. The safety and security of our panel, guests and staff is of paramount importance to Lifetime," the network said in a statement obtained by Bustle. Bustle reached out to a representative of R. Kelly about the incident, but had yet to hear back at the time of publication.
A spokesperson for NeueHouse Madison Square later told CNN that the threats proved to be non-credible, though it still resulted in the event being postponed. "We followed appropriate safety protocols in collaboration with the NYPD and elected to postpone the event," the spokesperson said. "We stand by the creative women bringing these heroic stories to light."
The docuseries, which is set to premiere in January, promises to tell the "untold story" of R. Kelly, who has been accused of both sexual and physical abuse by many different women throughout the past few decades (though the rapper has denied these claims and has not been charged with any crimes connected with the allegations). Several of Kelly's accusers were at the screening event, including Kitti Jones, Jerhonda Pace, Lisa Van Allen, Asante Jones, and Lizzette Martinez. And everyone was asked to leave once the threat was called in, according to The Hollywood Reporter.
It's a relief that no one was hurt, but many involved with the event couldn't help but feel as though this was a blatant attempt to silence Kelly's accusers. "I can tell you that while the survivors were shaken, they weren't surprised," Dream Hampton, executive producer of Surviving R. Kelly, told Bustle in a private Twitter message after the incident occurred. "They've witnessed the lengths he goes to control the story. For instance, it's his practice to have women write and sign false confessions when they're dating, as insurance," she claimed.
Hampton, who was not in attendance at the screening, added:
"The women in our series are telling their stories and receiving lots of public scorn for it, which is why hundreds of women who've been abused by him say nothing. But they understand how important it is to tell their truths."
Hampton also released a statement saying that the women behind Surviving R. Kelly have not lost their resolve when it comes to bringing this story to national television. "Calling in a noncredible threat to the NYPD to interrupt our screening is an act of desperation from people who don't want these truths shared with the world," she told CNN.
Furthermore, Kelly's ex-wife, Drea Kelly, spoke with Rolling Stone about what happened and who she thinks may have orchestrated the threat in the first place. "The first thing that came to my mind — and I can't speak for anyone else — was that [R. Kelly] had this shut down," she told the outlet, adding:
"I believe it was somebody connected to him. This was an outside inside-job to me; someone on the outside does not want what's going on on the inside to be completed. Whoever it came from, they know that this is not a good thing because there's power in numbers."
Other women present at the screening, including Tarana Burke, founder of #MeToo, who was set to co-moderate a panel with survivors at the screening, took to Twitter to describe the experience.
Civil rights lawyer, Anurima Bhargava, who went to the same high school as R. Kelly and provided background to the docuseries, gave Bustle a firsthand account of what it was like inside the theater when the threat was announced and what she was thinking at the time. "Around 20-30 minutes into the screening the lights went up, and we were all told to evacuate due to threats made on the building," Bhargava explained in an email to Bustle. "We were told that the threats were non-credible and we didn't need to panic or run, but we did need to leave immediately."
Bhargava added in the same email to Bustle that she heard employees claim that "R. Kelly and his team had made many calls to the venue to try and stop the screening." She added that, like Kelly's ex-wife, she too suspected that the singer or someone close to the singer was responsible:
"The mood changed quickly to anger and sadness. Survivors, parents, allies and advocates had traveled from across the country to come together for the private screening. And once again, R. Kelly and his crew used threats and intimidation to try and silence their voices and scare us all."
At this time, it has yet to be determined who is responsible for the threat, and R. Kelly himself has not commented on the incident. However, the documentary is still set to premiere over the course of three nights starting on Thursday, Jan. 3 at 9 p.m. ET on Lifetime, so no matter what these women's voices will still be heard.
Additional reporting by Olivia Truffaut-Wong.
If you or someone you know has been sexually assaulted, call the National Sexual Assault Telephone Hotline at 800-656-HOPE (4673) or visit online.rainn.org.