'Surviving R. Kelly' Details Allegations Of Abuse Against The Singer In A Devastating Trailer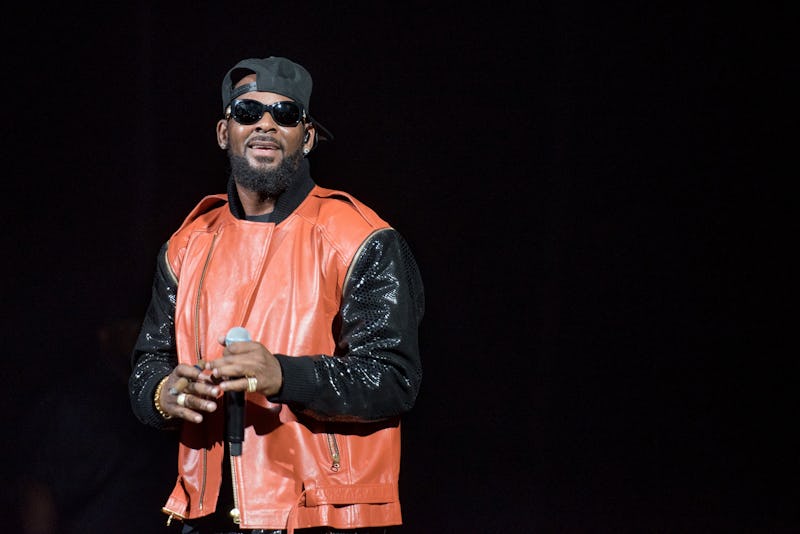 Mike Pont/Getty Images Entertainment/Getty Images
A new Lifetime documentary series is looking to #MuteRKelly for good. In the trailer for the docuseries Surviving R. Kelly, women who have accused the rapper of both sexual and physical abuse and predatory behavior are speaking out. It's not the first time these women have gone public with their accusations, but perhaps with a television show, more people will finally start listening.
Surviving R. Kelly promises to tell the "untold story" of R. Kelly, who one accuser in the trailer describes as being a version of Dr. Jekyll and Mr. Hyde. "There's a difference between R. Kelly and Robert," they say. "R. Kelly's this fun, laughing, loving guy. But Robert is the devil." Among the accusers participating in the documentary are Kelly's ex-wife Andrea Kelly and ex-girlfriend Kitti Jones — both of whom have accused Kelly of abuse, which he has denied.
The trailer for the documentary takes a looks at the long list of allegations that Kelly has encountered over the past 20 years, including a 2002 arrest and charge for 21 counts of child pornography, which included an accusation that he filmed himself having sex with an underage girl. In 2008, Kelly was acquitted of all charges.
"I should have never introduced her to him," R&B singer Sparkle, real name Stephanie Edwards, says through tears. Edwards' niece was the girl that was allegedly featured in the sex tape Kelly was accused of having filmed. "I should have never introduced my family to him."
Back in May, Kelly was accused of holding women against their will in an abusive sex cult. In a statement to the The New York Times, Kelly's management denied the allegations: "We deny the many dark descriptions put forth by instigators and liars who have their own agenda for seeking profit and fame." At the time of the statement, the Times reported that Kelly wasn't facing any criminal charges and was not under investigation.
Months later, this still appears to be the case. But the women coming forward on Surviving R. Kelly are hoping that more people will take action after they hear their stories about the alleged horrific sexual, physical, and mental abuse they claim to have experienced. The women who participated in the documentary also want to call attention to those who have helped Kelly by covering up his alleged crimes. "He ain't a monster by himself," a woman in the trailer says. "It took some help."
This docuseries is about more than R. Kelly, it's about the structures that are put in place to keep dangerous men in power. Not to mention how these structure silence women, specifically women of color. Kelly's accusers are Black women, and Black women have lead the charge when it comes to exposing allegations against the singer. For example, it was Black women Oronike Odeleye and Kenyette Barnes who created the #MuteRKelly campaign in 2017, an effort to urge those in the entertainment industry to cut ties with the artist. And yet, as one woman states in the Surviving R. Kelly trailer, it feels like their campaigns and calls to action have not been heard as loudly as those spearheaded by white women. "Black women don't get the same recognition as our white counterparts," she says "And I wish that would change."
The six-hour series, which will debut Jan. 3, 2019, will be shown in three parts. In addition to featuring interviews with multiple R. Kelly accusers, it will also include interviews with #MeToo founder Tarana Burke and John Legend. It is impossible to tell what impact this docuseries could have on the audience or on R. Kelly, but it's clear that the public owes it to the women accusing Kelly of abuse to find out.
If you or someone you know has been sexually assaulted, call the National Sexual Assault Telephone Hotline at 800-656-HOPE (4673) or visit online.rainn.org.