Time's Up Joined The #MuteRKelly Campaign, Calling On Companies To Cut Ties With The Singer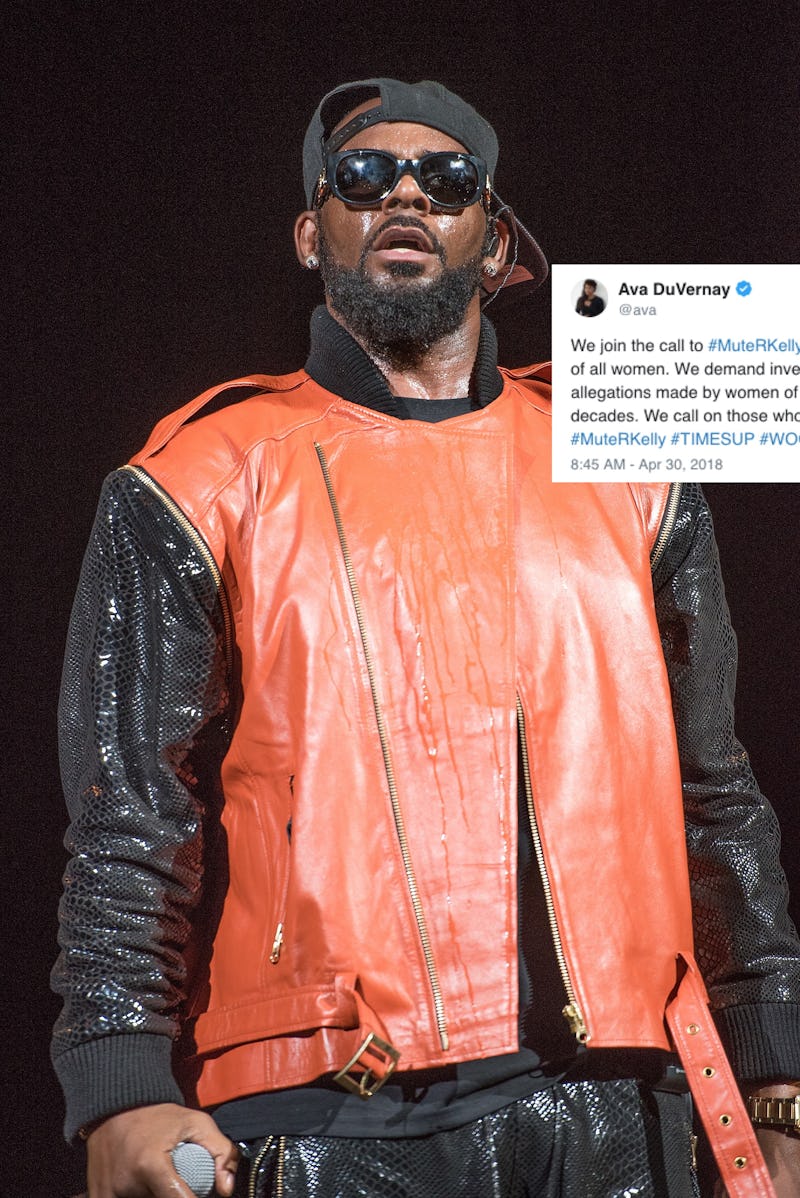 Mike Pont/Getty Images Entertainment/Getty Images; Ava DuVernay/Twitter
After years of allegations that have done little to diminish his fame, the Time's Up Women of Color committee is taking on R. Kelly. Specifically, the movement is joining the #MuteRKelly campaign, which asks those in the industry with ties to the artist to drop them. The demands are being made in light of the repeated claims of abuse brought against Kelly by a stream of women over the past few decades, including newer allegations reported by BuzzFeed in July 2017. (In the same month, the 51-year-old denied these claims through a lawyer, who stated that her client would "work diligently and forcibly to pursue his accusers and clear his name.")
UPDATE: On Monday afternoon, Bustle received the following statement from R. Kelly's management team:
"R. Kelly supports the pro-women goals of the Time's Up movement. We understand criticizing a famous artist is a good way to draw attention to those goals---and in this case, it is unjust and off-target.
We fully support the rights of women to be empowered to make their own choices. Time's Up has neglected to speak with any of the women who welcome R. Kelly's support, and it has rushed to judgment without the facts. Soon it will become clear Mr. Kelly is the target of a greedy, conscious and malicious conspiracy to demean him, his family and the women with whom he spends his time.
R. Kelly's music is a part of American and African-American culture that should never—and will never—be silenced. Since America was born, black men and women have been lynched for having sex or for being accused of it. We will vigorously resist this attempted public lynching of a black man who has made extraordinary contributions to our culture."
--Thanks for listening. R. Kelly management"
EARLIER: But as of April 30, the chorus of his accusers has gained some powerful new voices. According to Billboard, the #MuteRKelly campaign began in 2017 by Oronike Odeleye and Kenyette Barnes, whose efforts drew the attention of the massive movement which is joining them now. As of January 2018, theGrio reported the campaign had gotten eight of the "Ignition" singer's planned concerts canceled, and showed no signs of slowing. And now, it's gaining even more visibility. Jezebel reports that members of the Time's Up WOC committee include director Ava DuVernay, producer and showrunner Shonda Rimes, and actor Jurnee Smollett-Bell, each of whom used her platform on Monday to promote and endorse this new push from #MuteRKelly.
Each woman published to a message to Twitter addressed "To Our Fellow Women of Color," which reads, "Together, we call on corporations and venues with ties to R. Kelly to join us and insist on safety and dignity for women of all kinds." And tying the call to action to the larger movement is the Time's Up logo, included at the bottom of the image.
A full-length letter was sent out by the group as well, to recipients like Kelly's label, RCA Records; Spotify and Apple Music, which broadcast his music; Greensboro Coliseum Complex, which has an R. Kelly show scheduled for May; and Ticketmaster, which is handling the Greensboro show's sales. (Bustle reached out to RCA Records, Spotify, Apple Music, Ticketmaster, and Greensboro Coliseum Complex for comment, but did not receive an immediate response.)
The letter highlights the past 25 years for Kelly, which have included career highs for the singer, even as he's faced troubling allegations in his personal life. The boundary between the art and the artist has held firm in light of claims ranging from statutory rape, to assault, to an indictment on "21 counts of child pornography." (In a 2002 Billboard article, Kelly denied that the charges were warranted, claiming, "I have complete faith in our system of justice, and I am confident that when all the facts come out, people will see that I'm no criminal." Meanwhile, multiple lawsuits involving underage women were reportedly settled outside of court in the '90s and early '00s, according to SPIN.)
More recently, the performer has faced allegations that he's running a supposed "sex cult," stemming from the BuzzFeed exposé in 2017. At that time, his then-lawyer Linda Mensch refuted the allegations, releasing the following statement:
"We can only wonder why folks would persist in defaming a great artist who loves his fans, works 24/7, and takes care of all of the people in his life. He works hard to become the best person and artist he can be. It is interesting that stories and tales debunked many years ago turn up when his goal is to stop the violence; put down the guns; and embrace peace and love. I suppose that is the price of fame. Like all of us, Mr. Kelly deserves a personal life. Please respect that."
According to Rolling Stone, Mensch has since cut ties with Kelly after four years, having ended her association with her former client around the same time his former publicist, Trevian Kutti, left the team as well. "I no longer represent R. Kelly," she wrote in a statement earlier this month, adding, "My resignation was unrelated to any allegations related to Mr. Kelly's social life." (Bustle reached out to Kelly's team for comment on the Time's Up letter, but did not receive an immediate response.)
But regardless of their intentions in parting ways with Kelly, this new movement is making it much more controversial to be connected to the accused singer. As the Time's Up committee's #MuteRKelly letter concludes:
"The scars of history make certain that we are not interested in persecuting anyone without just cause. With that said, we demand appropriate investigations and inquiries into the allegations of R. Kelly's abuse made by women of color and their families for over two decades now. And we declare with great vigilance and a united voice to anyone who wants to silence us - their time is up."
When it comes to the safety of these young women and their families who have been asking for help, the movement isn't messing around. And for anyone still endorsing the artist after all the claims that have been brought against him, their message is clear: Time's up.
If you or someone you know has been sexually assaulted, call the National Sexual Assault Telephone Hotline at 800-656-HOPE (4673) or visit online.rainn.org.