A Real Life 'The Terminal' Story Just Ended With A Syrian Man Being Granted Asylum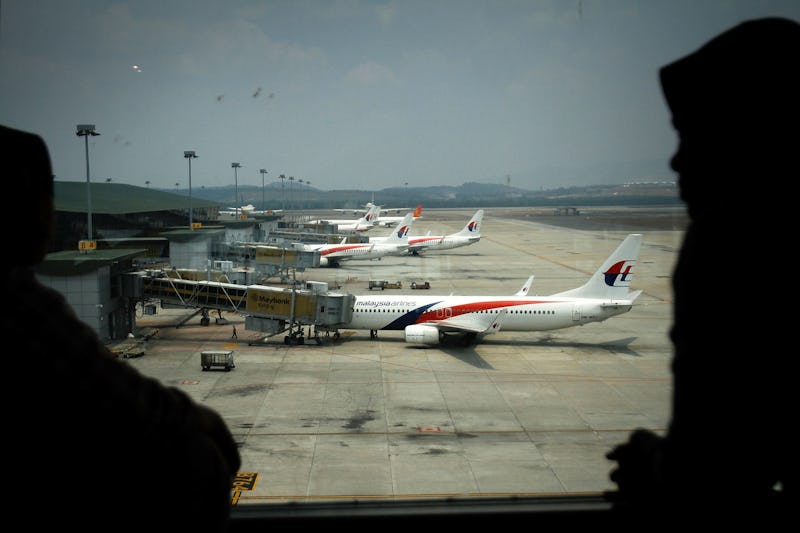 Rahman Roslan/Getty Images News/Getty Images
A man stuck in an airport terminal for months on end, unable to get on any of the hundreds of flights taking off around him because of issues with his passport and his country of origin — if it seems like a movie plot, it's because the story does seem a lot like what happened in the 2004 Tom Hanks movie The Terminal. However, it just happened in real life as well. Finally, a Syrian man who lived in an airport terminal for seven months was granted asylum in Canada. Hassan Al-Kontar officially made it to his new home in Vancouver on Monday — and according to The Washington Post, he says he's never stepping foot in an airport ever again.
"For the time being, I need a hot shower for the rest of the day," Al-Kontar told the Canadian Broadcasting Corp when he arrived in Vancouver. "I've done my time in airports, no more airports. I'd rather use a horse if there's no car."
Al-Kontar documented his travails on his Twitter account, where he now has over 18,000 followers. In his pinned tweet, he explained how he ended up in the unenviable situation of essentially being trapped in the transit section of Malaysia's Kuala Lumpur International Airport.
He left his home country in 2006 because, as The Washington Post wrote, he wanted to avoid being drafted into mandatory military service. He explained in his pinned tweet that he then went to the United Arab Emirates, where he worked as an insurance manager. After the Syrian civil war started in 2011, his problems began. He couldn't renew his passport, his work permit in the UAE expired, and he didn't want to go back to Syria, where, as the Post explained, he feared either jail or having to serve in the military during the bloody conflict.
Al-Kontar went to Malaysia in late 2017, as that is one of the few countries where Syrians can enter without a prearranged visa, according to the website Travel Freedom. He only had leave to stay there for three months, though, and none of his attempts at asylum in various countries — Cambodia and Ecuador, specifically — succeeded, as the BBC wrote. This left him unable to re-enter Malaysia, but also unable to board a flight going anywhere — so he was stuck in the airport.
Documenting his exceedingly long layover, though, turned out to be more than just a way to pass the time. As The New York Times wrote, a Canadian woman, Laurie Cooper, saw his posts and then began a huge effort to get him asylum status in Canada. This involved, among other things, organizing a petition and working with immigration lawyers for months — and finally, on Monday, Cooper and Al-Kontar met in person for the first time.
"I'm very grateful that Canadian officials, when Hassan was truly in peril, worked very, very hard to expedite the process," Cooper told The Guardian. She said that for the time being, he could stay in her guest room.
"Tomorrow, I will be reaching my final destination: Vancouver, Canada," Al-Kontar said in his most recent video on Twitter, which he posted from a layover in Taiwan. "I could not do it without the help of my family – my Canadian friends and family and my lawyer. Thank you all. I love you all."