A Timeline of Taylor Swift And Katy Perry's Feud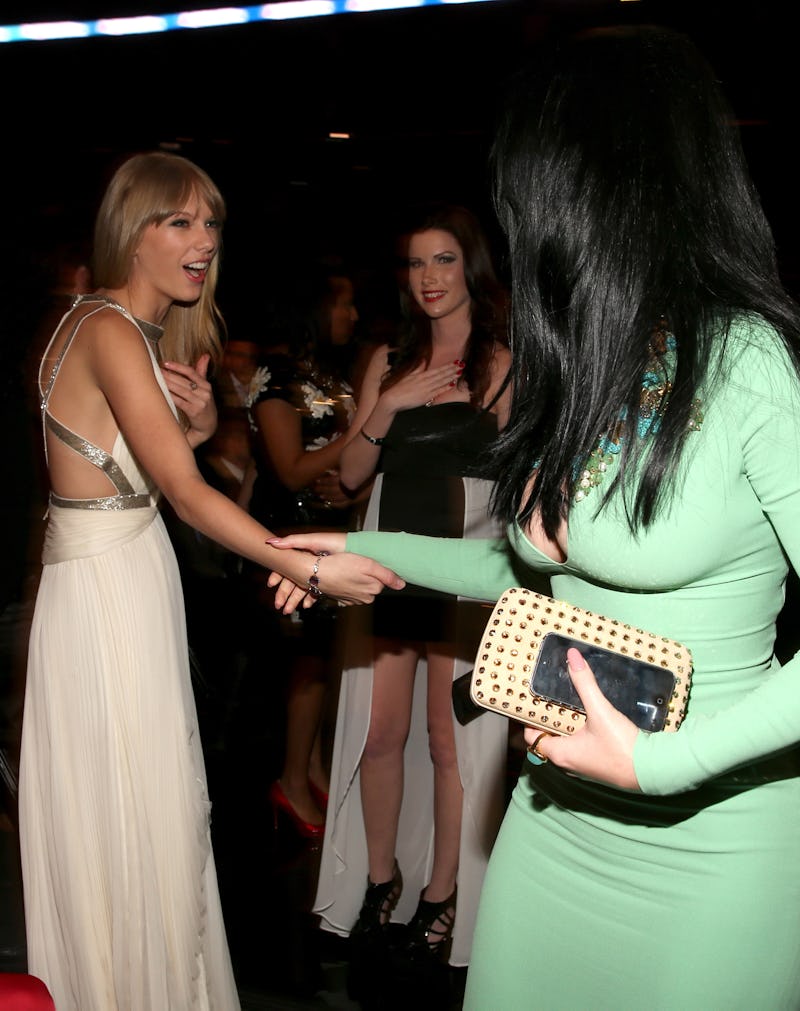 Christopher Polk/Getty Images Entertainment/Getty Images
In early August, rumors that Taylor Swift and Katy Perry would end their longtime feud at the 2017 MTV Video Music Awards began to spread. Neither star has confirmed a public reconciliation, but Katy Perry is hosting the event, and she's made it clear that she intends to make peace with her fellow pop star at some point. The timeline of Taylor Swift and Katy Perry's feud shows that these two have been arguing for a long time, and it might take a lot to settle this argument. Swift, who recently deleted all her social media, will premiere a new music video at the event. It would be an ideal moment for both singers to reunite and bury the hatchet, but it's unclear whether these stars be able to put all that bad blood behind them.
The VMA stage has been a place of reconciliation for stars in the past. In 2015, Taylor Swift and Nicki Minaj settled their differences in a joint performance, and it's very possible that the Swift and Perry will do the same. That is, if Swift even attends the awards' show, which has yet to be confirmed. On Friday, Swift revealed that the music video for her latest single "Look What You Made Me Do," will premiere at the show. If these two pop icons decide to settle the score on the air, it will end a disagreement that has spanned over four years.
It all started in 2013 with the notorious stolen backup dancers.
2013: Taylor Swift's "Red" World Tour
Rumors started to spread three dancers on tour with Taylor Swift left to work with Katy Perry. Dancer Lockhart Brownlie confirmed the conflict to OK! Magazine. "Katy is like family to us, so we were like, 'Absolutely,'" Lockhart told the publication. "We weren't really dancing on Taylor's tour anyway, so I got a little bored." It turned out that the Swift took their exit personally.
2014: 'Rolling Stone' Cover Story
In a 2014 cover story for Rolling Stone, the singer revealed that a track off 1989 would be about Perry, who she alluded to, but didn't identify by name. Swift told the publication:
"For years, I was never sure if we were friends or not. She would come up to me at awards shows and say something and walk away, and I would think 'Are we friends, or did she just give me the harshest insult of my life?' She basically tried to sabotage an entire arena tour. She tried to hire a bunch of people out from under me."
The song would end up being Bad Blood, which is indeed understood to be a diss track directed at Perry.
2014: Katy Perry's Mean Girls Tweet
Days after the story was published, Perry posted this vague yet oh, so pointed Tweet.
2015: Katy Perry Weighs In On Nicki Minaj & Taylor Swifts Twitter Exchange
Nicki Minaj and Taylor Swift had a notorious clash online when the former tweeted about being snubbed for her "Anaconda" video at the 2015 VMAs. In a somewhat telling reaction, Swift took the post personally, and tweeted at the rapper, "I've done nothing but love & support you. It's unlike you to pit women against each other. Maybe one of the men took your slot." Swift eventually apologized to Minaj, and they buried the hatchet at the VMAs.
At the height of the conflict, Katy Perry weighed in. "Finding it ironic to parade the pit women against other women argument about as one unmeasurably capitalizes on the take down of a woman..." she wrote in what was clearly a dig at the "Bad Blood" singer.
2017: Katy Perry Announces New Album & Addresses "Bad Blood"
In an interview with Entertainment Weekly, Katy Perry addressed rumors that her upcoming album Witness would have a response to "Bad Blood". She said:
"One thing to note is: You can't mistake kindness for weakness and don't come for me. Anyone. Anyone. Anyone. Anyone. And that's not to any one person and don't quote me that it is, because it's not."
Perry also added: "But, let me say this: Everything has a reaction or a consequence so don't forget about that, okay, honey."
2017: Katy Perry Unmeasurably Capitalizes On The Take Down Of Taylor Swift
Perry remained true to her word, and hit back at Swift with the single "Swish, Swish." The track, which features Nicki Minaj, has lyrics like, "Don't you come for me, not today," as well as:
"Funny my name keeps coming out your mouth
'Cause I stay winning
Lay 'em up like
Swish, swish, bish
Another one in the basket"
It's definitely a diss track, and it's definitely for a certain someone.
2017: Perry Discusses The Beef On Carpool Karaoke With James Corden
After a short performance of "Swish Swish," James Corden pressed Perry about her "Taylor Beef." "That's true, there's a situation. It's like, she started it and it's time for her to finish it," Perry said. "It's about backing dancers, it's so crazy. There's three backing dancers and they asked me before they went on tour if they could go. I was like sure, get the work, and she's great, and I'm not on a record cycle, but I will be on a record cycle probably in about a year."
According to Perry, when she began touring again, the dancer's were not able to negotiate with Taylor Swift's management. "So that year came up and I texted all of them and said look, just FYI, I'm about to start," the Witness singer continued. "I want to put the word out there. And they said, 'OK, we're going to go talk to management about it.' And they did, and they got fired. And I tried to talk to her about it, and she wouldn't speak to me."
2017: Katy Perry Talks About Carpool Karaoke Appearance
In an interview with NME, Katy Perry said she didn't regret telling her side of the story on James Corden's show.
"I said that but, I mean, I'm not Buddha – things irritate me," Perry told the magazine. "I wish that I could turn the other cheek every single time, but I'm also not a pushover, you know? Especially when someone tries to assassinate my character with little girls. That's so messed up!"
2017: Taylor Swift Chooses An Opportune Moment To Put Her Music Back On Streaming Platforms
Taylor Swift famously took her music off streaming platforms to prove that fans are still willing to pay for music and the industry is still viable. On June 8, her management announced that the next day all of her albums would return to Spotify, iTunes, and all other streaming platforms "in celebration of 1989 selling over 10 million albums worldwide. June 9 was, of course, the release date for Katy Perry's album, and it's hard to believe that the move wasn't strategic. However, neither artist ever commented on the coincidence.
2017: Katy Perry Is Over It
To promote her new album, Katy Perry did a weekend-long YouTube livestream in June. While the event covered many personal topics, the singer took the opportunity to apologize to Taylor Swift for all the drama.
"I forgive and I'm sorry for anything I ever did, and I hope the same from her, and I think it's actually, I think it's time," Perry said during the live video, signaling that she is ready to put the feud to rest.
2017: Taylor Debuts New Single
Taylor deleted all her past social media and announces new album, Reputation. The single "Look What You Made Me Do" is largely interpreted by fans as a dig at those Taylor has feuded with, including Kanye West and Katy Perry.
2017: Whether Katy And Taylor Will Appear Together At The VMAs Still Unclear
Katy Perry is slated to host and Taylor Swift will, at least, debut the music video for "Look What You Made Me Do". However, executive producer Jesse Ignjatovic denied that Swift would even be at the event to People.
"She has been on the show many times and performed with a new album coming, but not this time," he told the publication, according to Reuters. "I definitely wish she was coming on and performing."
Will the two stars make up on the VMA stage, preferably by performing a mash up of "Bad Blood" and "Swish Swish"? It's not clear, although it seems like an opportune moment to do so.
The awards premiere Sunday night on MTV, starting with red carpet appearances and warm-up performances at 6:15pm EST. The show is known for wild, groundbreaking moments, so if Katy Perry and Taylor Swift didn't seize this opportunity to address their years-long feud, it would be very disappointing.