You Probably Already Know Who Taylor Swift's New Song Is About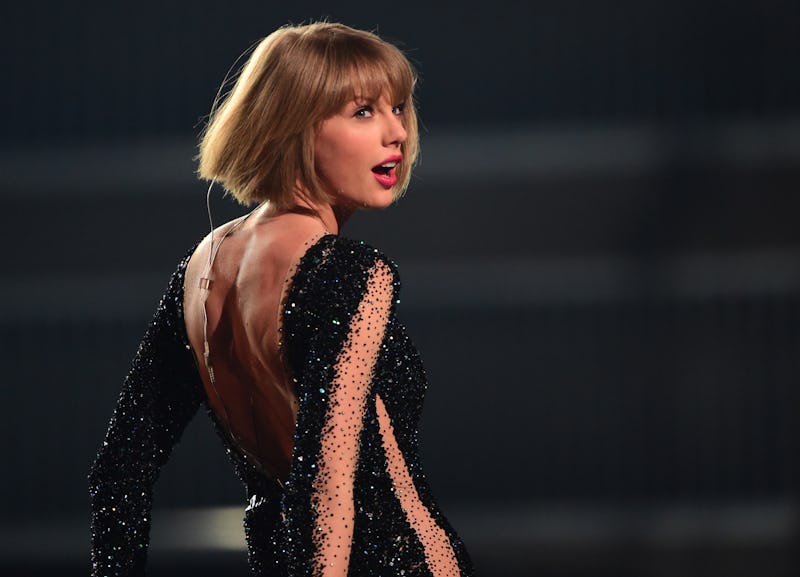 ROBYN BECK/AFP/Getty Images
As soon as Taylor Swift dropped a new single, her fanbase went into overdrive. That means dissecting the lyrics and looking for clues about who Swift's "Look What You Made Me Do" is about. Honestly, did you expect anything less from her loyal Swifties? Of course, at this point, it's purely speculation, but here's who fans are pointing fingers at, especially after giving the lyrics a listen.
There's a good chance the single is about Kim Kardashian and Kanye West... and it all started with a little phone call last year. Unless you've been living under a rock, you already know that the summer of 2016 revived the feud between West and Swift. After Swift claimed she didn't approve his "Famous" lyrics that referenced her, Kardashian released a recorded phone call where Swift seemed to give a portion of the song the OK. That led to Swift's legendary Instagram post about how she wanted to be excluded from that narrative (one that she had never asked to be a part of), and, apparently, that all led to "Look What You Made Me Do."
Although it seemed obvious that there was a chance the single could be a diss track before it ever hit iTunes, now there's no doubt. There are plenty of clues in the song's lyrics that seem to point to West and the "Famous" incident.
Aside from the most obvious — the interlude that includes Swift saying she can't come to the phone, since the stuff with West hit the fan in the form of a recorded call — there are a lot of other lines in the song that could be a direct reference to the Life of Pablo singer.
Exhibit A: When she mentions the "tilted stage" in the beginning of the song:
Another reference to that call could be the line that says, "you said the gun was mine," since Swift and West seemed to be in agreement that she held the power behind "Famous," and that she would be in on the joke, but, if he did change the words on her after the fact, he'd be turning that metaphorical gun on her. Interesting...
If Swift is, in fact, addressing West (and maybe even Kardashian?) in this song, it seems like she's out to prove that she isn't letting him keep her down for long. She rose from the dead, guys. She does it all the time.
Of course, there's always that chance that Swift could be referring to more than just West — maybe her haters in general, with a little bit of Katy Perry sprinkled in there, perhaps? Guess we'll just have to hope the video includes more hints when it premieres. Then again, this is Swift, so of course there are plenty of clues in our future.